🗓️
November 28, 2023
By ✍️
Jaysukh patel
Apple Watch is a very Smart wearable device that we know from other smartwatches. So get optimized performance with updated watch OS and Very important features like a walkie-talkie. But some users are frustrated with the most common apple watch update problems "Unable to update Apple Watch Series but you see that a new update is available. Rather latest version is available, and others are downloading and installing except you. There might be some reason behind this, let's find out why my Apple Watch 8 or AW SE or Watch 9 won't update. and You must update the new Apple watch WatchOS.
We have mentioned a few workarounds that will help you to fix Apple Watch Series Won't Update. Carefully read on the solutions and perform on your Apple Watch.
Some apps and New Settings required the Latest WatchOS Update when it comes to you. Trust me there is no hardware issue, You can fix using the below solutions.
Apple Watch Won't Update WatchOS and Failed (Unable to Update)
Re-Try on iPhone or Update Apple Watch Without iPhone
Correct Way to Update WatchOS On Apple watch is,
To update your watch, Unlock your iPhone at first.
Open the Watch app on iPhone that paired with apple watch.
Next, Under My Watch Tab, Tap on General.
Now, Next to General, Tap on Software Update and Wait for Few seconds. (if your watch is updated, you will get Your Software is up to date). if the update is available but failed to download and install watchOS. Follow the solutions below. [Recently WatchOS available as a free update for the public]
Directly Update WatchOS on Apple Watch Without iPhone
WatchOS 7 or later Apple Watch users get the option to directly update and install WatchOS updates on the Apple watch without touching your Paired iPhone. Follow me to download and install the new WatchOS on Apple Watch.
Press the Digital Crown button on the Apple watch to move apple watch Home screen.
Find the Settings app.
Connect your apple watch to the Power source and Start installing the update. During this time, your apple watch will reboot several times.

Once you update, You can wear an apple watch on a wrist.
---
Solution 1: Restart Apple Watch
Beginning the guide with a very simple technique that is, restart your Apple Watch, if Apple Watch won't update to watchOS. So let's shut the Apple Watch off normally and turn on.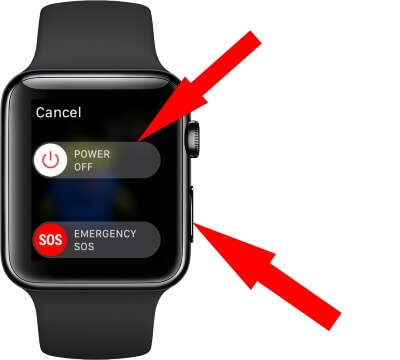 Press and hold the Power button.
When you see "POWER OFF", tap on it.
Similarly press and hold the side button, the watch will be turned on.
---
Solution 2: Make Sure the Apple Watch is connected to Wi-Fi and iPhone
WiFi not working or Disconnecting when updating apple watch.
It is the key requirement of Apple Watch; Wi-Fi is a must when you update any Apple product to the latest version. If your iPhone and Apple Watch are close to each other and paired, besides the iPhone is connected to Wi-Fi, in that case, the Apple Watch will be connected to Wi-Fi too. Connect the iPhone to the Wi-Fi,
On your iPhone, open the "Settings" app.
Tap "Wi-Fi".
Please select the network and connect it. Also, Check whether WiFi is turned on the Apple watch or not (Under the control center of the Apple watch).
---
Keep Both: Apple iPhone and Watch Near and Connected (identify Green Signal on Watch Control Center).
Swipe up on Apple Watch Face to Open the control center. and There must be a green iPhone icon at the top left corner of the screen.
Now it's done. re-check it's downloading the software and updating the latest WatchOS.
Solution 3: Check The Battery of Apple Watch
Another need of Apple Watch before updating it is your Apple Watch should be charged at least 50%. Because when you put your Apple Watch on the update, it will consume more battery than regular use. So to update the Apple Watch successfully and smoothly you need to charge the Apple Watch.
Keep apple watch connected with Apple Watch Charger.
---
Solution 4: Make Sure You Have Enough Storage on Apple Watch
Lack of storage means Apple Watch won't update. It should be clear by now that you need more storage than the actual size of the update. You can check how much storage left on your Apple watch by,
Open the "Watch" app on your iPhone.
Tap the "My Watch" tab.
Tap "General".
Select "Usage".
On the top, you can see Available Storage and Used Storage.
Force Close Watch App on iPhone,
Swipe finger up on a screen to show app the running apps in the app switcher screen. Now, Swipe up to close from the iPhone background process.
Re-launch the app and try again.
---
Solution 5: Make Sure The Apple Server isn't Down
Generally, it happens when we try to download and end up with Apple Watch won't update because the server is under maintenance. To determine in real the Apple Server is down or the problem is anything else. You can check Apple System Status from here.
---
Solution 6: Restore The Apple Watch
Lastly, you have only one option left to fix Apple Watch won't update that is to restore the Apple Watch to factory settings. It will remove each corrupted file which can be a reason behind this issue. Once you reset the Apple Watch, you have to set it up as new as for the first time you have done.
Locate the "Settings" app in Apple Watch.
Tap "General".
Tap "Reset".
Finally, select "Erase All Contents and Settings".
Now, Pair your Apple Watch Again,
Give few minutes to Apple Watch to restore and then pair the watch with iPhone. Try updating the watchOS of the Apple Watch, from Settings > General > Software update on your iPhone's Watch app.
---
The above solutions are enough to fix your problems of apple watch can't update for new WatchOS on Apple Watch.
i Hope you enjoyed my tips and tutorial. let's share with your friends and send us feedback on a comment box.