Last Updated on Sep 14, 2023
Here is my handpicked best All-in-one Printer for Macs home use and the office you can buy in 2023. The small and portable printing machine is an excellent tool for office and home use; Because it gives print-out of soft copy. But, here we are talking about the all-in-one printers; these printers come with multifunction features like printing, scanning, Air Printer capability, good color reproduction, fax, two-sided duplex printing more.
So If you are not technically inclined and want to buy the best all-in-one MacBook Pro printer. Then, here we are, giving you a fantastic recommendation in the following list. So pick your desired AirPrint printers, and get the print out from anywhere you are sitting in the office and home.
Best All in one MacBook Pro printer: Good Reviews
Tips: How to Print Double Sided Print on Mac: Pages, Word..
#1. HP Instant Ink Wireless Printer

By buying HP Instant Jet Pro, You can get a quick display to operate essential functions. Otherwise, it has all the standard features, including Copy, Scan, Two-Sided Duplex Printing, Wireless Printing, and most importantly, it supports AirPrint. For non-Apple devices, they can use HP ePrint App to carry out prints.
In addition, with an ink replenishment service, you could save up to 50% on Instant Ink or go for Amazon Dash Replenishment to save 10%.
#2. HP office jet Wireless Printer
Prime functions of the Hp all-in-one MacBook Pro Printer is Wireless Printing, Copy, Scan, Fax, two-Side double printing, Mobile printing. In addition, you can print from anywhere using iPhone/iPad with Air print.
Compatible Mac OS X Versions are macOS 12 Monterey, OS X 10.6, v10.7, v10.8 or v 10.9. Low profile cost and users good reviews printer and it is an HP inkjet printer for MacBook Pro.
#3. Brother best all in one laser printer for mac home use and Small Office
The Brother's reliable wireless monochrome laser Printer for Mac is an ideal All-in-one laser printer for small office and home office use. desk-friendly and faster sped to print out around 26 pages per minute. It has other notable features, including Black/white color scanning, Optical scanner resolution 600 x 2400 dpi, and standard size 250-sheet as an input. It is good compatibles with the Macs and Windows.
Order today; this money value printer offers you the facility to print out using Wi-Fi Direct, AirPrint, Google Cloud Print, Brother iPrint & Scan, and Cortado Workplace.
#4. Canon Image Classic Wireless Multifunction Laser Printer for Macs
Cannon's MF733Cdw couple of year old printer delivers Multifunction features apart from printing like the Scanner, Copier, and Fax. It is pretty good in demand; a printer to have AirPrint feature to print documents, web pages, emails, and photos from your Apple Device and utilize as a wireless printer for Mac home use and office purpose.
You can get a 3-year warranty, expert help, and 100% U.S-based support with the purchase.
#5. Epson
WorkForce WF-3520
the best all-in-one Printer for Macs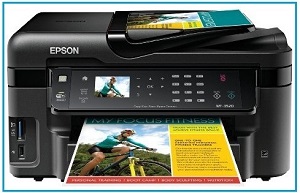 The high-profile printer and popular printer brand around the world. In them, you can get the world's fastest 2-sided printing, 250-paper capacity, LCD + touch panel, and Air Print compatible printer for MacBook Pro, MacBook Air, and iMac. In addition, get prints from your tablet and Smartphone like iPhone, iPad, and Android mobile.
#6. Canon GX6020
It's a professional inkjet Air printer that works with MacBook Pro, other computers, and mobile devices like iPhone, iPad, and Android devices.
The Canon printer is compatible with Mac OS X: v10.5.8, 10.6, and 10.7. Optimize features are built-in Wi-Fi, high-speed USB data transfer, True Monochrome Prints, Computer-free Printing, Built-in CD and DVD Printing, Uniform Ink Height, and more.
#7. Samsung Xpress Laser Printer

The Samsung Xpress Laser Printer brings an all-in-one featured printer with scanning, copying, printing, fax, and other activities suitable with Wi-Fi connectivity. Also, it has an Ethernet port if you are not so cool with Wi-Fi. It can print up to 21 pages per minute and get Samsung's innovative imaging technology advantages for crystal clear prints. Download the Samsung Mobile Print app to print documents directly from the phone.
Check Samsung Xpress Price on Amazon
#8. Brother MFC9130CW All-In-One Printer

For professional use, Brother MFC9130CW is the best option available right now. Here's what you get, the Amazon Dash Replenishment service, the ink stored in the toner, and re-orders automatically when it gets low, so you won't stop printing pages.
It also supports Google Cloud Printing, AirPrint, and Brother iPrint&Scan to print from the phone directly, or even you can use Wi-Fi Direct and Cortado Workplace to give an instant print. Unfortunately, though it is meant for official purposes, therefore costs more than any other printer.
Check Brother Printer Price on Amazon
#9. Canon imageCLASS MF216n

The Canon imageCLASS is affordable and dedicated for all purposes, and you can use it for office work and home. It features a compact design, mostly vertical, so it won't clutter your desk or table and stay out of your way.
The Ethernet connection makes it easy to print, scan, copy, and fax at your fingertips, with far better printing speed. In addition, a quick-access panel lets you navigate through the most common features for faster printing operations.
Check Canon imageClASS Price on Amazon
#10. Brother Laser Printer with Wireless Networking
I'd also like to list an inexpensive series of Brother Wireless Printer. The Black & White and Color Scanning makes it easier to store a soft copy of bills and receipts on your PC. The tray can hold around 250 sheets simultaneously, which is super excited for the usual purpose. Thankfully, it can print out at the speed of 27ppm and is widely compatible with Windows and macOS.
Check Brother Laser Printer Price on Amazon
Are you using other Wireless laser printers for Macs? Would you mind sharing it in the comments and being helpful to others always? You can also Like us on Facebook and follow us on Twitter.