If you want to go in the market to purchase a best iPad pro stand for bed, then, what features you should keep in mind? Know here everything. The iPad Pro is huge in size and expensive gadget than older iPad versions so, you will not be placing anywhere. In Addition, if you prefer to read e-book on bed or sitting on sofa then you must have durable stand because that could give you handsafree reading time. According to Apple site, the iPad Pro Wi-Fi model weight is 1.57 pounds (713 grams) and iPad Pro Wi-Fi + cellular model weight is 1.59 pounds (723 grams). Therefore, you need sturdy and strong stand holder for iPad pro. Here I'm showing you best iPad pro stand for bed use for reading time, watching time and bigger screen iPad comfortably.
Best iPad Pro stand for bed: Get comfortable angle to viewing, watching, reading
Holder King iPad Pro Stand for bed, for sofa
This iPad pro holder mount all frames are made from top quality aluminum alloy metal. However, it is very strong, durable, portable and efficient to give you best usage experience. It would give you long reach means it able to extend 3 feet long horizontally. The iPad Por mount holder is compatibles for almost tablets, phablets, most of large screen iPhone.
Buy Now: Amazon
---
Get More: Best iPad Pro Stand: Get 360 degree rotation
---
Tablet Tail: best iPad Pro stand for bed, Couch, Desk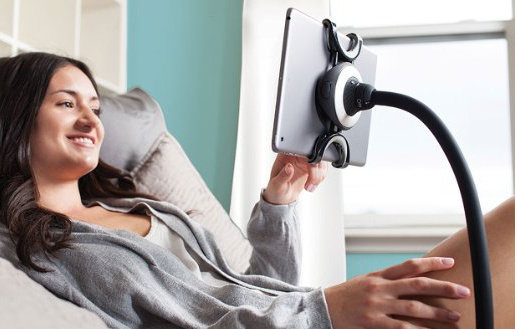 The wonderful stand that lets you raise and tilt your big screen iPad Pro to the perfect height and angle for viewing, watching video and it works whether you're sitting up looking down at the screen or laying down looking up at the screen. It's a case friendly so you can easily clip your iPad with case and without case, too.
Order Now and get Free Shipping