🗓️ September 14, 2023 By ✍️ Jaysukh patelCharge your Apple watch on the go, for any circumstances about your watch lose power or battery drain issue. Apple watch will deliver the perfect result on any functionality like Fitness, Map, and Search result. So are you losing more power behind GPS, Wi-Fi, and other networking and tracking process? For an ideal user, Apple announced watch user must charge the device once a day. After a 100% full charge, the user can use it for 18 hours continuously. In case you missed charge your watch on a regular basis, watch the user must plug the watch for a long wait. And now are you hesitant with this power charge problem, here is the unique solution with the best apple watch portable power bank at a cheap price.
That means the user must need an external battery charger for anywhere charge, in a pocket, in Car and office, and picnic.
Hello, Nomad is the #1 watch charger now a day, No one manufacturer designed a power bank for a Watch. Great look, efficient for any apple watch model (Apple Watch, Sport, and Edition) 38mm and 42mm/44 mm.
Also Useful for your iPhone and Apple Watch Combo Stand, Best in quality and Beautiful design.
Let's see detailed working features and prices.
Best Apple watch Portable Power Bank, Third-Party External Battery Charger: Hello Nomad Pro
Hello Nomad pro, Upgraded from hello Nomad, Best color option, Space Gray, and Silver
Charge your Apple Watch with your iPhone
6000mAh Battery backup that is enough power storage for Apple watch (You can charge the watch up to 4 times)
Wrap your Apple watch USB MagSafe cable inside, USB end fixes with the charger USB port. From any angle, you can set a USB magnetic base.
Protect USB wire with a body cover.
The aluminum case made light in weight, And Easy to fix with the body inside a magnetic lock
Size: 72mm X 25mm
Wight: 80g
Easy, safely charge any watch model without damage due to power
Check Price on Amazon [Nomad Pro]
Don't miss to Review other Top 6 Apple Watch Portable Power banks in Different Design, and Storage capacities.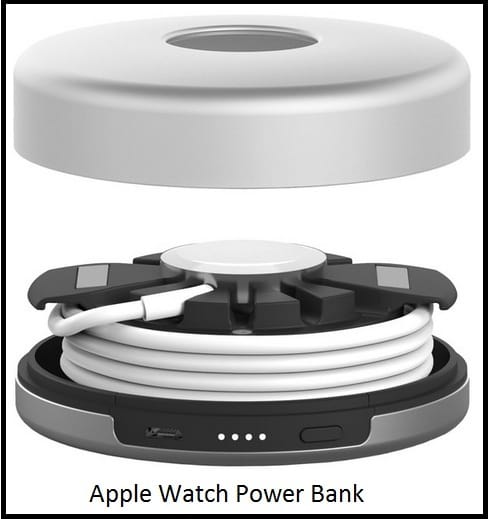 Are you experienced with other Apple watch Portable Power Bank? Then share with us, we will update our list as the best option to keep charging active whenever.