🗓️ September 14, 2023 By ✍️ Jaysukh patelCongratulations to all Owners of the Apple iPhone 7 Plus. Now you become people who have striking camera feature smartphones. World's faster, fantastic look and Slim body phone earlier launched by iPhone maker. New headphone jack-less iPhone 7 Plus of course looking cool with five stunning color options jet black, black, Rose gold, gold and silver, and different storage capacities like 32BG, 128GB, and 256GB.
Good, this is the first water and splash resistance models launched by tech giant Apple. Even though what about its Protection? Most of everyone be worrying about its costly iPhone 7 Plus safety against damage. For it, many cases are available for that, even though, folks who don't want to hide its amazing aluminum Apple logo situated back of the phone. For those users, we made a list of Best clear iPhone 7 Plus Cases.
These top reviews iPhone 7 Plus Clear cases are shipping with transparent lucent look body so it doesn't hide Apple logo and gives long-lasting Protection for 5.5'' iPhone 7 Plus. Besides, iPhone 7+ has the dual-lens camera so to prevents its core part touching from ground cases has raised lips. The main advantage of buying a clear phone case is that you can easily visualize the whole body of your iPhone. Clear or transparent shows Apple logo as it is like the original iPhone beauty. All cases allow essential ports like charging, keys, power button, Cameras, etc. Get here iPhone 7 Plus Bumper Cases.
The Best Clear iPhone 7 Plus Cases: Announced So Far
#1. Trainium best Clear iPhone 7 Plus Case- Premium Protection
Good reviews best transparent iPhone 7 Plus Case. It is all in one protective case for your device because it gives all-around protection against scratches, damages and many more. It has dual layer one is a shock-absorbing frame, and another layer is the body to prevent smartphones against scrapes, accidentally drops and many more.
The hardcover is enough to provide a slim look after putting our phone in it. This phone case is specially designed for bigger 5.5'' Apple iPhone 7 plus so fits snuggly and bulk-free. Place an order today and grab a discount price benefit to save dollars. Color – Clear Jet Black, Clear Rose Gold, Clear Turquoise, and Clear.
Triainium Premium Case – Price Under dollar 20
#2. Best Crystal Clear iPhone 7 Plus offered by Ringke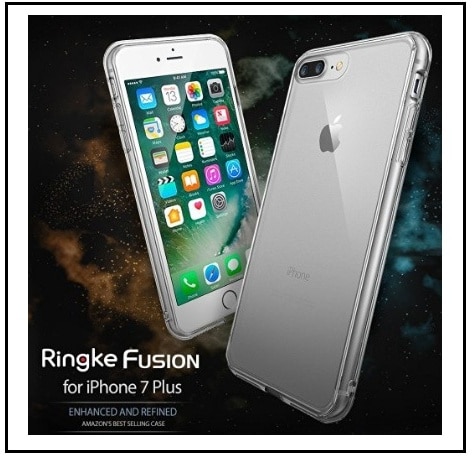 It's not only Clear but Good Crystal Clear iPhone 7 Plus case. As it is the crystal, it gives better shining than any ordinary case. Easy to install iPhone 7 plus Clear phone case crafted with modern tools and material is PC + TPU. At the corners of this case you will find cushion technology that gives protection against any falling damage and it also Military Grade certified so shield to your device at long-lasting.
It also gives shelter against shock by absorbing it. Very flexible and soft so that you can use it comfortably and looks like a glove. There are three colors – Crystal clear Rose Gold Crystal, and Smoke black.
Ringke Clear Case – Best Clear iPhone 7 Plus cases Amazon
#3. JETech Transparent iPhone 7 Plus Case
JETech is a brand of innovative design, quality, accessible and best price case maker. It's a beautiful expression Skyfall series iPhone 7+ clear case. The responsive button clear case designed with two tired craftsmanship, so of course, that doubles the protection.  The two most popular, durable material used in the manufacturing of this case are Acrylic and Polycarbonate.
It is a very beautiful iPhone 7 Plus back covers and handy grip all the time so anti-slip. It is a very slim and glossy case to make your device more beautiful. Overall it is an extra stunning framing look, a durable bumper case for purchasing for your dual lenses camera iPhone 7 Plus 32GB, 128GB and 256GB.
Top iPhone 7 Plus Transparent Case – a Clear case under dollar 20
#4. i-Blason Best Clear iPhone 7 Plus case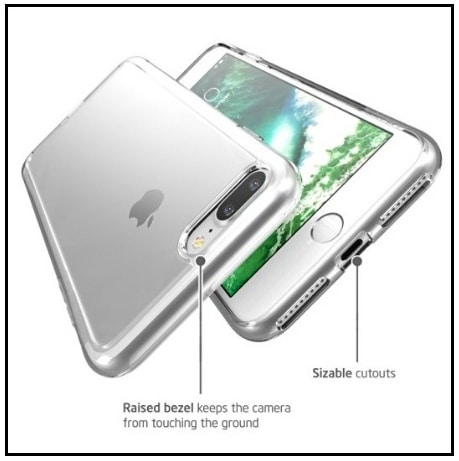 From top to bottom it is not even any part of this case having any color. i-Blason's clear phone case is compatible with the full-color display all iPhone 7 plus models. Let's look at several properties what this case has like anti-slip technology, durable so long-lasting protective, Anti-Scratch, Raised bezel keeps the dual lenses camera from touching the ground and many more.
It will give the best look to your iPhone because of its complete size and shape. If you have put your device's face down, you don't have to worry about any scratches because it has an edge which gives protection to the front screen, too. Even though, you have to required tempered glass protectors for iPhone 7 Plus.
i-Blason Best iPhone 7 Plus Clear case – Best Price Under dollar 10 Case
#5. Ultra Slim Glossy – Best Clear iPhone 7 Plus Cases
Completely clear so that you can use case on any color of your iPhone 7 Plus jet black, Rose gold, Silver, Gold, or black. This glossy clear case is suitable for the iPhone 7 plus. Forgiving the best protection to your iPhone, it is made up of the TPU material.
The advantage of this material is given overall protection and also the best look to your device. It is very slim and light in weight so that your iPhone also remain in low load. When you place your device in the down direction, it also protects the screen. It is a very flexible and best case for your iPhone.
Ultra Slim Glossy iPhone 7 Plus clear Case – Cheap Price with Free Shipping
#6. Ultra Clear Case for iPhone 7 Plus by TENOC
Max boot represents Anti-scratch coating liquid skin cover for iPhone 7 Plus. The prime asset of the case is that it is very extra slim so that your iPhone doesn't get thicker and remains as it is. As well as ready to give a very soft and shiny look. Ultra Clear Case is entirely made up of the iPhone 7 plus so that you can enjoy all ports like Charging, Keys, Mute button, Cameras, etc.
You will get a lifetime warranty on the MacBoost bumper case for your better experience. It will give a perfect look to your iPhone 7+ so don't think much more this is a good idea to make your iPhone 7 Plus bump Proof, Scratch proof and will optimize your iPhone re-sell value as like Apple's iPhone Upgrade Program.
TENOC Transparent Case for iPhone 7
#7. Spigen Clear Case for iPhone 7 Plus
Are you looking for a high profile brand Clear case? Then the Spigen is a good one for you. Spigen iPhone 7+ transparent clear case will give your iPhone strong protection with keeping the original look as it is. It is made up of using the concept of Ultra hybrid mean it's a blend of the flexible bumper, hard PC back equals dual mold.
Bump resistance case is tested 26 times around from 48'' drop height so of course it's called military grade Protection. Moreover, it has raised lips both side front and back so prevents damage for screen and dual lenses camera, too. Easy to grip on your hand and stunning look professional case cover order today from available bonny color options like Rose Crystal, Mint, Crystal Clear, and black.
Spigen Clear iPhone 7+ Case – Offer for Limited time
#8. Bastex Clear Rubber Back Cover for Apple iPhone 7 Plus
Soft Slim, flexible rubber clear iPhone 7 Plus back cover. Its premium and stylish look are admirable. Its created from TPU (Thermoplastic polyurethane) material, so the case has many properties like elasticity, oil resistance, transparency, grease, and abrasion-resistant. Therefore, it will help to give all-around protection and to keep clean Phone, and the corners also get better protection from falling damages.
You can enjoy all the features of your iPhone even after applying this case. There are many colors available like teal, white, Smoke, Purple, Black, Sky blue, Hot pink, Clear, and pink. Even it is clear so many different colors you will get of your choice.
Clear Rubber Back Cover for Apple iPhone 7 Plus – Amazon
There are so many advantages of using this type of case once you will use Best Clear iPhone 7 Plus phone cases.  You will come to know, and you should buy these clear cases for giving the best protection to your iPhone 7 plus.
Do you found any other iPhone 7 Plus clear cases apart from mentioned above? Please share it in our below comments box. We will appreciate your feedback.