Last Updated on Nov 21, 2022
The Best graphic tablet for Mac 2022, also called Drawing pad for Mac, is excellent and best for professional businesses like Designer, graphic designers, artists, painters, etc., can use it for their project purposes. The main advantage of using this display is, it is compatible with almost all operating systems and can carry it anywhere as it is not more prominent in size.
Using this display can save time and pages for trial purposes in drawing and design, and much more. You can easily rub it out if you don't like any design or text. Different sizes of displays are available in this gadget; you can choose as per your profession.
The Top Best Graphic Tablet for Mac with Screen
The Drawing Tablets For All Apple's Silicon M1-series, M1 Pro (MacBook Pro), M1 Max (MacBook Pro & Mac Studio), M1 ultra (Mac Studio), M2 chip of 2022 (MacBook Pro & MacBook Air), Or Intel chip Mac computer.
1). XP- Pen 22" Graphic Monitor IPS Monitor Drawing Tablet Dual Monitor for Professionals
The display size of this gadget is 21.5" IPS, and also HD, which is the best feature of this type of display, and the screen size is too vast for better resolution and result. Only just placed on the stand, which gives the best experience of using it.
You have to operate this device by using pens with rechargeable batteries. The brand has two pens—an excellent display that creates a different and best effect on the users.
2). Huion H1161 Graphic Tablet for MacBook Mac
Huion's Smart Graphics Pad and Drawing tablet for your Mac and MacBook. Large Drawing area 11×6.8 inch, Smart Precise pan for easily hard drawing.
Compatible with your macOS on MacBook Pro, MacBook Air, Windows Laptop Or PC, or Android Mobile. Connect this drawing pad via Cable.
This Pad is compatible with the next-generation port (USB-C Compatible Graphic Tablets and Pad). All important keys are given on drawing tablets, Battery-Free pens, and High Response best compatible with your fast work on Photoshop, SIA, and Other Drawing Software in the upcoming future.
3). Ugee 19" Drawing tablet for MacBook Air/ Pro/ MacBook
This display is compatible with all the operating systems like Windows Vista and above, macOS, and earlier versions. So you can efficiently operate different photoshops like Adobe, Corel, etc., quickly and very faster.
The display size of the screen is 19", which is best for the user to perform it nicely. However, if you want to use it, you must connect it to the computer or laptop; otherwise, you cannot operate it. So place it on the stand for better use and comfort.
4).
Huion:

The 21.5" Graphic Pen tablets for Mac
We can use it comfortably with Windows and Macs efficiently. HUION Company presents this graphics monitor. Pens can be easily rechargeable, and their working capacity after the charge is 800hrs which is very best for this pen.
This display is made up of the best quality of parts, and for a better result, we need a better screen which is also present in this display. This best Graphic tablet for Mac is durable in use and crafted from high-quality material.
⇒Add to Cart: Amazon Special
5). Best Display by Wacom Cintiq of 22"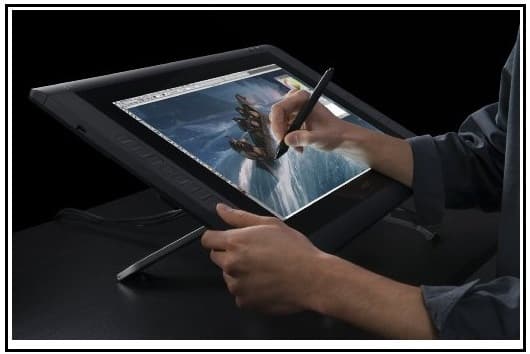 This interactive pen display is well compatible with Mac and Windows. This working tablet cum display is manufactured by the Japanese Company Wacom Co. The display size of the screen is 21.5", which is massive too.
We can efficiently operate this tablet with a pen. While working with it, it looks natural and gives the best experience of working on it. On the side of the display, some buttons are assigned for easy and fast operation.
The best graphics tablet for Mac, MacBook Air, and MacBook Pro has principal functions like time-saving express keys, Scroll rolling, and radial menus.
Also, the tab is supporting conventional tools such as brushes, pens, and markers. Do not miss this beautiful display to extend your career in the Graphics field.
⇒Order it Here: Most popular and Good Review Drawing Tablet for Photo Editors
6). Turcom Graphic tablet for Drawing on Mac
Make your graphics and Drawing on Mac from Remotely draw on tablet pad using the digital stylus. Accurate Design boosts your performance and saves a lot more time in making the soft copy, Save to Mac, and Re-edit for making changes on Mac.
Entertaining drawings perfect for professional artists and kids or personal experience that we can use for signatures, graphs, and rough work.
HD resolution (5080 LPI), Sensitive surface, and eight hotkeys
Rechargeable Wireless pen and pen holder.
This graphics tablet is compatible with Mac, MacBook Pro, Windows 7/ Windows 8/ Windows 10 PC.
7). Wacom Intuos Pro Budget Graphics Tablet for Mac
Wacom provides powerful graphics tablets especially optimized to carry out drawing works for a long time on Mac.
The Bluetooth connectivity makes it easier for us to use the tablet with great precision across the area. Anytime, you can enable multi-touch gestures on display to navigate through the screen just like the smartphone.
Available in various sizes, Large, Medium, Small, with different styles, Paper Edition, Regular, Regular + Texture Sheet, and Regular + Slim Pen. Choose yours.
8). VEIKK 10×6 Digital Tablet

VEIKK's massive 10 x 6 Digital tablet is enough to serve you with creative drawings, anytime, anywhere.
The construction is not that hefty, and you can take the tablet in the bag conveniently. They've also added the Type-C input; besides, it is packed with 20 extra nibs and 1 artist glove to maintain continuity in work.
Use the hotkeys, or customize them, to use the tablet more comfortably; these keys are placed on the side of the tablet to allow both left-hand users and right-hand users to work efficiently. It is compatible with macOS 10.10 or later and Windows 7/8/10.
9). Parblo Large Drawing Tablet

Parblo's ergonomically designed tablet is highly advanced with great looks and technology to make your complicated tasks easier. For example, the express keys are implemented on the side panel to quickly touch and change the settings.
You don't have to worry about the Digital Pen's battery, as it is a battery-free passive pen to match the speed of your hands on the tablet.
Its slim and sleek appearance generates a premium look while lowering down the burden of your hands and shoulders.
10). Simbans PicassoTab

If you're looking for an Android tablet, then check Simbans PicassoTab. Unlike any other drawing tablet, it comes with various connectivity options, including HDMI, Wi-Fi, USB, GPS, and Bluetooth to expand the 10" to an even larger display. In addition, the MediaTek Quad-Core processor improves performance and lets you multi-task on the tablet while drawing.
Since it is a Wi-Fi-enabled tablet, you can stream Netflix, Play Games, and do whatever is accessible via a Wi-Fi connection; all you need is good Wi-Fi. In the box, they've already added the case for the tablet, pre-installed screen protector, pen, charger, and USB C cable.
Check Simbans PicassoTab Price on Amazon
Do you have any Best Graphics Tablet for Mac or Top drawing pad for Mac apart from mentioned above? Would you mind letting us know in the comments box?