🗓️
September 19, 2023
By ✍️
Jaysukh patel
Can you run iOS apps on Windows 10? Yes, Get the Best iOS Emulators for PC or Desktop installed Windows 10/Windows 8/Windows 7. Most iPhone users have questions and struggle to use the iOS app on a big-screen PC or Laptop. How is it possible? You can create the iOS environment on your Home or Office Windows PC. We have the very Best iPhone Emulators for PC as alternate options. That you can try based on popularity and Features that users enjoy nowadays. The iPhone screen and iPad apps also install and run on iPad Emulator.
To install these top iOS Emulators on a PC, you need an internet connection, Download Emulator software, and start to play games or apps. In a sense, you don't need iPhone/iPad. Without any Apple, Product enjoys iOS app and games.
---
Pros & Cons of using Emulator on PC or Desktop
Advantages of use iOS Emulator on PC
Run any app in Free
Available Emulator software is also accessible for Other OS: MacOS, Linux, iOS, and Windows.
Used for Developers and testers for the testing app.
Disadvantages behind Use iPhone Emulator on PC
Large app and game may not support Windows Emulator because it needs large memory.
Windows System hangs or lagging other software or apps
---
Quick Comparison: iOS Emulators for PC [Windows 10 & Earlier]
Run Your iOS App on PC using Windows or Mac compatible Software. Also, Execute or Test iOS app on Browser without Software installation in one-click.
How do I get iOS emulator on Windows 10? List of iOS Emulators for Windows 10 and macOS
---
1: Appetize.io.
Run the native app on your Browser without installing third-party software on your Windows PC running on Windows 10 or earlier (Doesn't matter what your PC RAM is, Installed OS and Version). Open Browser, Upload your app to your account and quickly set it up on the server side, and remotely test your app.
Stream instantly, Get Free Customer support & Training, and Complete the hosting solution for the new bee.
---
2: Electric Mobile Studio
Find Windows Friendly iOS Emulator for PC or Laptop. iPhone, iPad responsive emulator with just a few investments ($39.99). After seven days of free trial, you can extend your purchase and charge for use. Excellent control, Virtual iOS device open on your windows system. Trusted and easy iPhone/iPad/iPod Touch Emulator compatible with Windows 10, Windows 8/7.
Download Electric Mobile Studio
---
3: iPadian
iPadian is the best iPad Emulator for Windows PC. The Best tool to Use iMessage on PC. Install iPadian on your Windows System get all the iOS app on a big screen windows PC.
Find exciting Web applications, Store Style sidebar, Facebook notification widget that helps to crack iPad limitations.
---
4: Mobione Studio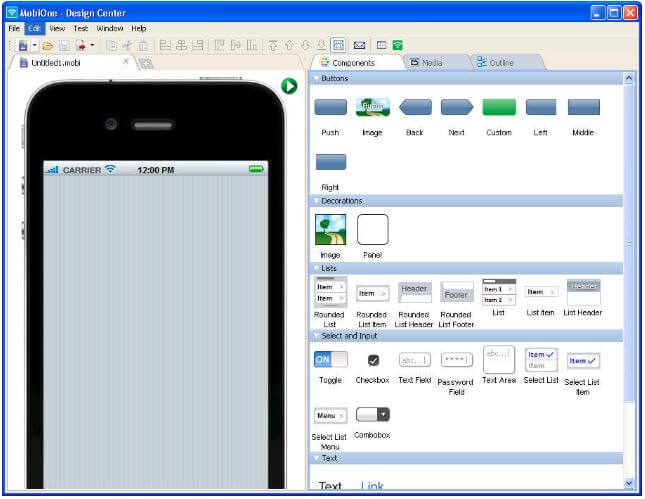 Mobione studio is tools that used to create the app for cross-platform mobile OS (iOS and Android). Let's install Free software on Windows PC or Laptop.
Create and build a native app in HTML 5 and contains library using Open Source services like PhoneGap/Cordova and Other related frameworks. Deploy app directly to mobile app. Another option is creating Mobile web app and Website.
---
5: SmartFace
Smartface is another significant tool for testing iOS and cross-platform mobile app on Windows PC. Get amazing tools and infrastructure on your PC or Mac. Manage all your activity from creation, Testing, and Publishing on a single platform over the web.
Premium plans start from $90 and Available free also.
---
6: iPhone Simulator
iPhone Simulator is a handy software for the Windows platform that runs your iPhone app just like your physical iPhone. But This citrus iPhone emulator is impressive, not iOS users who plan to buy a new iPhone. First, ride and test amazing pre-installed apps like calculator, Clock app, Notepad, and Other iOS system preferences.
Great Graphics and Test app, unfortunately, you can't access app store app on this iPhone emulator for PC.
---
7: Xamarin TestFlight
Air iPhone is another Emulator that is helpful for developers. This PC Emulator for iOS needs some technical knowledge. Use Microsoft Environment to deploy your testing; TestFlight is owned by Apple, and Start your app beta test using TestFlight steps.
Just follow the TestFlight guide given here.
---
8: Ripple
Ripple is a lightweight Browser extension that allows HTML5 app to test on a Virtual iOS emulator on Windows PC directly. Millions of Developers are connected with this testing tool. Great reviews and trusted platform for quick turn and tested your app on any Desktop OS (Windows, Mac, Ubuntu)
Install the Google Chrome web browser, Go to this link and install it in your Chrome browser (+ Add to Chrome).
Get Ripple and Test your iOS app
---
9: Remoted iOS Simulator
The Remoted is another iOS simulator from Windows synced with Visual Studio 2017 or later. Test your iOS app with this emulator and Debug. More in the settings you can enable Touch ID and more.
Use this guide and Launch iOS Emulator on Windows.
---
10: Nintendo 3Ds Emulator
Install Nintendo 3D Emulator on your Windows PC. Nintendo 3Ds Emulator allows installing any Nintendo game on a virtual Emulator. We don't need Nintendo Switch; This is the best Emulator for all 3D Games played on iPhone Emulator for PC. Play any game without lagging.
---
11: App.io
App.io is also a trending alternative of the best iOS emulator for Windows. This cloud service allows streaming the app on any device using the cloud. You don't need to download the additional setup on your Windows PC or Laptop. No Custom code and No Setup.
Above all is the third-party (Non-apple) Top best iOS Emulator for PC, Windows running on Windows 10 list.