🗓️ September 14, 2023 By ✍️ Jaysukh patelBest iPhone 7 Battery Case is a Multitasking accessory that is very helpful in protecting your device like a Phone case and working as a power bank by battery so that you will get benefited by both ways at the low price. Selected Charging cases are very different than any common accessory. The combo of two things which are very helpful in protecting and in also in a useful manner. It is the combination of case and battery for your iPhone 7.
Why iPhone 7 battery case you should buy? Apple iPhone 7 has a built-in lithium-ion battery and capacity is 1,960mAh. So those folks and professionals who mostly live away from the charging station until the fully charged iPhone 7 battery drain. We recommend this charging case, perfect fit, not much hump and great for gamers, photographers and many more. There are also different capacities of battery phone case are available like 3000mAh, 4000mAh and many more so that you can select as per your requirement. Some of the cases also contain kickstand for a better view. Battery cases have the power button for on and off purposes.
The Top Best iPhone 7 Battery Cases: Announced So Far
#1. Alpatronix battery case for iPhone 7
This battery case is certified with Apple MFI and its compatible with iPhone 7 and will work with all the programs and functions of the iPhone 7. It is slim and light in weight so that you don't feel that you are carrying the load with you.
It is effortless to install your device in this case so that you can enjoy your device. The function called sync can quickly be done with this battery case. There is also one more feature about this is the front border of this case is slightly outer so that your iPhone's screen gets protected.
Add to Cart: Perfect fit 4.7''  iPhone 7
#2. Best Battery Case for iPhone 7 offer by Trianium
Trianium presents this black color battery case. There is a considerable capacity around 3200mAh. There are so many advantages of using this type of battery cases. Hence, it is capable of adding 14+ hours of talk time or 10+ hours of web browsing time. After using this case, you will get benefits in two ways you will get a power bank and also you will get the case for your device.
For charging there are LED indicators so that you will come to know the battery level of your device. It is very portable, and you can quickly put it into your pocket.
Trianium Charging case: Get 39% off
#3. Holid – 3000mAh Power Cases for iPhone 7
The battery capacity of the portable charging case is enormous it is 3000mAh. It is enough to get a full charge cycle for Apple iPhone 7. The Phone case has so many specifications like 360 overall designs for enhancing the look of your device. The portable charger in this gives protection to your device from scratches.
Installing on your iPhone 7 is straightforward. You will also get a one-year warranty from the company. You can simultaneously charge your device and even the battery case.
Order Now – Get on Amazon online store.
#4. 4000mAh Battery Charging Case for iPhone 7 [Rechargeable Extended Battery Charger Case]
It has a huge battery capacity of 4000mAh. Hence, you will get double charge your iPhone 7. To charge this battery case you only need 2.5 hrs to full the battery of this case. As it is also a case, therefore, it will also give protection against scratches and many other damages. This product you will receive at the 1-year warranty.
You can directly sync data without removing this battery case. You will get an additional 30% battery capacity at this price. And, lifetime technical support.
Add to Bag: Free Shipping for Best iPhone 7 Battery Cases
#5. QTshine Protective Portable Charging Case Rechargeable Extended Battery Pack iPhone 7 Battery Case
These types of battery cases are beneficial when your battery suddenly gets drained. It is specially made up for the iPhone 7 so that you can get the full enjoyment of your device. The battery capacity of this case is 6000mAh. It also includes four LED level indicators so that it will easy to know about the charge.
It has a power switch that will help you in turn on and turn off the battery case. The black color case comes in a slim look so don't worry about the hump.
Add to Cart – Get fast delivery with Free Shipping
#6. Venevix 3000mAh Extended Protective Charging Case best battery case for iPhone 7
It is ultra-slim so that you can manage your device in your pocket. The battery capacity of this case is 3000mAh. This case is made up of the rubber material so that there will be a grip that will maintain your device in your hand. There are different colors also available so that you can select your choice.
It can also resist hard damages and also scratches. It is made up of taking so many safety measures so that your iPhone 7 gets protected. It is MFI approved. Color Options- Black, blue, Pink and Red.
Order Zuzo battery Case– Apple Certified Product
#7. Lithium polymer rechargeable battery Power case for iPhone 7
It is a very low-cost battery power pack iPhone 7 case anyone can easily afford this case. It has a full comprehensive bumper design which makes this case more preferable. A portable charger protects your device against scratches, damages, and daily wear and tear.
The capacity of a rechargeable battery is 3000mAh. You can charge your device as well as this battery case simultaneously. It is very light in weight and portable so that you can easily carry your equipment.
Add to Bag – Cheap Price battery Case in all Best iPhone 7 Battery Cases
#8. 3000mAh Portable Charging Case Protective Rechargeable Charger Case iPhone 7 Charging Case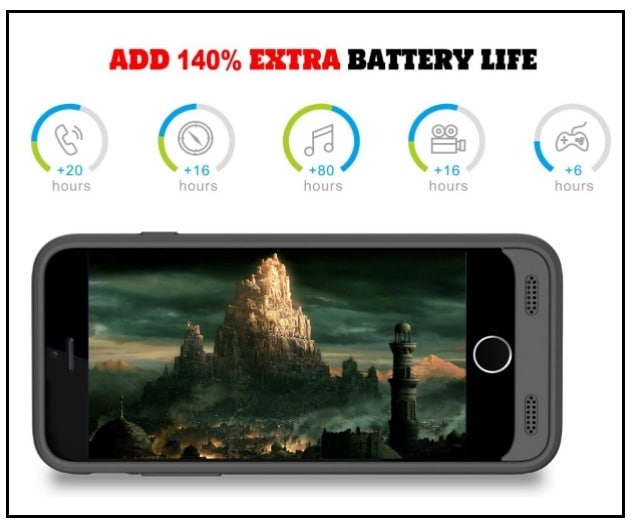 3000mAh Portable Charging Case Protective Rechargeable Charger Case slim Battery juice Pack cover will give a stylish look to your device and also it will provide the best service to you. You can directly sync your iPhone to the computer/Mac. The battery capacity of this case is 3000mAh; it's very high.
There are LED indicators which are helpful in determining you to the battery level of your device. It is compatible with the iPhone 7. You will get this product 30 days full refund guarantee by Amazon. You will gain the power button so that you can smoothly operate the battery case.
Order it here: Good Reviews on Amazon
Overall, This Best iPhone 7 Battery Case Amazon is an excellent accessory for your iPhone 7 and as it can be carry one place to another easily, and you don't feel that you are moving battery case externally.