Now you may want to show your style with a new outlook of your new iPhone 7. So, First, you should go for Case compare to its Accessories. One of them we have an impressive and branded cases collections in the nature of best iPhone 7 leather Cases with Wallet facility or Simple in Verity, these all picked up from uptake eye. These Cases are generally made up from the different durable materials. The choice of cases varies from age to age. It means that if you are a teenager then you must like funky cases, if you are a businessman then you must need some professional cases. Likewise choice varies from one person to other.
The leather cases are the most preferable cases that attract to anybody. because it gives the best protection against all the types of damages, Shock, Freshness & Personality.
we are happy to help you, submit this Form, if your solution is not covered in this article.
Other also looking for Best iPhone 6 Leather Wallet Case, iPhone 7 Bumper case.
The Top 10 Best iPhone 7 leather Cases: Announced So Far
#1. Dreem iPhone 7 Wallet Case
Power up your styles and comfort with you every moment using this case. Vegan leather Slim case totally folder from the Back cover that attached three card slot inside it. 2 Kickstand useful for stand comfortable angles. This case tested with all your daily routine jobs like scan card, Pay with Apple Pay NFC reader, Locking clasp magnet double the security of your cards. You don't want the whole cover, wear only back case and fulfill bumper protection or use a car without removing back case.
Perfect for all life and Never look quality, it's really awesome.
Get on Amazon Store – $34.99
#2. KAVAJ black leather case for iPhone 7 – Doubles as a Wallet
The case is branded and specially made up for the professional purposes for the businessman It is made up with designer genuine leather case look like a book style. You will also get compartments for placing your important cards. It is perfectly fit-able with the iPhone 7 and you will get best magnetic closure so that it doesn't get the slide from the Phone case.
It also gives ensure all side corners protection. The color of this case is black. You can easily access all the ports of your device after applying this black leather case for iPhone 7.
Add to bag $32.70 – Fast shipping on free cost
#3. SHIELDON's Good Protective iPhone 7 Leather cover
You can say it is case cum wallet because you have given some space for money and cards. The material used in this case is very soft and best so that you will not feel it hard or uncomfortable. If you want to watch any video or movie than you can convert this case into a kickstand so that you can enjoy it.
The best material called cowhide leather is used in this case. The color of this case is black and brown color is also available for you. it is slim, flip style, has a magnetic closure, Precious cutouts for access functions, genuine leather and handcrafted cover.
Add to bag $24.99: Amazon's good review item
#4. Spigen Premium leather wallet case for iPhone 7
This is one of the best brand Spigen case cover out of all given best iPhone 7 Leather Cases. It is just like a flip case which is easily able to give protection against any damages. You will also get one small wallet so that you can place your three IDs/ cards and one hidden room to place money.
You can also use this case as a kickstand for better visualization. A powerful magnet is used so that your iPhone 7 gets attached with it. This case is made up of the premium synthetic leather.
Spigen iPhone 7 leather case $24.99 – live Discount price
#5. Good review best iPhone 7 Leather Case by Snugg
There are so many different colors are available in cases. Here is the best color for cases black is present. It is refined luxury leather flip cover for your iPhone 7 because it has all the abilities that one case should contain. It is smooth so that your device doesn't get any scratch through this case and externally it also prevents from such damages.
You can use it as a kickstand for your better experience. You will also get the inner small wallet so that you can carry some money with you.
Snugg iPhone 7 Flip Case $14.99 – 50% Off – Cheap in Cost along with the lifetime guarantee
#6. iPulse Heavy Duty – iPhone 7 Leather Wallet case, Back Pocket
This case is very slim so that your device doesn't look thick. This case comes in the category of back cases. Even it is back case you will get two Outer pockets for putting cards and money so that you can carry them with your iPhone.
It is hand made with the best quality of Italian cowhide material. It can also absorb shock. TPU material is used in the manufacturing of this case. This case is compatible with the iPhone 7.
Add to Cart – $14.99: Get In Free Shipping
#7. Branded Sena Drop Safe leather wallet case for iPhone 7

This case is very simple and as it is simple it is good looking. This case can be used for your iPhone 7. It has rugged nature so also absorb shock from your iPhone. This case covers full body except for the display of your iPhone 7.
There are some of the linings are on the case which makes it more beautiful. Overall it is best in giving protection to your device so that you can enjoy without any fear. This case contains tumbled heritage leather material.
American brand Sena Case $29.98 – High Profile Cover
#8. Case-Mate Wallet Case for iPhone 7 (Black)
Order – Case-Mate the popular brand leather case for your iPhone 7. This type of leather case includes so many functions that's why it is known as a multi-functioning case. It is just like the flip case for your device. You can also keep your valuable things like ID cards, credit cards, some money, etc.
It is very genuine leather cases so that you will get more professional looks. It will perfectly hold your device in it so that you can get a better result.
Add to bag: Price- $24.99
#9. Best iPhone 7 leather Cases by Maxboost, Purse Style
The main advantage of buying this case is that: it is available at very low cost. As such a great price you will get better protection as well as one small pocket iPhone 7 Storage wallet case for keeping cards and money. It is very convenient in using for your latest iPhone 7. The Case is multi-functioning so its great features.
You can enjoy your videos and movies by adjusting your iPhone using this case. Easy to secure lock from the side for protection of cards and money.
Order it Here ($12.99) – Big Discount on best iPhone 7 Leather Cases
#10. OtterBox STRADA cases for iPhone 7 Bumper edge and Leather cover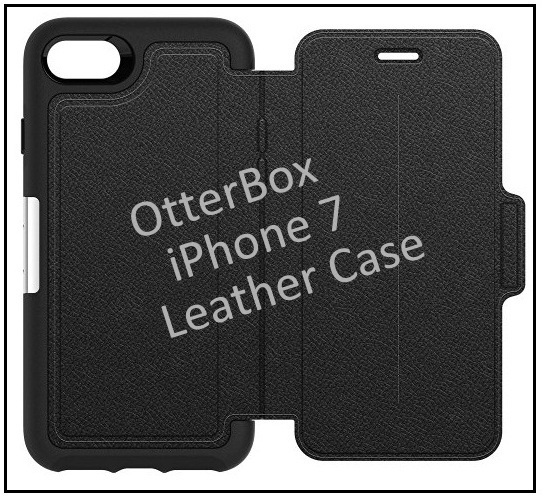 This case is compatible with the iPhone 7 (Perfect finished with camera) device. The color of this case is black for a better view. You can easily install this case on your iPhone without any size issue. As leather is used in the manufacturing of this case you can get much better protection for your iPhone and also for this case. This case is very different than any common case you can observe it from an image. You will get one year warranty on this product by the brand.
Order OtterBox iPhone 7 Leather – Get in Frustration-Free Packaging
11. CUVR Genuine Leather Cases for Apple iPhone 7, No Pocket
This case only covers the back portion of your iPhone or you can say it is back cover. This case is adaptable for iPhone 7. Even though it is back case it is made up of the leather. Around this Phone case, you will get some sort of grip so that your device doesn't get the slip from your hand. You can easily operate all the buttons for your mobile easily after applying this case. The color of this case is black and one more color is available for this case is wine red.
Premium Support is Free Now
We are happy to help you! Follow the next Step if Your Solution is not in this article, Submit this form without Sign Up, We will revert back to you via Personal Mail. In Form, Please Use the Description field to Mention our reference Webpage URL which you visited and Describe your problem in detail if possible. We covered your iPhone 11 Pro, iPhone 11 Pro Max, iPhone 11, iPhone 8(Plus), iPhone 7(Plus), iPhone 6S(Plus), iPhone 6(Plus), iPhone SE, iPhone 5S, iPhone 5, iPad All Generation, iPad Pro All Models, MacOS Catalina or Earlier MacOS for iMac, Mac Mini, MacBook Pro, WatchOS 6 & Earlier on Apple Watch 5/4/3/2/1, Apple TV. You can also mention iOS/iPadOS/MacOS.
CUVR iPhone 7 mount leather case $19.99 – nice for iPhone 7 jet black
Read more…iPhone 7 Leather Wallet Cases.
Did you find any other Best iPhone 7 leather Cases except the given above? Please share its review in the comments box.
Jaysukh Patel is the founder of howtoisolve. Also self Professional Developer, Techno lover mainly for iPhone, iPad, iPod Touch and iOS, Jaysukh is one of responsible person in his family.
Contact On: [email protected] [OR] [email protected]