Last Updated on Sep 14, 2023Cool iPhone 7 Plus Wooden Case. Great chance to try something new in looks, Feel and blend of different wooden material with extra protection on side edge, Inner body or Input ports, and Buttons. People who believe in nature never miss or ignore this very precious list of top best iPhone 7 Plus Wooden cases. The manufacturer always cares about your device from the flame, overheat damage or Fogy/ Snow atmosphere.
These cases are made up of the wooden material so that you will get some new taste for your device. Here are also some handmade work is done on cases so that it will enhance the beauty of your device.
Note: These All Wooden Cases are also officially fit with Apple iPhone 8 Plus.
Top best iPhone 7 Plus wooden cases available in special perfections
#1. FULLLIGHT TECH Unique iPhone 7 Plus Case
Cover your iPhone 7 Plus body with pure rosewood material and keep you in a natural environment. Snap wooden back case layered inside with hard Polycarbonate material. same case available in two different patterns: Rosewood Dragon and Rosewood compass. Great customer satisfaction and up to 90 days money back guarantee is a mark of trust from the seller.
Order Fulllilight iPhone 7 Plus case
#2. iATO International iPhone 7 Wooden case
Stylish hard wooden case Protect your 5.5" iPhone 7 Plus with a Beautiful wooden shell. Original Walnut Wood with inside rubber plastic core. This case is match easily with the on-screen external screen protector. Unisex look if perfect for grip wrap to your Friend/ Family.
Bundle Offer on Black Friday Sale: 10% extra discount on order this case with iATO screen protector. Use code: WFQUML2H on your Cart.
Shop Now iATO Wooden case for iPhone 7 Plus
#3. Carved Wood for iPhone 7 Plus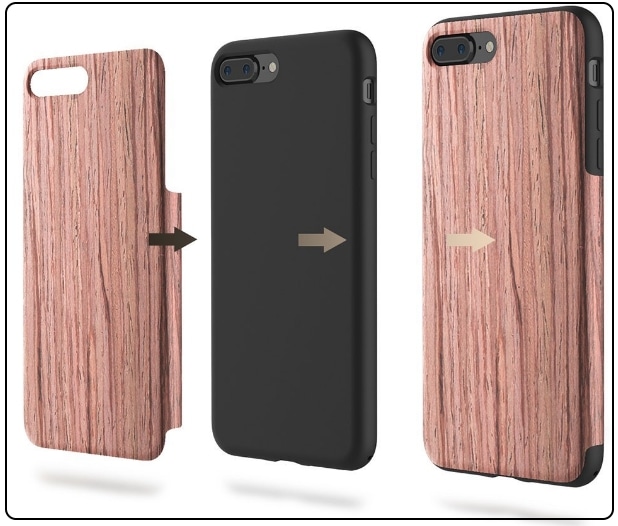 It is very durable and safe for your device as it is made up of the best wooden material. Inside TPU rubber layer of material is used for giving a more beautiful look. As you will use this case you will not face any difficulty of fingerprint, scratches and other damages. It is also a very flexible case. There are also some more colors are available so that you can select your choice. It is adaptable for iPhone 7 plus.
Sandalwood original wooden material
Carved iPhone 7 Plus Price case
#4. ZenNutt iPhone 7 Plus Case of Wooden material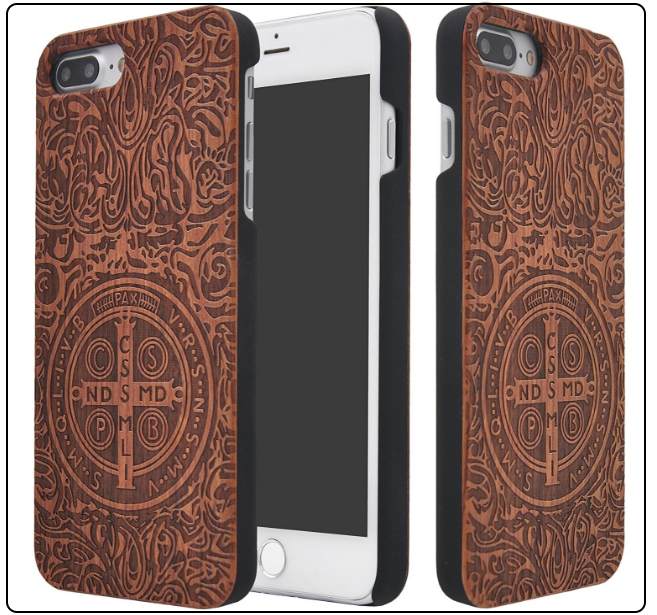 ZenNutt presenting a case is very slim and comfortable in Best iPhone 7 Plus Wooden Cases. There is unique design is archaic period carving on the backside of wooden which is fabulous. But there is some rubber material is also used for the grip purpose so that it will not slip out of your hand. You can use all the ports and slots without removing the Phone case. A perfect wooden case for your device review at here ZenNutt iPhone 7 Plus case
#5. Natural Handmade Wooden Case for iPhone 7 Plus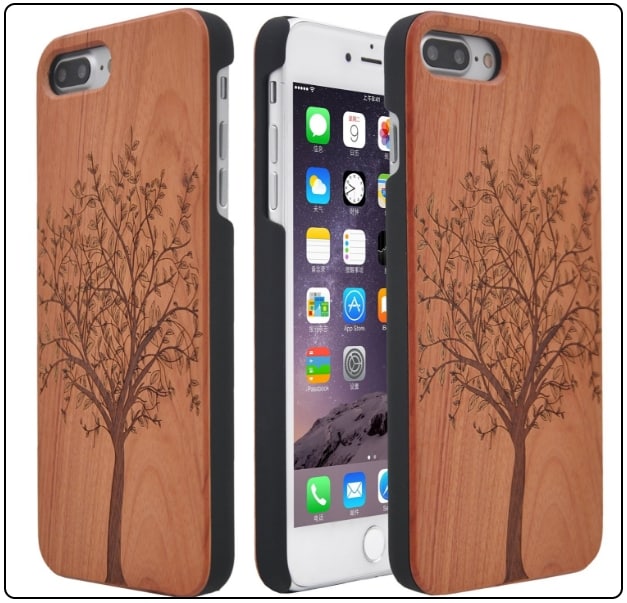 The best natural design of tree or Sunflower is there on the back of the case. This case is a real example of the wooden case because the color is matching with the wood. Very easy to remove and fit on your device.
It is very easy to access all the keys and also the camera so that you will enjoy it comfortably. It is compatible with iPhone 7 plus only. Overall it is a very stylish and good looking case for your device and also gives protection to your device.
Lifetime warranty and No question return policy
#6. iPhone 7 Plus Wood Case American Flag US Handmade
There is a mixture of two colors in this case and also has a light wooden color strip in between them. It is compatible with the iPhone 7 plus. The strip is of V-shaped and it is giving a more beautiful effect for your device.
For the protection purpose, it is the best case because it protects against scratches and many other hard damages. You can use all the ports and Keys of your device after wear it.
iPhone 7 Plus Wood Case American Flag US Handmade
#7. iPhone 7 plus Case made up of Wooden Material
An attractive case made up with the genuine and real Sandalwood Wooden material with soft TPU rubber material for your device. You can say it is the well-designed case as it has the best pattern on its backside. The case is also very slim and not bulky so that you don't face any difficulty while using your device. This case is consistent with the iPhone 7 plus models.
#8. Redwood Carved iPhone 7 Plus Wood Case
Carved is handmade and that's why it is giving the best effect to the user. See ultra-slim case with the best material. Without losing core protection against damages like scratches and other hard damages. Friendly with iPhone 7 plus only. With this, you will get a glass screen protector so that both the ways you will get protection.
Case designed for the great finish with Glass screen protector.
Above all are the most popular and unique best iPhone 7 Plus Wooden Cases for this time. More we will direct listing here as we found.