Last Updated on Sep 14, 2023
List the iPhone XS Max Glass Screen Protectors. Unfortunately, It's also the second most expensive part of your smartphone and sometimes impossible to replace. If you value your device, then using it without a screen protector is the biggest mistake you are making. It's not just Layer, but it is the best iPhone XS Max Privacy screen Protector forever that we should prefer.
You might have some trouble in choosing the right tempered for your phone as these are a look-alike, and it is hard to spot any difference. So we have compiled a list of full-Screen Protector for iPhone XS Max that is robust and can protect your display from cracks and scratches. Big offer and money value Brand Protector available on Amazon and other online stores, see the list. DIY installation Very Easy for all.
Best iPhone XS Max Screen Tempered Glasses Screen Protectors
---
1. ESR Screen Protector for iPhone XS Max:
Renowned for its customer service and well-reputation in the market, ESR is a must buy iPhone XS Max Screen Tempered Glass. It will amplify the lifespan of your phone screen to outstanding levels and will provide you with anti-glare functionalities.
ESR is fabricated from higher-quality tempered glass which covers every micro-inch of your phone's display. This glass guard can bear a force of up to 22 pounds. The upper area is designed precisely to allow the notch to scan your face for Touch id. You are using the full cover case, don't worry because protector alto adjusts with glass and cover itself.
Check ESR Screen Protector for iPhone XS Max on Amazon
---
2. TOZO Glass Screen Protector for iPhone XS Max:
Nothing can match the performance a thin tempered glass provides. This tempered glass is ultrathin and has a 2.5 D higher transitive coating on it.
It has an oleophobic design which is oil and sweat-resistant, so you don't always have to wipe up your display in summery days. It's an easy to install protector, so you can do-it-yourself while sitting at your home.
---
3. iPhone XS Max Tempered Glass from
SPARIN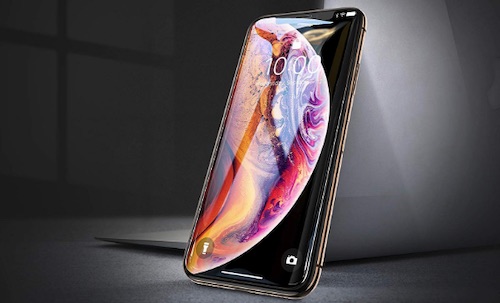 Crystal clarity and anti-blur are the two major factors of a screen protector, and SPARIN  has them. This iPhone XS Max Screen Tempered Glass protector is sleek, resilient and is ultra-clear, so every color of your screen looks vibrant.  It is tough and is shatterproof. So there's no chance your screen will break easily.
---
4. RhinoShield  Screen Protector for iPhone XS Max:
If you are looking for a tempered glass that has the best fit, then look no further than Vitala protector. This screen protector can be applied easily without any hassles of air bubbles.
It has 9H hardness and is resistant to swear and fingerprint marks. Rhinoshield has a shock immune capability as well and can sustain drops even on hard floors.
---
5. JETech iPhone XS Max Screen Protector:
They all say it's one of the best iPhone XS Max Screen Tempered Glasses screen protectors and yes, it is one of them. This iPhone XS Max screen protector has a cutting arc technology and is 0.33 mm in thickness.
Fabricated with best-in-class nanotechnology, JETech is three times harder than a traditional screen protector. Along with these premium functionalities, you are provided with 12 months warranty in case it fails to deliver what was promised.
---
6. XDesign Screen Guard for iPhone XS Max:
How about a screen protector that comes with the packaging of three? Yes, XDesign offers a pack of 3 screen protectors, so you never run out of stock.
This protector guarantees 99.99 % transparency and anti-reflection so you can view your screen from every angle even in the bright sunlight. It is also highly responsive and ensures there's no possible gap between your finger and the phone's display.
Check XDesign Screen Protector On Amazon
---
7. MaxBoost Tempered Glass for iPhone XS Max:
A perfect fit is the next word for the Jeascen screen protector. This ultra-thin engineered glass sticks excellently and fortified every corner of your phone.
The advanced coating on this protector is resistant to finger marks and is nonslippery. So your finger never slips while giving any command to your phone. Along with these, it has an oil rub resistance which is, of course, an added advantage.
Check MaxBoost Screen Protector On Amazon
---
Wrapping Up!
If you value your XS Max, then these are some of the premium screen protectors you can get for your iPhone. However, to install them correctly, you need to review various guides as all of them are not resistant to air bubbles, and precise installation is a thing hard to achieve.