Last Updated on Sep 14, 2023
For College, School students here are the top best money value Pc Laptop for use at school, college, at Work or Office. For student's education purposes I would like to recommend buying a laptop with an average configuration compare to we aspect in high range price. But Best laptop under $200, Under $500 or under $700 with high configuration and space you should go with refurbished gadgets available online from Amazon trusted, but here are the fresh/ New best laptop for students.
Students can do surfing and access documents easily like MS Word, PDF, Excel, and Some small video or audio software efficiently. But if you are looking for gaming purposes then go with the best gaming laptop cheap price.
Grab all the laptops on big offer prices on huge shopping days.
Students: best laptop for students on USA Amazon deals
#1: Apple MacBook Pro With TouchBar or Without TouchBar
Apple's newly released MacBook Pro late 2016 is very intelligent from hardware and functionality that work and compatible with all Desktop applications. Use essential app function from the touch bar given on Keypad. Two screen size 13.3 inch and 16-inch screen MacBook Pro has the latest core Intel i5 processor/2.9Ghz, 256GB or 512GB storage options,
4 Thunderbolt USB -C ports
Iris Graphics and latest macOS Sierra
Resolution: 2560 x 1600
Style options: Silver/Space Grey with Touch Bar or Without Touch Bar
#2: Dell Inspiron 17.3 inch TouchScreen Laptop
This is a newly released Dell model with great specifications and price value. HD screen up to 1920×1080 screen resolution, Sensitive Touch Screen display, Intel i7 processor, 16GB RAM, 2TB Hard Drive, Bluetooth, Built-in DVD writer, Backlight keyboard (Normally Dell not provided in old Laptop model).
GB Graphics card for play or run HD software and Games, Especially for gamers and programmers.
Windows 10, High-quality sound, longer battery life up to 7 hours.
#3. Toshiba: The High-Speed processor
Best for students who want all the facility likes on his/her desktop available at home and now with school/ College. Small in size/ Lightweight mobile Chromebook secured all the files, data in the correct way automatically. Valuable for buying a laptop under $300 or under $500.
Features: N2840 Intel Celeron processor
4GB DDR3L Processor
13 inch iPS screen, Intel HD Graphics,16 GB Solid State Drive
#4. Dell: Rough and Touch use, Best Laptop for Students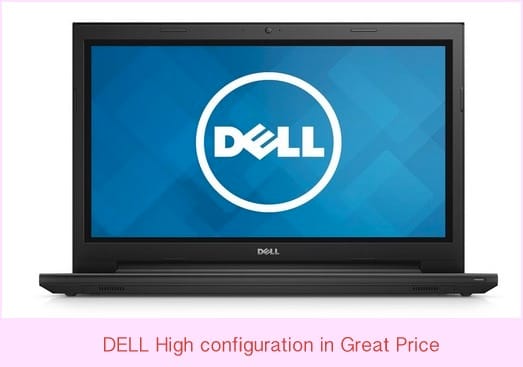 Intel Core i3 Processor, 1TB HDD, 15.6 Touch Screen, Built-in DVD writer, and HD Graphics. All in just under $400, the Best option for students.
#5. HP: Pavilion Laptop for Students under $500
Meets the new technology at a low price, more enough to use it for student life. High tech 5th generation Intel processor, 500 GB hard disk, Core i3 processor, Windows 8.1 OS and Supporting new updates. Lightweight, 13.3-inch screen laptop best fit in your bag. Entertain yourself with gaming, music, and video lightly.
#6. Acer Chromebook: White professional
Stunning white professional look for your Chromebook by Acer Best Seller on Amazon. From the great review and user's feedback, this is the best money value product in student life under $200. Accelerated processor, Up to date OS and Best for education. 11.6-inch screen, Chrome Operating system.
Kidney touch will tell us if any Student free laptop available in the future we will update you.
Other high configurations gaming laptop.
Share your experience with the amazing best laptop for students 2020 (Also topped in 2019) in the handy price tag. I hope this will helps in the best purchase. Don't forget to share an idea on which one is the best laptop on below comment box.