🗓️ November 10, 2020 By ✍️ Jaysukh patel
Know which are useful and Best Wearable Devices compatible with iPhone. There are many Healthcare devices supported with iPhone to personal use. But luckily; you'll get here Top 5 healthcare best fitness device for iDevice. You can measure your blood pressure at your home via one particular wearable device. You can count your pulse rate and Blood Oxygen saturation using your iOS device if your answer is No, then it's possible, and for that, you've to purchase a Pulse Oximeter for iPhone.
You can know you beat to beat interval using a personal balance sensor device that has support iDevice. So what you decide, would you want to see your HRV [Heart Rate variability] monitoring rate on your iPhone Screen? Then let's go beneath, and we're going for discus in rooted about Top best wearable devices for iPhone.
Also Read – Best Top 10 Diabetes Apps for iOS Device
Top 5 Best Best Wearable Tech compatible with iPhone for blood pressure – Healthcare
1. QardioArm Wireless Blood Pressure Monitor
Wear on your arm like an armband and Check your blood pressure count on your iPhone screen. It supports both iOS (iPhone, iPad or iPod Touch) and Android OS devices. This tool is the wireless blood presser monitoring system, not required any hardware installation.
One of the best Blood pressure monitors validates by USA doctor clinical. Sharing features, you can share your count directly with your doctor.
Smart Blood Pressure Monitor – Buy Now: just $188.40r to closest to you. So, buy now and record your daily Blood Pressure rate measurement.
2. iHealth BP5 wireless monitor – Wearable Devices compatible with iPhone
This Blood Pressure Monitor is Suitable for iPhone which is running on iOS 5 or later and Android Phone. Through this tracker, you can measure your heart rate, pulse wave systolic/ diastolic numbers at your Home or anywhere you want.
3. iHealth POP3 Pulse Oximeter – Best Wearable Devices for pulse rate monitor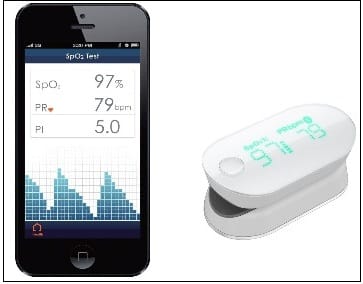 The oximeter is a device using it you can measure your blood oxygen saturation and pulse rate. The main feature of the Oximeter is the user can view their records and can manage/ organize documents by his or her self. End of the measurement, you can easily share your pulse rate instantly with your friends and your family and others. The Pulse Oximeter is compatible with the iPhone.
4. UP Wristband by Jawbone – keeps Personal Care
This wearable fitness tracker is Wearable Devices compatible with iPhone wears in your hand and check your total sleep hours. You can track your action steps, made with good design so that you can wear it up to 24/7, also, ten days battery life as well you can log what you eat or drink and get its nutritional info.
The wristband is compatible with iOS 6.0 or later and Android 4.0 ice cream sandwich or later.  There are three sizes wristband – L, M and S and available in Six Colors.
5. HVR Monitoring Sensor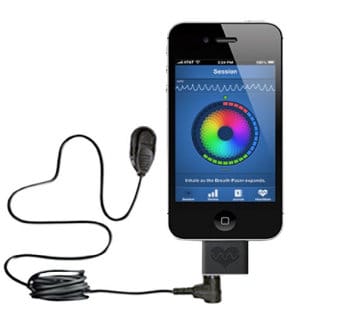 This simple to use technology takes a pulse reading from your earlobe and translates the information from your heart rhythms into graphics on your iOS devices. Get Real-Time Heart Rate variability on your iPhone, iPad or iPod Touch screen.
This one type of heart inner balance tracker instrument for iOS devices. You'll get on-screen coaching, and you can access the full history of your previous tracks.
Are you using any one of the devices from the above listed? If yes then tell us, how it works for you and if not then know in the comment which are the best Wearable devices compatibles with iPhone you want to buy for your good health and personal care.
Kindly keep in touch with us to get more Best Product which has give forever better work.
Don't Miss out- Best iPhone Health and Fitness Apps