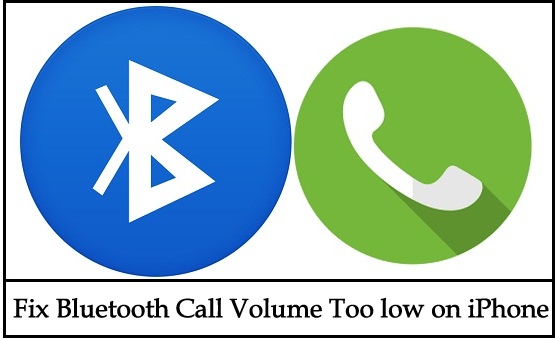 Last Updated on Aug 22, 2020
Receiving or making a call via bluetooth is a better deal when you are driving a car or riding a bike whatever. Hmm, we all know the hands-free calling is safer than taking the risk while on the road/ highway. Good, but the significant problem is to talk with an opponent with a clear voice or listening to music in acceptable sound quality. Even though due to specific difficulties the entire path is broken and so that channel loses its practical way.
we are happy to help you, submit this Form, if your solution is not covered in this article.
So same way, here I'm taking for when the user is calling with other guys then they addressed volume too low issue. If you are having this common problem, then follow my specific workloads to get higher bluetooth call volume on your iPhone.
This method is useful for all iPhone users, so it doesn't matter you have iPhone 11, Pro, Max, XS Max, XS, XR, X, iPhone 8 (Plus), iPhone 7 (plus), iPhone 6S (Plus) or any old models. Follow Step by Step.
Repair Bluetooth Call Volume Too low on iPhone & iPad

Solution 1. Use the Side button to make changes
here I remind you that keep your iPhone is connected with a bluetooth accessory and use the volume up button to increase bluetooth volume.
Volume is maximum but the sound is limited, Check you have applied volume limit for iPhone music volume. Next Steps is on How to Remove the Volume Limit also Called Reduce Loud Sound.
Adjust the Volume of your Paired iPhone using the Side button while on Bluetooth.
Check your iPhone is Updated with the lateset iOS version. Connect your iPhone to WiFi and Go to the Settings > General > Software Update > Check For Update.
Solution 2. Turn off Volume Limit/Reduce Loud Sound – Set to maximum
In Latest iOS 14 or later version, 
Reduce loud sound help in limit output volume while we play Music volume on headphones or Calling from Headphones (Bluetooth or Wired). Just remove the Volume limit to boost output Volume in headphones/Earbuds. Note: Reduce Loud sound is also available on Apple Watch. So you can also manage separately from Apple Watch.
Open Settings app on iPhone > Scroll and Tap on Sounds & Haptics.
Next, Tap on Reduce Loud Sound Option.
Now, Turn off Reduce Loud Sounds toggle or Change the Output volume level using the slider.
That's it.
iOS 13 or Earlier:
On iOS devices, we have advanced settings that prevent from accidentally increase volume to maximum. Settings > Music > Volume Limit Set to maximum after then using Side Volume up button during play song on Bluetooth or Headphone. That increases to the maximum.
Solution 3. Change High EQ for Music
Boost sound quality with specific EQ settings. To change go to the Settings > Music > EQ > Late Night [Music app]. Spotify also supports this EQ setting. But other third-party apps we can use app settings.
Turn off Sound Check toggle: Settings > Music > Sound Check > Turn off Toggle. This setting helps to increase volume by up to 20%.
Solution 4. Force Close music app
Sometimes your music app is stuck on the screen, that unable to change the volume level. So I recommend force close from the iPhone screen. swipe your finger up from bottom edge bar to center to see all app in the app switcher. Now Force close by swipe up on app preview.
Solution 5. Adjust Volume on Bluetooth Device:
Make sure bluetooth speaker volume is up, use the remote or input button. also, Adjust the Volume of your Paired iPhone using the Side button while on Bluetooth.
Volume is deficient
Follow my detailed hints given below to fix your iPhone bluetooth volume too low compared to before or other devices.
First of all, you should apply to delete bluetooth profile from your iPhone or iPad
Premium Support is Free Now
We are happy to help you! Follow the next Step if Your Solution is not in this article, Submit this form without Sign Up, We will revert back to you via Personal Mail. In Form, Please Use the Description field to Mention our reference Webpage URL which you visited and Describe your problem in detail if possible. We covered your iPhone 11 Pro, iPhone 11 Pro Max, iPhone 11, iPhone 8(Plus), iPhone 7(Plus), iPhone 6S(Plus), iPhone 6(Plus), iPhone SE, SE 2(2020), iPhone 5S, iPhone 5, iPad All Generation, iPad Pro All Models, MacOS Catalina or Earlier MacOS for iMac, Mac Mini, MacBook Pro, WatchOS 6 & Earlier on Apple Watch 5/4/3/2/1, Apple TV. You can also mention iOS/iPadOS/MacOS. To be Continued...
How can I remove the bluetooth profile form my iOS device?
Go Settings – Tap Bluetooth – Find device tap on (i) next to the BT device to see the detail – Tap on Forget Device.
Then turn off the bluetooth trigger on your iDevice.
Now try to pairing again
To pair iOS bluetooth to the third-party bluetooth device
Lest turn on bluetooth on iPhone and Bluetooth device
Wait until your phone finding Bluetooth device and start over.
Volume is still incredibly low on your recent software then I think there is the software glitch.
Hope your bluetooth speaker does work with the sound great
You could set bluetooth Volume under music Settings
Related More: Fix iPhone Music Volume too Low