Last Updated on Sep 13, 2022
This is an alert notification for save and help about your iPhone backup incomplete in iCloud due to many reasons. Please take care of it and fix using the guide given below. We can manage it several ways by turn off auto backup to iCloud or Free Up iCloud Storage and Take manually backup once at a time to time. Also getting Notification message like "iPhone Not Backed Up" hasn't been backed up, Backup happens when this iPhone is connected to power, Locked and on Wi-Fi.
iCloud Backup Failed is not an error; it's a problem that happens while backup in turn on in the background.
I would like to recommend to fix this problem anyhow because we cannot extract stored iPhone Data to your PC or Mac like android and other smartphones.
Easy Method to Fix iCloud Backup Failed Error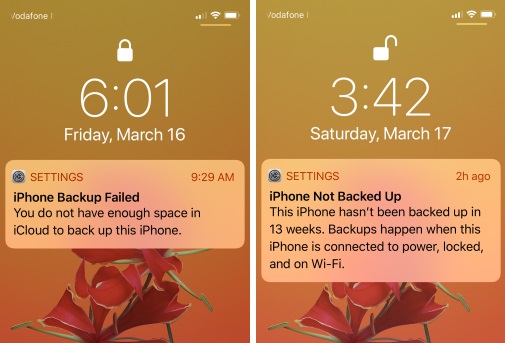 Solution #1. Stop/Turn off iPhone Backup in iCloud: Background
1: Go to the Settings app on iPhone.
2: Next, Tap on Profile name > iCloud.
3: Under the iCloud > Scroll Down and Find iCloud Backup.
4: iCloud Backup > Disable iCloud Backup.
Solution #2. Sign Out/Sign in Apple ID on iPhone
Re-Verify your device sometime may require big iOS update from Apple. Some users bypass the Apple ID verification and restore settings on setup. Apple Brings new section in settings app "Apple ID suggestions." Check that and take action related apple ID suggestions.
1: Go to the Settings App on iPhone.
2: Tap on the Profile name > Scroll Down and Sign out Apple ID and Sign in again.
Solution #3. Buy more iCloud Storage
You can buy more iCloud storage that extends the size of iCloud storage without lost data in your account. Find my tutorial on Upgrade iCloud Storage on iPhone.
Or Go to Settings App > Apple ID Suggestions > iPhone Backup Failed.
Tap on Continue > Buy More Storage Space.
Solution #4. Free Up iCloud Storage Space
Delete unused and large files from iCloud Account on your iPhone, iPad or iPod Touch.
Let's see how to check Available storage space, Delete Data from iCloud Account.
Most of the iOS users used space in iCloud for Media file, Messenger Chat, Backups File, iCloud Drive and more by third-party apps.
Go to the Settings app > Tap on Profile name > iCloud > Manage Storage.
See the screen like below, Tap on Backup > Backups > Scroll down and Delete Backups.
Wrap Up
Once you free up storage and Buy more storage, you can start backup manually under on WiFi network.
Go to the Settings > Profile Name > iCloud > iCloud Backup (Enable) > Back up Now.
Hope you understand my guide to fix iCloud Backup Failed notification comes on the lock screen.