🗓️ November 10, 2020 By ✍️ Jaysukh patelI had the same annoying trouble like you addressing iPhone X incoming call notifications delays and display come after 7-8 seconds. This problem is not happening for just iPhone X users, but I'm also seen many users with the same issue at Apple Store. So today, I guide that diagnoses which I got an Apple engineer, and finally, I solved the problem.
Let's follow my guide steps by steps and get rid of iPhone 10 caller information display delay than before or compared to old iPhone such as iPhone 7 (Plus), iPhone 6S (Plus) or iPhone 6 (+)/SE.
How can I Fix iPhone X incoming call display delay?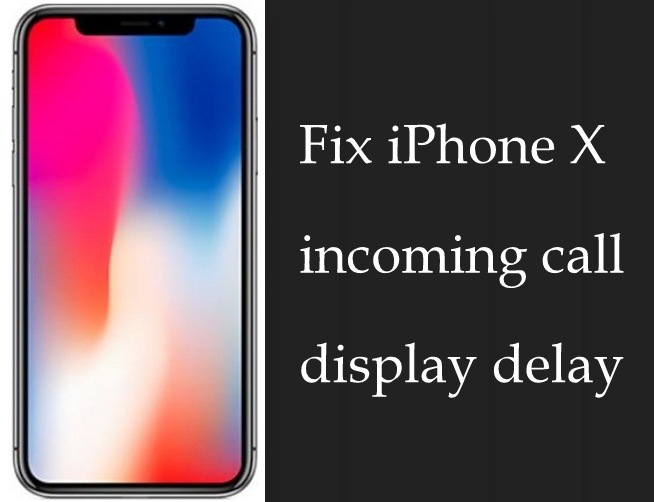 Before getting started solution, let we check out why my iPhone ringtone call screen on late when phone ring? Some reason behind problems, which are mentioned below.
Software issue
An iPhone X display lag due to a glitch in the current iOS version. You Phone Can't cope with the Phonebook, so this happens due to the software issue.
Is an iOS beta installed? Please go with Public version and check out a result.
Probably Hardware issue
Proximity Sensor won't work: Please remove tempered Glass screen protector of your iPhone X.
Workable Tips to Repair iPhone X incoming call display delay
Perform Restart iPhone X
If you don't know how to restart iPhone X or iPhone 8 (Plus), Don't worry, put steps will let you to iPhone restart method.
Reset All Settings
Launch Settings App – Tap General – scroll down the screen until end tap on Reset – Now Tap Reset All Settings and follow on-screen instructions.
Unluckily, this can't fix your issue then you should go with force restart iPhone X, it works much better than soft restart on any solid bug in the software.
I'm also suggesting you that you should wait for future software update iOS 11.3 or in an urgent case, you can downgrade iOS 11 to lower version.
Uninstall Truecaller App and use only iCloud Contacts (I mean not use Gmail contacts)
Get Here how to Delete Truecaller App
Remove Google Contacts from iPhone X
Steps to remove Google contacts
Open up Settings App – Tap Account & Passwords – Tap Gmail – in the end, Turn toggle Contacts Off/gray.
That's it!  Hope, at least this way make your iPhone X usable for both the saved Phone books contacts and unsaved phone numbers.
Keep Attention Aware features Off And Raise to Wake On
To Turn AAF (Attention Aware features) off: – Launch Settings App– Face ID & passcode – Turn trigger Attention Aware features OFF.
Turn RTW (Raise to wake):-  ON Open Settings App – Tap Display & Brightness – Turn toggle Raise to Wake ON.
Put your iPhone X into DFU Mode to get the positive solution
Suppose you still facing problem then please follow make a full backup using iCloud or iTunes and restore method to get rid of iPhone X incoming call information interruption problems.
You can also book the genius bar Appointment for your nearest Apple Store.