🗓️
November 3, 2023
By ✍️
Jaysukh patel
Interruption in install GBA4iOS is the most common regular issue that is facing many people like you. That will resolve itself. But it would be best if you tried after some interval. Go to the home screen and Delete the stuck app (try to redownload an app that we have seen in our past tutorial on install GBA4iOS).
Here's the walkthrough guide that we have to follow and help me in my case. I hope the below tricks work for you, and you can install the GBA4iOS emulator on your iPhone devices (iPhone and iPad). So get Here – how to Install Delta Emulator on Your iPhone.
Resolve "Gba4ios" could not be installed at this time issue on your iOS device
You know the GBA4IOS app has been down for a couple of weeks. So I think this is the safe time to say it's been discontinued unless the GBA4IOS app developer finds a loophole on Apple's new stricter regulations with app certificates.
Tech giant Apple has made it virtually impossible for the certificates to work these days. So the only option is really to get a PC that works with AltStore or buildstore (you will have to pay for the buildstore).
I can confirm Buildstore will allow gba4ios to function without install jailbreak. However, be warned that not only have their bucks increased to $20USD, but their service seems to go down still, which will result in the occasional crash/redownload. It's not perfect, but it's up the vast majority of the time.
Note: You may know that the Favorite Gameboy game of all time is the Pokémon Red Version.
Solution #1: Use a VPN: Change your Country or location
Pros: Set your Virtual location using the many Free VPN apps available on the App Store. The process for using VPN is simple after signup. Use Different places like the United States or Another region around that. Sometimes too many requests came, so developers blocked that region to download and install a new Setup file after few days. This is a big issue that happens in most cases. Also, try another handy solution that I recommend in the following solutions. Some Examples are the mind are Tunnelbear, and NordVPN. Instead, then you can use Google to search for the best free VPN for you. Get more to set up VPN on your iPhone.
Cons: In some cases, VPN is blocking the internet connection from the secure server, so if you already installed VPN and your device has enabled VPN, try after turning off VPN from your iOS device.
Solution #2. Tap on App's icon if stuck on loading on the Home screen
We can manage the app on the iOS device's home screen with a single tap. For example, we can push or start downloading the app from the internet with just a single tap. Go through push, Again download. That helps if your app goes in ideal mode and refreshes the process if it's not displaying.
First, try with Enable Date & Time Automatically: Also, Make sure Date and Time set to automatically, Settings > General > Date & Time > Enable Set Automatically toggle.
Second, Disable Date & Time Automatically: Go to Settings > General > Date & Time > Disable Set Automatically toggle > Now set Earlier Date time. Now try to install the app Again.
Solution #2. Force Restart Your Apple iPhone
We can fix most of the issues related to stopping downloading and installing a new iOS device. We can fix it with a hard restart.
Force Restart iPhone with Face ID Models
Press & quickly Release Volume up button
Press & quickly Release Volume down button
Now, only press and hold the Power-Power button on the right side until you see the Apple logo & black screen on iPhone.
Hint – See the picture below for an easier understanding to perform a hard restart of your X-series iPhone models.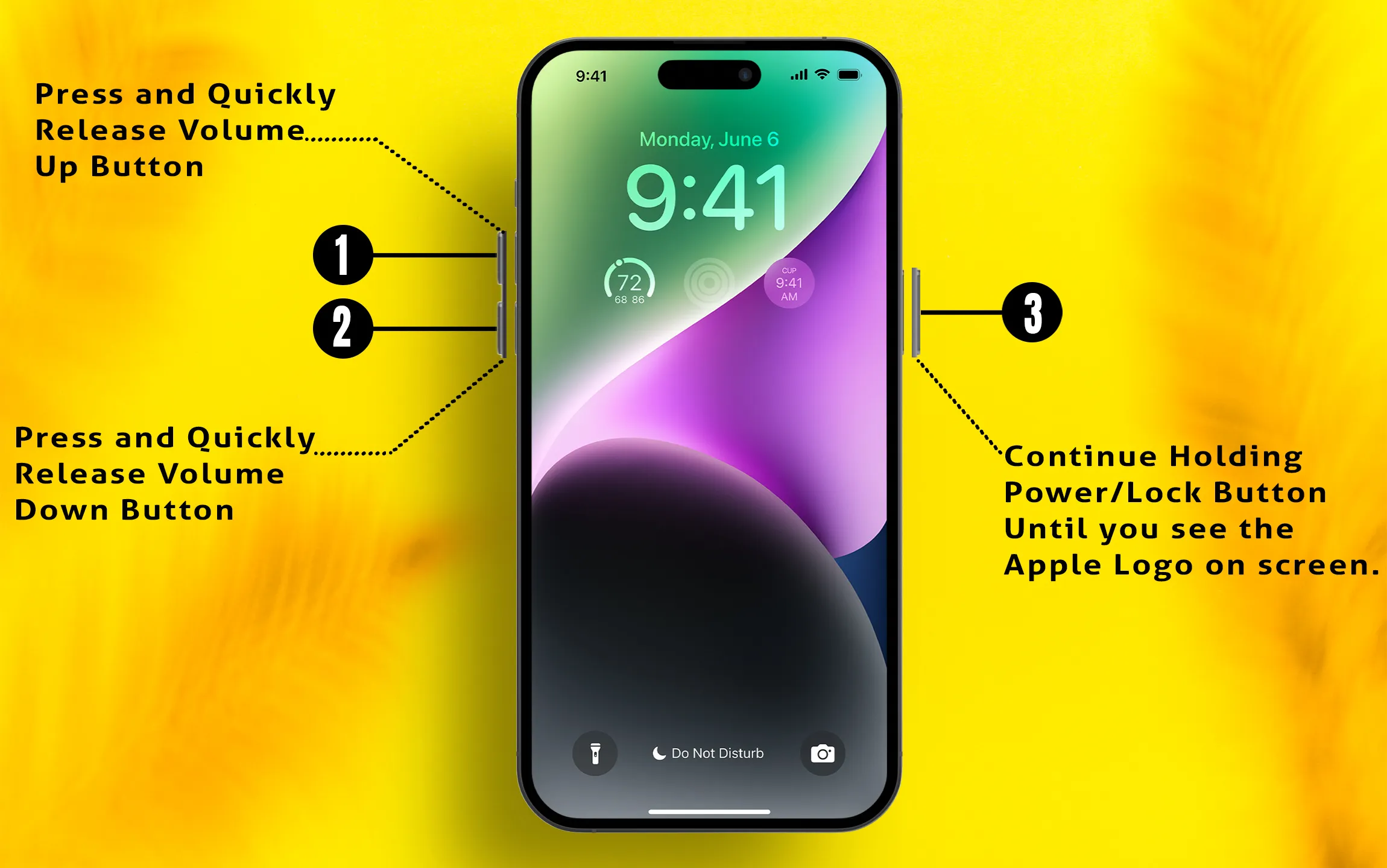 Solution #3. Delete GBA4iOS Emulator App and Re-install GBA4iOS
Let's Tap and Hold on the GBA4iOS stuck app icon on the phone home screen until the screen starts to jiggle the app on the home screen. Then, tap on "X" to delete the app. A pop-up will ask you to Delete or cancel. Tap Delete.
Follow the steps for Re-install GBA4iOS on iPhone, iPad.
I hope you will get success and Play a new Nintendo game on the iOS device.
Solution #4. Check the Internet Connection
Are your Internet reliable and enough speed? Then, open the Apple website in your safari browser.
Hint: You should click on the around area of the install button; it will help you.
Solution #5: Can't find the gba4ios "Profiles" button under the Settings
If you cant install gba4ios because you can't find the "Profiles" button under the Settings app> General tab. so that you can't make your iPhone trust the developer and can't install it.
Solution – Restart your Phone. Almost fix the issue of the gba4ios profile missing under the General tab.
Second, you should delete and re-download whichever third-party party app you used another time. For example, AppValley and TutuApp installed, then delete that and try to download and install gba4ios emulator. I hope the gba4ios profile will appear.
You can also try Delta, you may know that Delta is made by the creator of GBA4iOS.
Here you can get Delta source. I think it makes Delta more stable.
How to Fix TweakBox Not Installing Apps 2020
Reinstall TweakBox on Your iOS
When TweakBox is not installing apps on iPhone, iPad for no reason, you should delete the TweakBox profile entirely and download it. It takes 5 minutes to complete the entire troubleshooting, but doing this will help you fix the problem if it is a minor issue.
First of all, you have to delete the TweakBox Profile,
Open the Settings app.
Tap General.
Go to Profiles.
Tap on TweakBox Profile and Delete it.
To Delete TweakBox App,
Press and hold the TweakBox App icon for as long as it starts jiggling, and then tap (x) to delete it.
Restart Your iPhone, iPad
After removing the TweakBox App from the iPhone, a refreshing system by force restarting is recommended. Here's how to force restart the iPhone.
For iPhone 8 or later,
Press and quickly release the Volume Up button.
Press and quickly release the Volume Down button.
Now, press and hold the Power button until the Apple logo appears.
For iPhone 7 and 7 Plus,
Press and hold the Volume Down button and Power button until the Apple logo appears on the screen.
For iPhone 6SPlus, 6S, or earlier,
Press and hold the Home button and Sleep/Wake button until the Apple logo displays.
Download the App
Now that you've removed the profile, deleted the TweakBox, and restarted the iPhone, and it's time to download the TweakBox app and try playing the game.
Word Wrap!
There are no alternate ways to fix it. Share your problem with a comment to contact the developer of GBA4iOS. Also, check your device is compatible with your iOS version. (New iOS 17 may not support at the launching time, So wait for it.)
I hope you get fixed GBA4iOS unable to install and won't download GBA4iOS.