Last Updated on Sep 14, 2022
Whatsapp is one of the best ways to be in touch with one another. All the time it works significantly without a single hiccup. However, after updating the iPhone to iOS, the bundle of problems arrived, and one of them was Whatsapp not working.
After reading the forums I have shortlisted the most common problems that users are facing such as Whatsapp notifications problem, Unable to connect WhatsApp, WhatsApp frozen after updating to iOS, WhatsApp won't send pictures, WhatsApp won't send video, WhatsApp won't connect video call, WhatsApp won't connect the call and much more.
The common problems that most of the people are facing after updating to iOS:
Fix iPhone Whatsapp Problems after iOS Update
Note: Whatsapp users are affected by the service down the issue for today. so please try after some time, then user alternate social app. – Twitter, messages
We're aware that some people are experiencing issues with WhatsApp at the moment. We're working to get things back to normal and will send an update here as soon as possible.

whatsapp, facebook, instagram
Unable to Connect to Whatsapp
This might be possible when there is a bad internet connection, and the WhatsApp server goes down. [http://downdetector.com/status/whatsapp]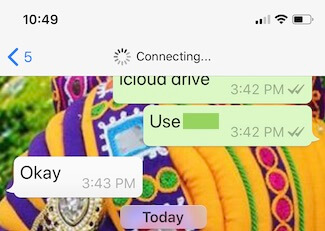 Problem while Messaging
One of the primary reasons behind this is a weak internet connection. Besides this, if your number is blocked by opposition then it is not possible to send or receive messages, it might be possible that you haven't completed the initial verification process and the last one is checking the WhatsApp number.
You should check for WhatsApp update on your iPhone's App Store.
Whatsapp stuck After iOS 16 update
Generally, this thing happens, and I have read this like, Whatsapp not responding or Whatsapp not working after the iOS 16 update. If this error is embarrassing you don't worry within a few minutes it will automatically get solved by their technical team.
Whatsapp keeps Crashing after iOS 16 update
Whatsapp keeps crashing after updating iPhone to iOS 16 is the most common issue among iPhone users. Rather than crashing some of them have reported that Whatsapp won't send messages, Whatsapp paused or down, Whatsapp won't open, and much more.
This entire situation is very annoying but not much complicated that we cannot solve them. Have a look.
Fix 1: Force close the Whatsapp App
The prior fix to troubleshoot any app is to force close the app. Most of the time it works so let's give it a try.
Step 1: Double click the home button and swipe up the window of that app. or swipe up your finger from the bottom bar, to open the app switcher and force close app by swiping up.
Fix 2: Good internet connection is Required
As I mentioned before a good internet connection is necessary for the smooth working of WhatsApp.If you haveWi-Fi, then disconnect the iPhone and again connect to the network, or you can reset the Wi-Fi router. But if you are using the carrier's data plan, then the only thing you can do is reset network settings.
For iOS 15 and later users,
Step 1: Go to "Settings" and open "General".
Step 2: Click on Transfer and reset iPhone – Tap on "Reset" and there click on "Reset Network Settings". Now follow on-screen instructions to terminate the process.
iOS 14 & Earlier
Step 1: Go to "Settings" and open "General".
Step 2: Tap on "Reset" and there click on "Reset Network Settings".
After a few minutes open WhatsApp and check the issue is gone or not.
Fix 3: Update your Whatsapp Version
In most cases, updating the app is helpful, and some of the relevant issues get fixed because of updating the app. Go to App Store and update the app.
Fix 4: Uninstall and Reinstall the Whatsapp Messenger iOS app
This can help if your Whatsapp got crashed, Whatsapp won't open, or Whatsapp got frozen. You need to delete the app from your iPhone and again install it from App Store.
Step 1: Tap and hold on the Whatsapp icon.
Step 2: when you see (x) on the top of the icon tap on it and delete it.
Restart the iPhone and again download the app.
This trick is also useful whenever iOS Whatsapp notifications not working.
Fix 5: Erase all contents and Settings/Restore iPhone
This action will result in complete data loss so before performing Reset you much take backup.
Step 1: Go to "Settings" and open "General".
Step 2: Now, scroll and open "Transfer or Reset iPhone".
Step 3: There tap on "Erase all Contents and Settings".
By entering your passcode, the process will be completed and your iPhone will be restored to its factory settings.
Last Resort – Contact WhatsApp developer to send a bug report.
You can get more solutions here to fix whatsapp crashes on iPhone.
Video to getting Cool WhatsApp Tips & Tricks
Do you have tips or issues for WhatsApp iOS 16? Then feel free and reply to us in the comments.