🗓️ November 10, 2020 By ✍️ Jaysukh patelI'm using Dropbox as my primary cloud storage to better file management, to save and share files, scanning docs, offline access on my iPad Pro and iPhone. Now Dropbox files hosting service confirmed its App integration with Apple's brand new Files App in the latest iOS. Cause Dropbox is third-party cloud storage, therefore, add Dropbox to Files app in iOS is essential for all. Otherwise, the user won't access Dropbox docs via Apple native files manager. Get here to know much more.
For instance, to add email attachment directly from Mail App in iOS, you directly jump on Apple Files App. So if you want to import Dropbox docs like the PDF, pictures, music Memos, Zip files and much much more, then required Dropbox-enabled into Files App locations.
Guide to unhook and Add Dropbox to Files App on your iPhone/iPad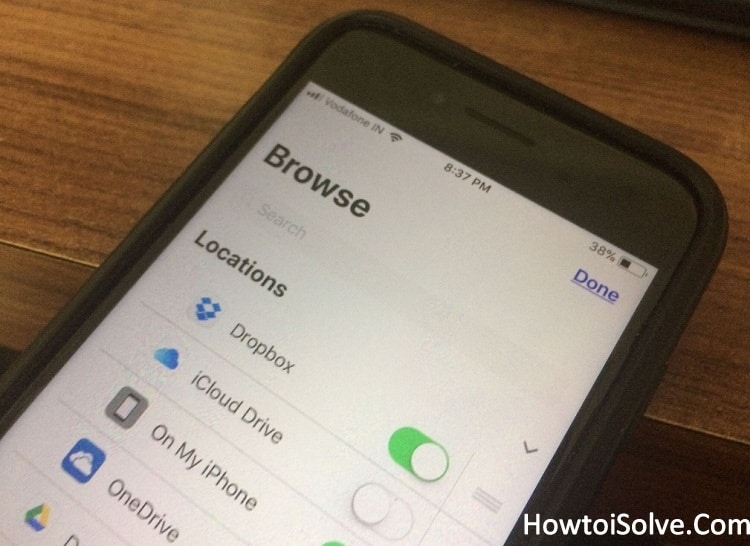 Point to be Noted- To access the Dropbox service extensions into Apple's Files App then you must have Dropbox installed and signed-in on your iPhone or iPad native Dropbox app, whatever you have.
For that user who doesn't logged-in into Dropbox, then will get screen Sign into DropBox – Please open the Dropbox app and Sign in to Continue.
let's closer look at how to hook or add Dropbox to Files App on iPhone and iPad
Step #1. Go to the Files App from your iDevice home screen.
Step #2. Tap Browse tab appears lower-right corner.
Step #3. Tap on Edit button at the top-right side.
Step #4. Now, turn toggle next to the Dropbox On/Green.
Don't forget to tap on Done to save changes.
You're Done!
Ever you want to rearrange locations of iOS cloud storage apps, then just tap & hold on three horizontal lines and drag it to the comfort location.
Ever you don't want to use Dropbox cloud app or would like to temporary hide Dropbox label in the Files App under Locations preferences then following steps will help you.
How to Remove Dropbox from Files App on iPhone, iPad Pro, iPads
Step #1. Open the Files App.
Step #2. Hit on Browse tab.
Step #3. Tap on Edit button
Step #4. Now, turn off trigger next to the Dropbox OFF/White and tap on Done to save changes to unhook.
You can easily use mentioned above steps to disable Below mentioned steps Dropbox, and any third-party apps like Box, Google drive, Amazon Drive, One Drive, and even Apple iCloud Drive too.
In addition, you can also use markup management tool hassle free and for read offline.
Do you have any issue to add or remove Dropbox from Apple's Files App in iOS? Let me know in the comments. I will help quickly.
The guide Add Dropbox to Files App is useful for all latest iOS supported devices including iPhone 5S/SE, iPhone 6/6 Plus, iPhone 6S/6S Plus, iPhone 7/ 7 plus, iPhone 8/8 Plus/ iPhone X/XS/XR/XS Max and iPad Pro, iPad Air, and iPad Mini.
Hope you would like this post, don't miss related more articles listed below.
Like this Post? Don't forget to share with your mate and friends.