Last Updated on Mar 23, 2022
Here like to know tip on how to change Facebook password on iPhone. There are millions of Facebook users around the world. Because, on that users can be sharing their personal moments, pictures, thoughts, live status, and much more. So almost FB users store their personal information and worth status too. Therefore, Facebook account privacy is a big issue. But, FB is already a password-protected app. And you can reset/ change your password whenever you wish.
we are happy to help you, submit this Form, if your solution is not covered in this article.
But a condition is as per our knowledge overall about Facebook, we haven't any trick to reset/change FB password without old password. To make changes in your Facebook login password, you must remember the old password. Unfortunately, you don't remember it then you should follow a forgotten password process.
Having your question- how do I change my Facebook password on my iPhone? Then get here an easy method to do it. If you've remembered your FB account's old password, then follow the below steps. For Instagram, get here a full guide to change your Instagram password.
Explained how to Change my Facebook Account Password on iPhone: iOS
First, See How to Change Facebook Password Using Mobile App on Android and iPhone
Keep in mind that due to facebook's security data policy and users' trust, You cannot change the Facebook password without an old password and email.
Step 1. Open the latest version Facebook app on your iPhone
Step 2. Do FB login and follow the next steps
Step 4. Now tap on Settings & Privacy, next Tap Settings  
Step 6. Again scroll the screen Now tap on Change password located under the Login headline.
Step 7. Enter the current Password and New password two times.
Step 8.  Now enter your old password into the current password fill, then enter your new password which you want to do. Now Retype New password
Step 9. Tap on the Change Password button and little wait
Step 10. Now you'll be seeing a screen Logout of other devices?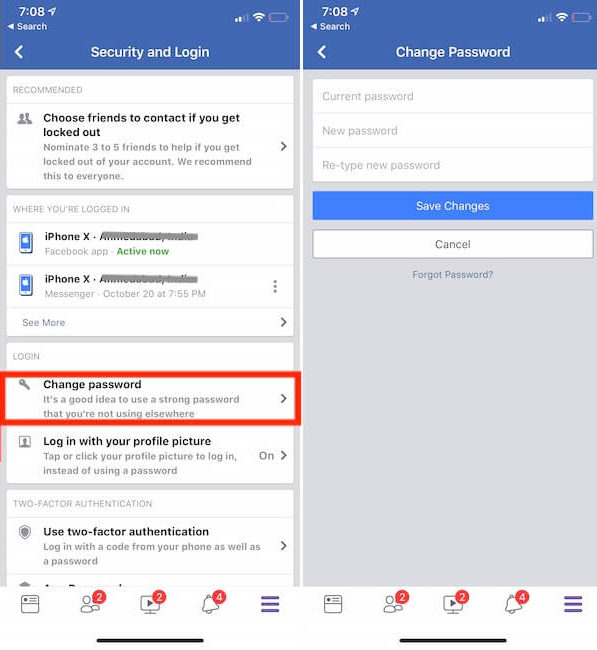 If you want to stay login on other devices then go with that option, otherwise, go with Stay logged in and tap on continue.
Step 11. Tap on getting Started
That's it.
How to Change Facebook password on Computer, PC, or Apple Mac
Bottom, steps you will have to perform on your computer to change your Facebook password. keep in mind that due to facebook's security policy, you are unable to change the Facebook password without the old password and email.
Step #2. Now, look at the upper-left sidebar to Click on Security and Login.
Step #3. Next Click Edit next to Change Password.
Step #4. Enter your current password and new password. [if your new password doesn't match then you can't go next please enter the correct new password two times.]
Step #5. Click Save Changes.
You're done!
For extra layer security, you can Set up Two-Factor Authentication for Facebook to make your Facebook account much more secure and double layer password protected. [in this feature, Facebook will ask for a security code if facebook notice a login from an unusual device.]
Read more: How to Deactivate Facebook account for temporary
Please share your expression about this page on to Change Facebook password on iPhone,iPad Air, iPad Mini.