🗓️
September 13, 2023
By ✍️
Jaysukh patel
Are you eager to learn how to Change the iPhone Flashlight brightness on your iPhone? Let head over here to get iPhone flashlight full, dim, and medium. An iPhone flashlight is an integral component that gives luminous enough in the dark place and mostly at night time.
Since now Flashlights has not limited only to the flash cause currently, it's useful to take night-time selfie-and flash alert notifications. Know this trick and kick to get luminous intensity control like the low intensity, medium intensity, and High Intensity. The setting is available in the Control Center. Let's scroll down and get in deep.
Trick to Change iPhone Flashlight Brightness
Before getting started below-given steps, make sure that your iPhone running on the latest iOS edition,
If Your iPhone firmware is upgraded, then ignore it. And follow the bottom tutorial to access flash intensity.
No Home Button iPhone:- Apple iPhone X- Series family user can get a control center by swiping down from the right-edge corner.
Home Button iPhone:- Let's Swipe up from the bottom of the screen on your iPhone to launch Control Center.
Now long press on the Flashlight icon that appears left-bottom of the CC (control center) menu in iOS (if not showing, follow the next step and try again). You'll get a Peek at various options – High, Medium, and low intensity.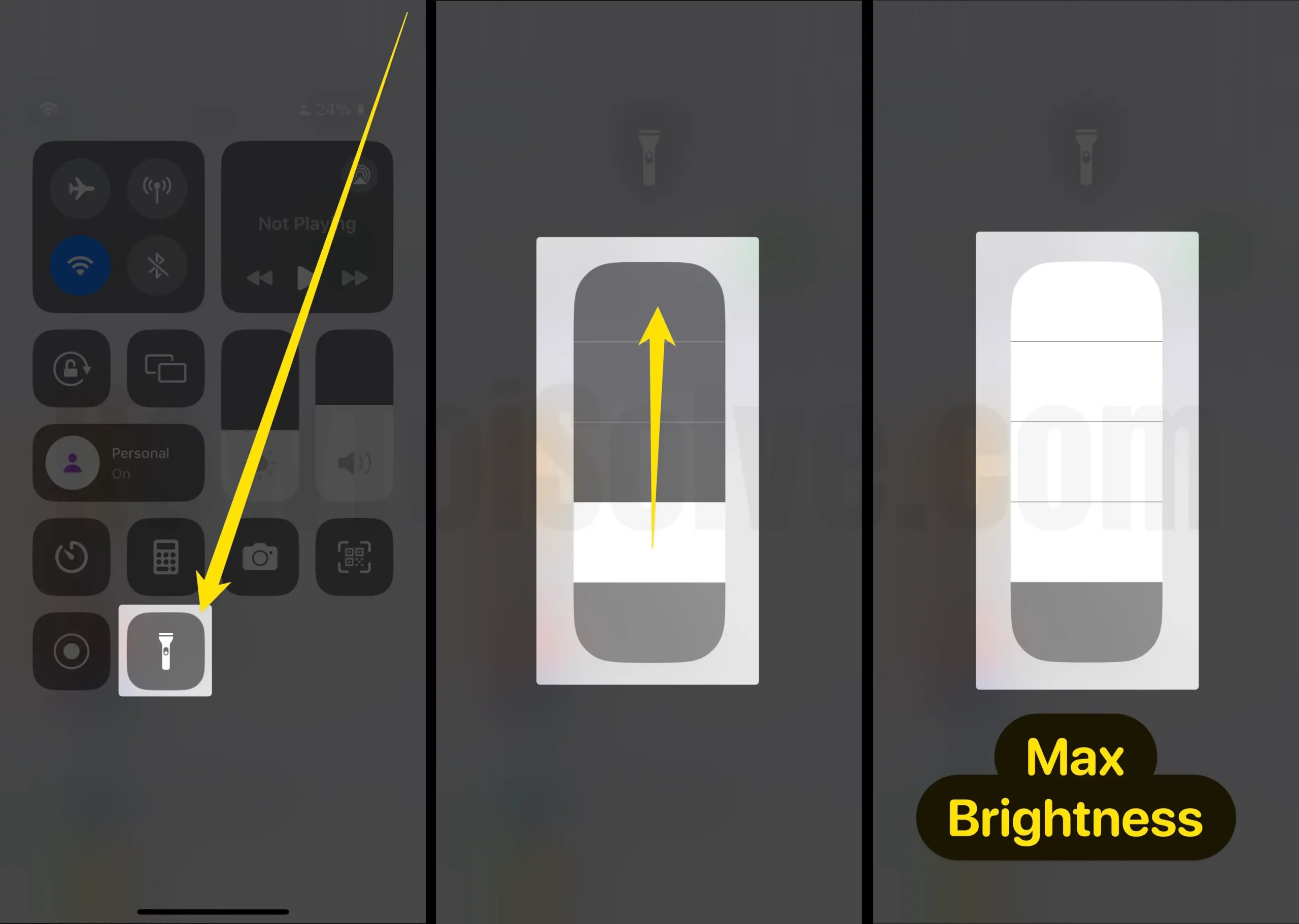 Add Flashlight icon to control center,
In the latest iOS, the flashlight icon can be removable and added. So find yourself if the flashlight icon is missing. Try this to add a flashlight in the control center iOS.
Open Settings app > Control Center > Scroll to Torch and Tap on "+" To add in the control center.
Here's Customize Control Center in iOS
So choose one of them to turn on your iPhone flashlight and enjoy.
How to Turn on High Flashlight Intensity on iPhone
Mention above steps through goes on a Torch icon in the control center to increase flashlight intensity. And force touch on it so you will get a Colum-like stack.
Now put your thumb in the stack's last row and move upside down slowly. For high intensity, your finger first row of the Stack.
Related More: Best Flashlight Apps for iOS
How to Turn off iPhone Torchlight
Open the Control Center.
Just hit on the torch icon and go back on the home screen by clicking the home button.
That is it!
If you demand that removes flashlight icon from Control Center then in iOS 11 or later you can do that. Hmm, Apple's eleventh iteration allows the customizing Control Center. You can add and remove app controls that your mind pretty much likes.
Pros of the Adjust Flashlight Brightness of iPhone Torch with Control Center
A Low brightens beam will help you when you needed short-distance light with good luminosity anywhere, for example, to find any object in the room.
High-brightness laser ray gives long-distance light, and it works well in situations such as where you needed long-distance light.
So this setting, you can feel that an iPhone flashlight is such a real LED torchlight. In short, Apple brings the feature to reduce battery consumption during turning iPhone flashlight ON.