In this article, I'm going to explain how to add/ delete control center App shortcuts in iOS 12/ iOS 11 on iPhone, iPads (iOS 11 compatibles iPads). At a glance, re-designed Customize Control Center panel in iOS is like as we usual organize notification center widgets. This time Company offers to Customize Control Center in iOS on iPhone along with Additional controls and Settings App Shortcuts.
Apple's iOS Control Center gives better productivity to access usual Settings app functions on the lock screen and or within Apps through shortcut way. You'll have just to Swipe up menu to the bottom of the screen to get control panel on your finger. Hmm, past released iOS 10 came with the two Page Control Center and was a significant change after a long time. Occasionally, once again, Control Center is targeted in iOS 11 that gives good user experience.
Now turn on/off Cellular data green icon in control center, instant access notes app, put Apple TV remote, Voice Memos, Wallet app, brand new record iPhone screen iOS, Text Size, timer, and enable/disable low power mode switch using Control Center. But Unfortunately, there isn't any hidden setting to add location services in iOS 11/ iOS 12 control center.
Indeed it is quite simple to organize if you're not tech savvy and looking for to add your favorite App shortcut and remove the annoying additional controls. Don't worry. Scroll down and get started to the following guide on Customize Control Center iOS 11 on your iPhone/iPad Step by Step.
How to Customize Control Center in iOS on iPhone, iPad Air, Mini, Pro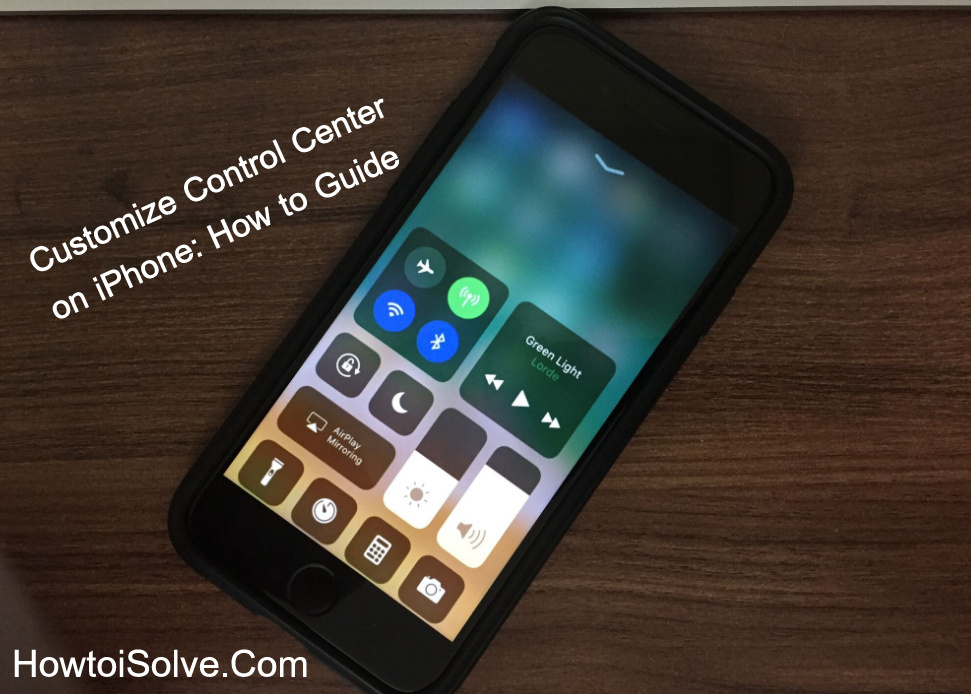 Step 1. Open up Settings App looks like a gear icon on your iPhone Home screen.
Step 2. Navigate Control Center appears between Notifications and Do Not Disturb, then tap Customize Controls.
Step 3. Next, you need to touch the Green with (+) sign add button appears next to control under the More Controls Section.
For example, here I have added Apple TV Remote and Camera app as the shortcuts on Control Center. It's to access Siri remote's all buttons (Menu, Home, Siri,  Play/Pause) and camera app right on your iPhone CC.
Note: Swipe down a finger on iPhone X, From top right corner of the Screen. Swipe up on iPhone 8/8 Plus, 7/7 Plus, iPhone 6/ 6 Plus.
Note: Still in iOS 11 beta, there isn't an option to make changes to AirPlane Mode, Wi-Fi, Cellular, Bluetooth, Audio Playback, Lock Screen Rotation, DND (DO not Disturb) and Screen Mirroring. These all Controls remains in CC (Control Center).
There are some of the hidden shortcuts on the Control Center that you can access through a gently long press. The hidden shortcuts such as AirDrop and Personal Hotspot, Nightshift Mode, audio playback volume controls slider, Paired Bluetooth devices, Screen Mirroring devices and lot more.
---
How to Organize the Order of App Shortcuts icons on Control Center in iOS 11
Step 1. Open up Settings App from your iPhone home screen.
Step 2. Next, tap Control Center.
Step 3. Now tapping and holding on a Control that you want to put on comfortable touch until it goes into hover Mode. For more help, you can see in given pictures.
Step 4. Next, you need to Drag the Control to its new location on the list.
And, yeah you can move it on control center until it looks valuable location and easy to tap. You can see a interchanged apps shortcuts icon on the CC (Control Center).
In the end, you can learn below how to delete or remove additional controls from the control center on your iPhone, iPad running iOS 11 or later.
---
Don't Miss – 5 methods to Enable Dark Mode in iOS
---
How to Remove App Shortcuts Controls from Control Center in iOS 11 on iPhone
For easy to understand, here explained how to remove the wallet app shortcut from the control center in iOS 11.
→Go to the Settings app on your iPhone.
→ Next scroll down on-screen tap on Control Center.
→ Tap Customize Controls.
→ hit the Red button with a (-) sign to Remove App shortcut of the Control Center.
Customize Control Center iOS 11/ iOS 12 on iPad Pro, iPad Mini, and iPad Air
Step #1. Open the Settings App on iPad and navigate Control Center.
Step #2. Next, Tap Customise Controls.
Step #3. Now on screen, you can appear available Apps shortcuts that you can add in Control Center by tapping on Green (+) sign button left to the App label.
For you easy to understand, I have been added Notes App shortcuts to the pull-up Menu on your iPhone. So using 3D touch, we can easily access notes app functions like create new Note, New checklist, new Photo, new Sketch.
Enjoy guys; this most demand redesigned CC which is one of the #1 great iOS 11 features.
Having you any issue like iOS 11 control center items won't work/ Missing on iPhone? Try iPhone Swipe up menu not working.
interneast thing is that the Control center iOS 11 Apk also available online to download for Android.
Also Read – Add iPhone Screen recorder icon to Control Center iOS 11
I hope you'd like this one page swiping up menu in iOS 11. Do you have any question related to the Customize Control Center in iOS 11? Let's send it in the comments?
Get More for iOS Control Center
Jaysukh Patel is the founder of howtoisolve. Also self Professional Developer, Techno lover mainly for iPhone, iPad, iPod Touch and iOS, Jaysukh is one of responsible person in his family.
Contact On: [email protected] [OR] [email protected]