Last Updated on Jun 1, 2023
Apple provides LED flash Light in its iOS device. It is useful to take a photo in the dark place to keep away your picture from the red-eye image, and the second thing is to use it as a battery torch. But here I will give you an amazing trick through which you can get enable LED flash alerts on your iPhone each notification like Incoming calls and messages along with the flash signal.
If you have no idea about that, Please follow beneath given tips on how to LED flash alerts on iPhone every notification. You can do it using the Accessibility feature on your iPhone; once you turn on LED flash alerts, then-new receiving calls or text notifications will alert beeps or buzz with a flash blink three times. Now you get one thing also if you don't hear your iPhone beeps Sound, no worries. It will arrive with a flashlight now.
Why use LED Flash Alerts on iPhone when Ringing when Receiving a text?
Probably, it is the simplest question I have ever had in my life. LED Flash Alerts on iPhone can be used whenever you want to keep your iPhone silent but acknowledge Calls and Notifications. If you are in an important meeting, just enable LED Flash Alerts on your iPhone and attend your meeting sincerely.
Turn on LED Flash Alerts on iPhone, iPad
Even if you have the Latest iOS, we will show you how to enable LED Flash alerts on iPhone and iPad. Let's begin with Turn on LED Flash Alerts on iPhone and iPad.
My flash isn't going off when I receive any kind of alert, or Incoming call then follow the below steps for Turn off or Enable for Turn on.
Go to the Settings app.
Scroll the screen and tap Accessibility.
Now select Audio/Visual.
Turn Toggle LED Flash for Alerts ON/Green.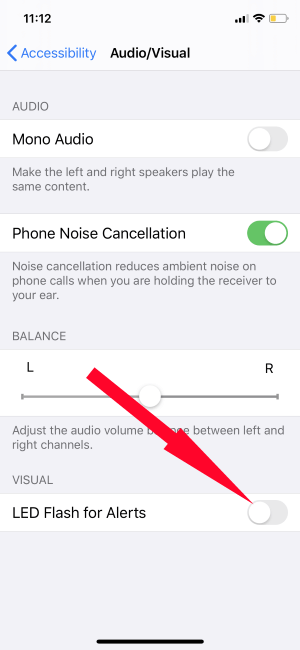 Video to Put Flash notification Alert on Your Apple iPhone and iPad Pro
Guide Enable LED flash alerts on iPhone iOS 12 or earlier
Launch the Settings app from your iPhone Home screen.
Tap General.
Now scroll down the screen to the Accessibility Option.
Now you have to tap LED Flash for Alerts you can appear under the Hearing section.
Next, turn the LED Flash for Alerts ON.
You're Done!
Note: You can turn off the LED flash alert notification light by turn off the toggle "LED Flash for Alert" for your iPhone.
That's it.
In addition, in iOS 10/ iOS 11 or later, iDevice has an extra option that allows enabling Flash on Silent. So for that user who wants to keep iPhone in silent mode but Flash alert on, turn a particular trigger On.
Also, Read – 3+ best iPhone Flashlight Apps that you never use before
How to Turn ON/ Turn Off LED Flash for Alerts Flash on Silent Phone Mode
Go to Settings App
Tap General
Tap Accessibility
LED Flash for Alerts
Turn toggle Flash on Silent ON.
That's it!
We hope you would like these tips on how to enable LED flash alerts on your iPhone when receiving every new Notification. Keep in touch with us for more tips and tricks on the iPhone, iPad, Mac, Apple TV, and Apple Watch.
You can also change Flashlight intensity on iPhone whenever you are tapping on the flash toggle icon in Control Center.
→ If you have any advice, then sure, you can write in below comment box.
If you are facing an issue with Flash alert not working on your iPhone, restart it and test again. If the problem persists, then let me know in the comments. We would like to help you.
Like? Share it.