Last Updated on Mar 30, 2023
Individuals and businesses may need to record voice memos, important notes, lectures, classes, press interviews, business meetings, and interviews. A few decades back, people usually purchased recording devices and equipment to record meetings, conversations, and voice notes. Fortunately, smartphones have now become versatile and cost-effective tools. You can use your iPhone for voice recording and other related tasks.
The built-in app in your iPhone may not be enough to perform all voice recording functions. In such cases, you must download an external app that supports all the voice recording features you need. Some apps let you edit the recordings, arrange them into different categories, and share them. The article below helps you choose the Best Audio Recording App for iPhone and streamlines your recording needs.
1.Voice Record Pro
REASONS TO BUY:
Boosts audio volume
Allows reading and editing notes
High-quality audio recording format
Voice Record Pro is considered the best recording app for iOS for professional voice recorders. It helps you to record sounds and voice memos into unlimited lengths with adjustable audio quality. It directly records in MP3 (MPEG), MP4 (AAC), and WAV (PCM) formats. Furthermore, it supports the convert function for all compatible audio formats. You can select the anticipated recording quality during recording, including sample rate, bit rate, bit depth, encoding quality, and the total number of audio channels.
In addition to the MP3 format, you can record MP# in CBR (Constant Bit Rate) or VBR (Variable Bit Rate). Besides, it records audio in PCM or WAV format, in which you can configure bit depth, sample rate, and several audio channels.
2. Voice Recorder & Memos Pro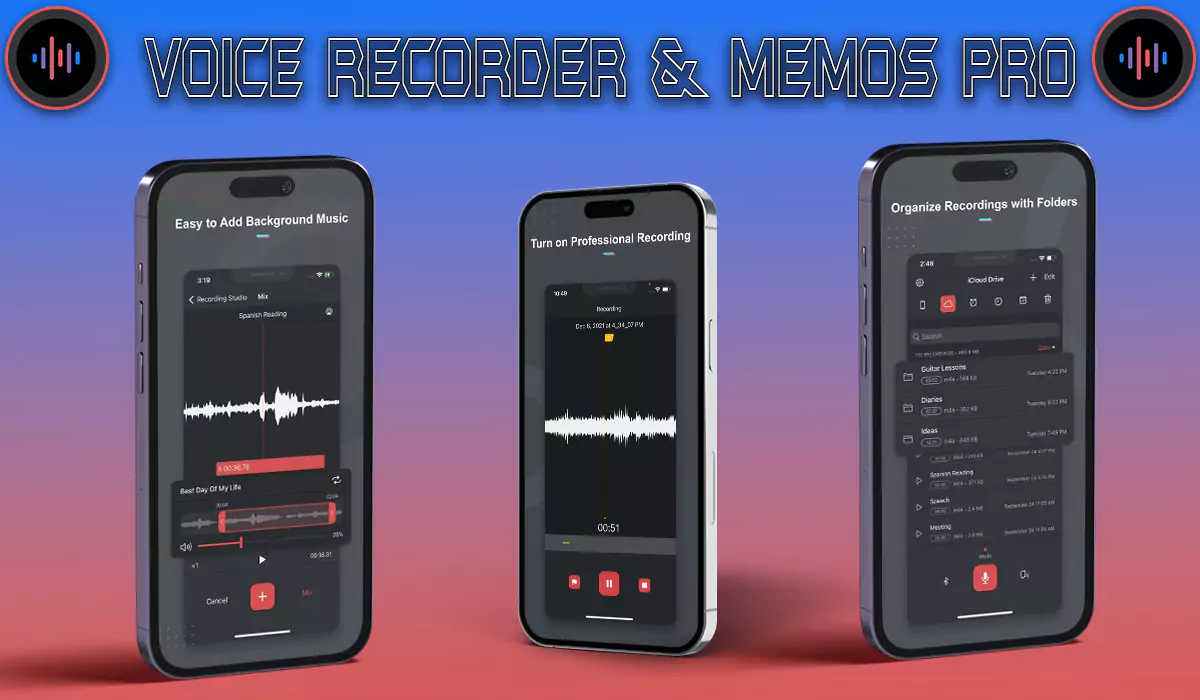 REASONS TO BUY:
Various recording formats supported
Excellent Cloud support
Easy sharing of recording
This app can be your best audio editing app for audio quality and recording modes. You can easily begin a professional recording session, and the steady background operations make your audio recording safe. In the present-time recording mode, you can preset the beginning and end times of the recording. If you want to combine recordings with selected audio tracks, you can choose the mixed recording mode.
Various audio editing features implemented are varying the volume, crop audio, pitch, varying speed, inserting audio, splitting audio, mixing audio, merging audio, reducing noise, deleting blanks, and adding markers. You can easily upload audio recordings to Dropbox, iCloud Drive, OneDrive, Google Drive, SoundCloud, Box, etc.
3. Noted․ – Record Every Moment
REASONS TO BUY:
Easy syncing and sharing
Time-saving searching of notes
Removes undesired background noise
Noted iPhone Recording App is well-known for its ability to take notes and fully integrated audio recordings. It is regarded as the best app for recording lectures, interviews, meetings, and conferences. Whatever you type is directly time-stamped to your audio recording. Hence, you obtain an immediate overview of all the critical details. There are no concerns about searching through lots of pages of notes or lengthy audio again.
The note-taking ability enhances your work productivity. The app fully engages during any interviews or business meetings. Subsequently, it reviews and shares important points with colleagues. Moreover, the intelligent syncing feature allows you to transit between your laptop and iPhone easily. The app perfectly syncs across devices using iCloud.
4. Voice Record Pro 7
REASONS TO BUY:
Easy Bluetooth sharing
Straightforward and intuitive interface
Audio formats don't compromise audio quality
If you aspire to find one of the best iPhone Voice Memo Apps for professional voice recording, you can use Voice Record Pro 7. It helps you record voice memos and sounds at unlimited duration with adjustable audio quality. Moreover, it can directly record in formats like MP3 (MPEG), MP4 (AAC), and WAV (PCM). The convert function is available for all supported audio formats.
In terms of switching the record formats, it is the most desirable choice and is the best voice recorder app for iPhone. The reason is it can quickly transform to your desired format. Besides, you can trim, duplicate, append, and protect records through a passcode.
5. Ferrite Recording Studio
REASONS TO BUY:
Quickly finds your audio
Intuitive UI design
Previews up to twice the speed
Ferrite can be your best voice recorder for iPhone because it is the award-winning app widely used for creating radio journalism, podcasts, and other professional voice production tasks. You can use it for recording speeches, lectures, voice-overs, etc.
It blends the ease of use of audio recording with the flexible multi-track editing studio. You can access the built-in tools like automation and effects. Many people have started using Ferrite due to its appealing UI design and time-saving functionalities. Furthermore, you can import audio from your iCloud, Music Library, and other services like Dropbox.
6. Voice Recorder, Voice Memos
REASONS TO BUY:
Easy renaming record files
Sticker Colour simplifies file searching
It supports recording in the background
When adjusting the audio recording track, this app can be your best audio recording app for iPhone. It also helps you add a media player that forwards and rewinds the audio memos in the lock screen mode. If you want to navigate the voice memos easily, you can use a professional slider. You can access all files through Apple Watch. The Help Section is available in various languages.
This free voice recorder app for iPhone allows you to trim and edit your audio recording track. Also, you can add the title to a record.
7. Voice Memo Recorder & Changer
REASONS TO BUY:
Latest iOS version compatibility
Improved performance without bugs
Easy exporting and sharing
Voice Memo is the best voice recorder app for iPhone to record classes, interviews, meetings, conversations, etc. If you want to save any voice memo or recording suddenly, this app is handy. You can trim and edit any desired audio track. The smart voice transcript is also available.
Due to broad iOS version compatibility, you can easily share the recorded files to different devices. Specifically, it is compatible with iPhones with iOS 13.0, iPads with iPadOS 13.0 or later, and iPod Touch with iOS 13.0 or later. Also, the app is compatible with macOS 11.0.
8. Voice recorder: Audio Editor
REASONS TO BUY:
The microphone adjusts accurate sensitivity
Beautiful user interface
Supports high-quality audio format
The ability to record high-quality audio makes this app the Best Audio Recording App for Songwriters. Its intuitive and easy-to-use interface keeps you engaged with its different features. You can use it to record your notes, meetings, lectures, speeches, and songs with superior audio quality. One of the best features is that there are zero time limits. You can record up to the available storage space. The alternate names of this app are audio recorder, voice recorder, and sound recorder.
It supports superior quality mp3 audio format. You can access a huge list of files with fundamental functions like search and arrange.
9. Voice recorder, audio recorder
REASONS TO BUY:
Easy-to-use recording list
Various options for sharing
Supports live audio spectrum analyzer
In terms of high-quality voice recording and easy sharing, this app is the best sound recording app for iPhone. It saves your recordings as voice memos; subsequently, you can share them with friends. The app uses a superior quality sample rate (8 kHz to -41.1 kHz) to provide an outstanding recording experience. Besides, the app boasts a simple UI interface that is easy to use.
All the necessary functionalities are available under one screen, so you can easily click on the desired one. You can pause, play, and stop audio files as needed.
10. Audio Memos
REASONS TO BUY:
Lock code offers security
Background recording allows multitasking
Easy access to memos anywhere
Audio Memos can be your best voice memo app for iPhone to fulfill professional audio recording needs. Its excellent intuitive interface is easy to use and has advanced features. You can use it during lectures, interviews, music sessions, conversations, etc. You can enhance your multitasking efficiency with smooth background recording.
You can easily share recordings to a computer via WiFi. Also, you can record when your device stays in sleep mode. One of its best aspects is that it automatically pauses incoming phone calls. The transcription feature transforms your memos into text. USB file transfers provide quick sharing ability.
You can use either paid or the best free audio recording app for iPhone to fulfill your voice recording needs. These iOS apps for audio recording can record audio, voices, conversations, etc., in high-quality audio format. Some apps also allow you to convert speech into text through artificial intelligence without downloading extra apps on your iPhone. You can save recordings on cloud services, select various recording formats, crop unnecessary parts, and access many other advanced features according to your needs. Make sure to thoroughly read the article above to choose the most relevant voice memo and recording app for iPhone.