Last Updated on Nov 10, 2020You will Surprise from Largest Social media, WhatsApp is now available on the Web interface. So user can access own WhatsApp account on Windows PC/ Laptop or Mac OS X. WhatsApp Web-only log in through your smart gadgets iPhone/ Android/ Windows Phone/ BlackBerry/ Nokia securely, For that you don't need to log in username or password, Just go to the WhatsApp Web with iPhone and Scan code from your mobile's camera. Here I am talking about how to Logout WhatsApp Web Account remotely from iPhone/ iPad WhatsApp app.
Without Logout, you can't close your login session on the web browser, But once you close the browser, you will sign out your account. Sometimes it doesn't work. Unfortunately, you forgot to close or sign out the WhatsApp web from your friend's PC/ Mac or cyber cafe. Then follow the below steps for the Logout WhatsApp web account remotely. (Close multiple login sessions also at once)
Steps for Sign Out/ Logout WhatsApp web account from iPhone or Android
Follow the clear instructions on how to log out the WhatsApp web remotely from iPhone, iPad with the latest iOS. WhatsApp app on not working iPhone or Scanning QR code, make sure about the app is updated with the latest version from the app store. Because new features on privacy added in the app that's I have discussed at the end of this article.
Step 1: Open the WhatsApp app. on your iPhone.  Next, Tap on Settings for All Whatsapp configurations.
Step 2: Now, Tap on the WhatsApp Web for all settings related to a Web interface.
Step 3: See all WhatsApp login History on your iPhone WhatsApp settings. If any login setting active then you can see the list of all with System OS Version,
Finally, tap on "Log Out from app computers."
Now you are done.
See below guide and steps for all other mobile OS and App That will be also useful for Logout WhatsApp account remotely under WhatsApp web settings.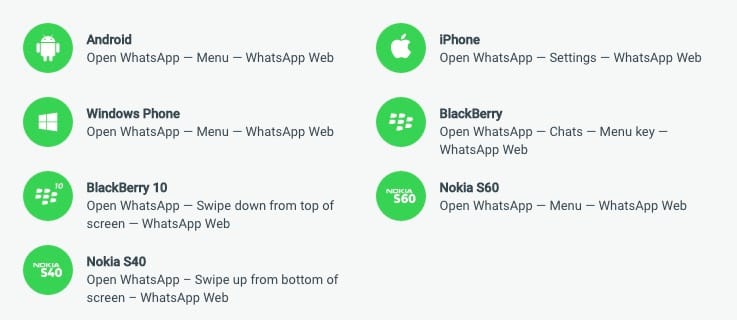 New in WhatsApp features are, Protect your WhatsApp 
WhatsApp users privacy concern, Use WhatsApp lock: Increase your WhatsApp security on iPhone/ iPad/ iPod Touch.
WhatsApp Web Spying: Until you log out WhatsApp Web You and Your PC partner can open your Account. WhatsApp Web session doesn't close on Quit Web browser or Shutdown pc or Mac. This is the Biggest Drawbacks of WhatsApp Web. But you can remotely close all the logged in session from your iPhone using the above steps.
Video to Getting Cool WhatsApp Tips & Tricks
Want more updates on new WhatsApp updates and tips, tricks kindly stay with us through 
Facebook
,

Twitter

or

Google Plus
. Have you any questions or are you unable or failed to Logout WhatsApp web account? Let's share with us.