Last Updated on Aug 22, 2023
Sometimes you want to configure the location spoofer iPhone for fun, Security, Location Sharing, or other reasons. Usually, spoofing the iOS location comes into talk while playing location-based games like Pokémon Go or while using dating applications.
Meanwhile, these might be weird or challenging things to do on your iOS 17. But having the best way to fake GPS location iOS 17 can solve your problem. We have mentioned effective and efficient ways to spoof the location to reach out to all your needs.
How To Fake Location On iOS 17 Running iPhone
With a recent iOS update, some users are willing to change their location in different applications to maximize productivity and efficiency. No matter why you are searching iPhone GPS spoofer, you must always ignore using Jailbreaking in the earlier methods; as of now, you can easily spoof location on iPhone without Jailbreaking method.
Method 1. Using Foneazy MockGo Software
Foneazy MockGo is a software that allows you to spoof your GPS location on your iOS device without jailbreaking it. You can use it to access geo-restricted content, play location-based games, or prank your friends. You can also customize your location, speed, and route with ease. Unlike other iPhone location spoofer, MockGo is one of the most reliable and user-friendly software to try.
Some of the well-known features:
Allows spoofing the location using the Teleport Mode or the Two-Spot Mode or the Multi-Spot Mode on both iPad and iPhone.
It lets you simulate movement along a route with multiple spots on the map at a set speed.
It lets you use a joystick to control your location effortlessly.
Spoof location on multiple iPhones or iPads simultaneously.
Works seamlessly with location-based games like Pokémon Go.
If you are impressed by its features, you might want to know how to spoof location on latest iOS using Foneazy MockGo software. Before start, download and install Foneazy MockGo on your computer from the official website.
Step 1 → Launch the software and connect your iOS device to your computer with a USB cable. Trust the computer on your device and enter your passcode if needed.
Step 2 → Choose Start.
Step 3 → Select the desired mode to change your GPS location. You can choose from Teleport Mode, Two-Spot Mode, and Multi-Spot Mode.
Step 4 → Search for a specific location by address or coordinates. The software will automatically take you to the location you set.
Method#1. Using iToolab AnyGo Software
This GPS spoofer iPhone Software allows you to setup up any desired location on the Map without playing around with device settings. Along with this, it imitates the GPS location as your track and speed; plus, you will receive assistance from the spoofer to spoof your location to secure your privacy. However, there are no chances of getting caught as it allows one to fake multiple iPhone positions simultaneously.
Some Of The Well-Known Features:
Allows spoofing the location using the Jump or Teleport Mode on both iPad and iPhone.
Imitate the complete path with a configured direction and speed.
Easily customize the various path.
Works hassle-free with location-based gaming like Pokémon Go.
Compatible with the latest iOS 17
Before starting the procedure, download and install iToolab and connect with your phone using the USB cable to enter developer mode.
Step 1 → Navigate to the iPhone Settings > Privacy & Security.
Step 2→ Choose Developer and then tap on the Toggle to enable it.
Step 3→ Navigate to the AnyGo Software and select Start Button. Keep in mind that your device should be unlocked.
Step 4 → On the next screen, you capture the present location in AnyGo. If the information is wrongly shown, choose the Center On option to receive the accuracy instantly.
Step 5 → Select Teleport Mode, located in the upper right corner. Write down the desired location and click on Search Button.
Step 6 → Once the searched location appears on the screen, choose Go Option to move to that location. If you are using the application for playing games like Pokémon Go, you can use Cooldown Timer to prevent the account from getting banned.
As mentioned earlier, you can easily configure the walking speed between multiple spots to avoid getting hunched. If you want to do the same, follow the given below steps.
Step 1 → Keep the phone connected, and click on the Start Button present in the AnyGo interface.
Step 2 → Select Multi Spot Mode in the upper right corner. And on the next screen, you can alter the position, speed, and distance.
Step 3 → Choose the location you desire to visit while playing games. Then, before turning on Realistic Mode, click on Go.
Method #3. Using Dr.Fone Software
Unlike the other location spoofer for iPhone, Dr.Fone is one of the most reliable software to go. At the same point, it lets you customize your desired location, giving access to the content and services restrained in certain regions. As always, we can act as present at the marked area and move to the following location, which is very helpful if you are a fan of location-based gaming like Pokémon Go.
Some Of The Well Known Features:
This GPS spoof iOS Teleport GPS location to the desired location with a single click.
Imitate GPS location on the route you have drawn.
You can use the Joystick to imitate the location effortlessly.
Compatible with location-footed games and the latest iOS version.
After knowing its feature, you might have been impressed! If yes, dive deep on how to spoof location on latest iOS using Dr.Fone software.
Step 1 → Download and install Dr. Fone-Virtual Location.
Step 2 → After the completion of the installation procedure, open it—select Virtual Location. Now connect the iOS device using the USB Cable.
Step 3 → Choose Get Started.
Step 4 → Select the desired mode to change your GPS location. Doing so will feature the location on the next screen. Next, you must enable the Teleport Mode by selecting the 3rd Icon from the upper right corner.
Step 5 → Rewrite the location in the Teleport and choose Go.
For example, you write down California, USA. The software will automatically head you to California; you only need to select the Move Here option from the pop-up window. Now your iPhone location will change to California.
Method #4. Using Tenoshare iAnyGo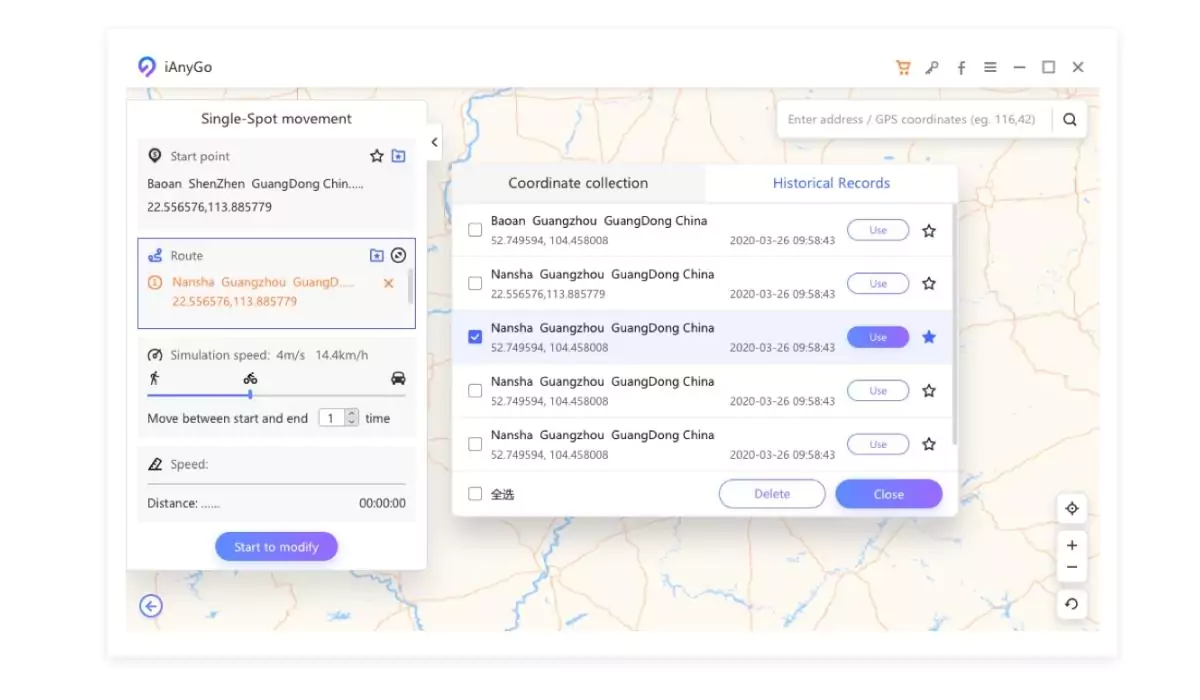 The Tenoshare is one of the best iOS location spoof software. Now, you can do much more than a fake location on an iPhone. Just like, executing a complete route from start point to end point, it will undoubtedly make you feel like you are moving in the real world. However, you can create multiple endpoints to prevent suspicious activities.
Here Are Eye-Catching Aspects Of Tenoshare iAnyGo
Single-click to spoof GPS location on any part of the earth.
Handy to imitate the GPS movement at the desired speed.
Allow installing the GPX file to plan the route.
Can record favorite and most visited locations.
Use the Joystick to move effortlessly.
Now it's time to learn how to use Tenoshare to spoof the GPS location.
Step 1 → Download Tenoshare iAnyGo and launch it on your PC or Mac.
Step 2 → connect the iOS device using the Cable and then unlock it.
Step 3 → On the next screen, tap Enter. Finally, tap on Trust when the Pop-up appears on your iOS device, prompting you to trust a PC or Mac.
Step 4 → Now write the location in the Address/GPS Coordinate Box; let's consider New Jersey, USA, and then select Start To Modify.
Here we end up! That's how simple spoofing just like cutting a piece of cake.
Simulate GPS Movement
Step 1 → Open the Tenoshare iAnyGo and select the Single Spot Mode; right after that, press Enter.
Step 2 → The next thing is to select the desired from the start point to the endpoint. However, the current location is configured as a starting point.
Step 3 → On the next screen, you must select the direction and speed. To adjust the speed, use the Speed Bar.
Step 4 → After reaching out to all the needs, select Start & Move. And what makes it a better option is that it allows to pause and resumes the same route.
Method #5. Using 3uTools Software
Another best way to spoof GPS on iOS 17 is using the 3uTools. However, the 3uTool is not as advanced as other software, but its simplistic yet effective functionality makes it a better option. Well, there is no such procedure to configure the fake location. Unfortunately, this tool is not compatible with Mac.
Note: In case it's your first of using the Virtual Location, right after installing the latest iOS update, you have to disable Face ID and Passcode.
Step 1 → Download & Install 3uTool and then connect the iOS device using the Cable.
Step 2 → Select Toolbox > Virtual Location.
Step 3 → There are three different ways to change the device location.
Enter longitude and latitude.
Enter the location.
Pull and select the address from the Map with the help of mouse.
As of now, your device is upgraded to iOS 17; you will receive the pop-up saying, "You are above to apply "Developer Mode" iDevice will auto reboot during the process, please check the screen, Click "Turn On" on the prompt box of Developer Mode, then use this function again" select OK.
Step 4 → Doing so will reboot the device automatically, and after the rebooting procedure, the pop-up of turning on developer mode will highlight, choose "Turn On"
Step 5 → After completing the abovementioned steps, you will receive Developer Mode inside Settings > Privacy & Security.
Now you can use the virtual location as you have entered the developer mode. And in case you want to revert to the original location, restart iDevice.
Method #6. How Do I Fake GPS Location On iPhone Without Jailbreaking
If you always hesitate while jailbreaking your iPhone, follow the below-mentioned method to spoof the location on iOS 17 without jailbreaking. However, the iBackup tool needs to create changes in the backup files. So, first of all, we suggest making a backup of the iPhone as a precautionary step. Here you can easily use the iPhone GPS spoofer to fake your location.
Step 1 → Connect iPhone to computer and then open iTunes. Now click on the iPhone Symbol to highlight various options.
Step 2 → Click Backup Up Now. After completing the backup procedure, exit iTunes and open iBackup, which will automatically find and open the backup file.
Step 3 → Now you have to search for Apple Maps plist File, which can appear under User Apple Files, next com.Apple.Maps > Library > System File or Preferences > Home Domain > Library > Preferences. When you access the mentioned file, look for <dict> and rewrite the mentioned below code:
<key>_internal_PlaceCardLocationSimulation</key>

<true/>
Step 4 → Now, exit iBackup, keep the iOS device connected at the same point don't open iTunes.
Step 5 → Move ahead to disable Find My Phone: Go to Settings > Your Apple ID. Select iCloud > turn off Find My Phone.
Step 6 → Once again, connect the iPhone with iTunes and can quickly restore a customized backup.
Step 7 → Open Apple Maps and move to your desired location.
Tap on the bottom of the window to receive the detailed location information, and there you will encounter Simulate Location. Select it, and see if it works for all applications.
Method #7. GFake Hardware Device For iPhone
In this emerging era, along with software, the hardware world also started making irreplaceable products. And one such example is GFaker! This hardware gadget gets easily connected to an iOS device and allows you to spoof the location of an iPhone without a computer. Looking deep down into it, the company shouts itself as a complementary iOS GPS device, using the Apple official chipset and, at the same point, matching up with Apple's external accessories standard. Then you will receive the application, which allows you to spoof the location without jailbreaking.
This iOS Fake GPS is available in two variants GFaker Phantom and GFaker Pro. The phantom model is compatible with iOS 9 to iOS 17. But still, we recommend it as it will get upgraded in the future.
Feature To Be Noted:
Compatible with iOS 9 – iOS 17.
Offer a handy way to simulate location.
Avoids Jailbreaking.
Spoof the location of your Device without a computer.
Can I Spoof Location With VPN On iOS 17?
No, you can't! Using the VPN only changes the network location, not the GPS location of the iPhone. Still, you can use private Relay on Mac to Prevent your Mac location tracing. also, Find out the detailed guide on Can I Use A Vpn And Apple Private Relay Together? on Mac or iOS/iPadOS.
FINAL THOUGHT!
In the end! Spoofing the iOS location is challenging until you have gone through our complete guide to faking location on the latest iOS. Also, try the above methods on your Responsibility, Our intention is not to share and use it for negative purposes.
Should not Turn on, Why?
Due to iPhone GPS Not Working, you might face issues with Apple Maps also not working, Location service, difficulties finding where I am right now exact address, and so on. So, Keep your iPhone
FAQS
Can You Fake A Location On iPhone?
Well, there is no such in-built feature to spoof the location of iPhone, but still, it's possible using some free or paid iOS 17 location spoofer tools mentioned above in this article.
How Do I Spoof My Location On My iPhone 2022?
If you are willing to do so, multiple ways to spoof the location on your iPhone exist. Take a walk to complete the guide, as we have mentioned some of the easiest ways to fake the location in iOS 17.
How Can I Change My iPhone location Without VPN?
Luckily, if you want to ignore using the VPN to spoof iOS 17 location, there is a hardware tool named GFake. With the help of this tool, you can fake GPS without connecting any external device like a computer. To know more about it, read this article. 
How Can You Tell If Someone Is Spoofing Their Location?
There is no such valid way to identify the correctness of location. 
How Can I Change My iPhone Location Without Jailbreak?
All of the methods in this article consume the spoofing of iPhone without jailbreaking. So go through it and get your work done! 
Is GPS Spoofing Legal?
Indeed, there is no such law for GPS spoofing. However, it is illegal when used to hurt someone or defraud someone.