Last Updated on Sep 14, 2023
iPhones are water resistant, but as a precautionary measure, you need extra protection. Therefore, you want to invest in the best waterproof case for your iPhone. Life is full of challenges, whether swimming, diving, snow, rain, or kids around; therefore, with the unique sealed waterproof iPhone case, you can embrace life's challenges wholeheartedly without fear.
Waterproof cases can work flawlessly under different weather conditions or any lousy environment. So, if you are an adventurer who loves underwater or outdoor adventure, waterproof cases are just made for you as they are sleek, sturdy, and waterproof.
Are you looking for the Best iPhone 14 Pro Max Waterproof cases, then order now.
Must-Have Best Waterproof Cases for iPhone 14 Pro To Prevent Water Damage
We have curated a list of the Best Waterproof cases for iPhone 14 Pro to best meet up to your expectation.
If you are looking for Waterproof Cases with Magsafe, recommend "AlCase & Lifeproof".
1. Temdan
Temdan iPhone 14 pro case is waterproof with resistance to dust. Furthermore, due to its waterproof property, you can repeatedly wash it, giving the impression of a brand-new phone with protection against bacteria. It is a military standard certified MIL-STD 12 ft drop test, providing 360 full body protection from the drop, scratch, or shock.
Moreover, it has a built-in 9H HD Tempered Glass Camera Lens and Screen Protectors. Therefore, it protects the screen and camera from bumps, scratches, and scrapes while maintaining the screen's touch sensitivity. Additionally, it has a precise cut-out for perfect fit and smooth access to all ports and buttons.
It is made of a flexible rubber outer cover; hard polycarbonate inner cover offers extreme protection from daily wear and tear. Moreover, it can sustain in any severe weather condition. Hence it is perfect for outdoor sports, underwater activities, construction workers, or daily use.
2. SPORTLINK
Sportlink case is IP68 Waterproof, Dustproof, snow proof and rainproof. Hence it supports water activities like swimming and diving, and you can take pictures and video underwater. Moreover, it is washable, so it helps to avoid bacteria and remain clean. It is Military grade certified MIL-STD 8ft drop test. It can withstand a 2m drop!
It has a twofold shockproof design with anti-vibration rubber air cushions which further reduce the impact.
It has a built-in 9H HD PET Screen and camera Protector to protect the screen and camera from scratches, scuffs, and bumps and ensure responsiveness and touch control. The unique translucent frosted design creates a distinctive texture that is stylish yet protective.
3. Oterkin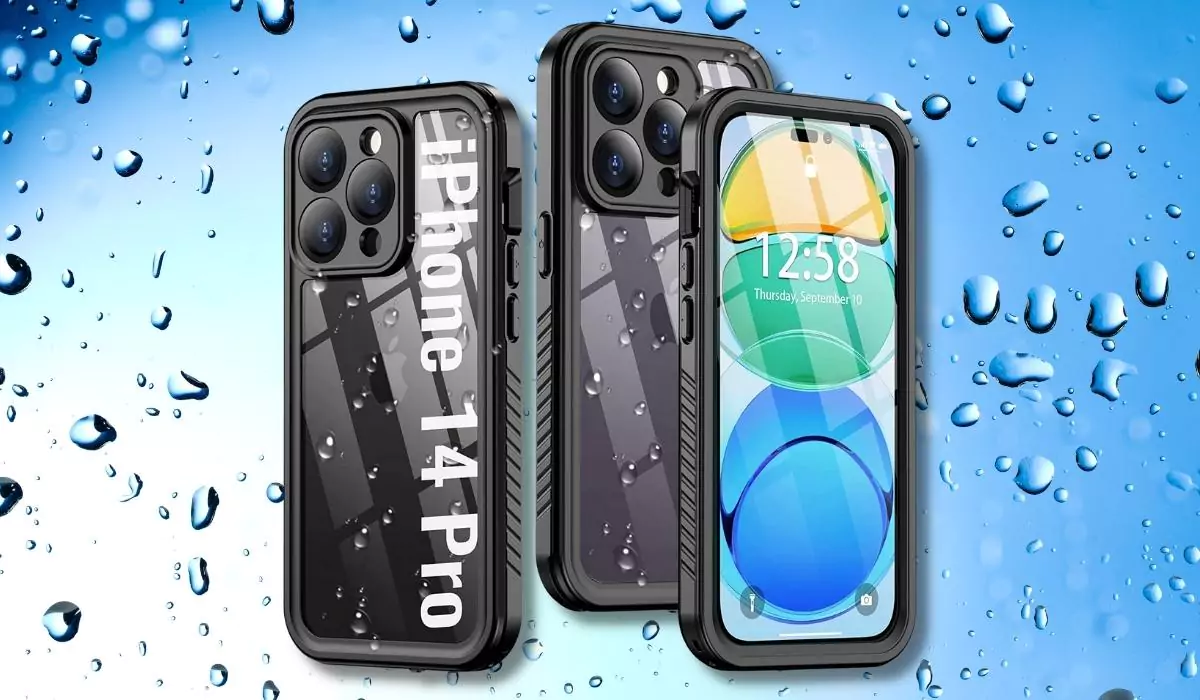 Oterkin iPhone 14 Pro Case is a fully sealed body to make it fully protected for every scenario. Therefore, it is an IP68 waterproof design, tested to be submerged underwater at 6.6'/2m for 30 minutes, and hence suitable for all underwater activities.
It also comes with four shock-absorbing bumper corners to protect your iPhone from accidental injuries. In addition, it has a 2mm Raised lip higher than the camera, providing complete protection to the camera from scratch.
Inbuilt screen protector with shockproof raised edges around the screen protects it from scratch and shock. It is compatible with wireless chargers. It has a two-cover Snap-On design, making it easy to take on and off. The box comprises one waterproof case with 1*user manual,1*lanyard, and 1*cleaning cloth.
4. SPIDERCASE
SPIDERCASE iPhone 14 Pro case is a MIL-STD 12 ft drop test Certified that protects it from shock and multiple drops. In addition, a fully sealed design provides 360 protection and makes it dustproof, lint proof, and scratchproof.
Furthermore, it has a built-in 9H HD tempered glass screen and a camera lens protector. Therefore, it protects the screen from scratches and ensures smooth touch sensitivity at the same time. It provides complete protection to the camera from scratches and offers you a great video and photography experience underwater.
The oleophobic layer prevents dust, scratches, water, and oil, keeping your phone lens HD transparent and clear. This iPhone 14 Pro case is an IP68 Waterproof case that is resistant to water, dust, lint, snow, and spills and splashes from daily liquids. SPIDERCASE protects your iPhone from daily wear and tear.
5. AlCase
AICase is a fully sealed IP68 Certified iPhone 14 Pro waterproof case, designed and tested under water to 6.6-10ft/2-3m for 30 minutes.
It is also compatible with mag-safe chargers, its accessories, and wireless chargers. In addition, the case is certified to exceed Military Grade Drop Test standards and survive drops up to 6 feet (3.6m), making it shockproof and drop proof.
2.5mm raised screen lips and 0.5mm raised camera edge to provide extra protection to your iPhone screen and camera. In addition, the precise cut-out makes all ports and buttons easily accessible and has a non-slip hand grip for perfect hold. By using this case, you can take high-quality videos and photos underwater.
6. LifeProof FRĒ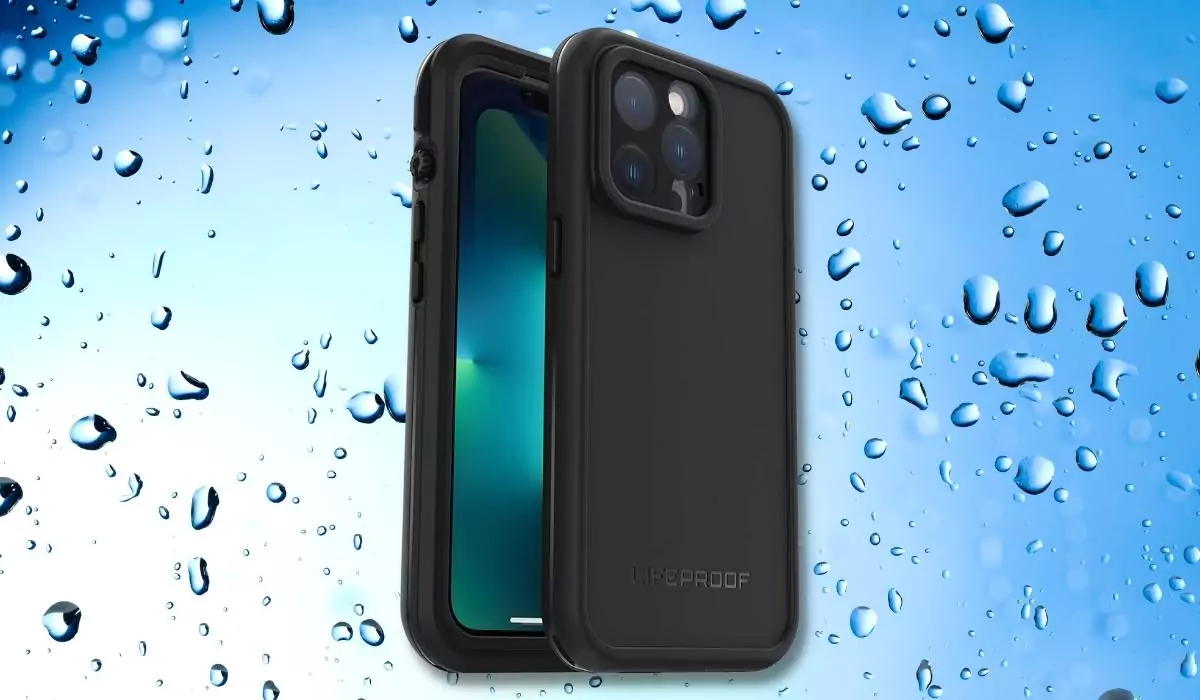 LifeProof FRĒ is an iPhone 14 pro waterproof case. It is Waterproof up to 2 meters for 1 hour; therefore, you can enjoy all water activities with your iPhone with the case hassle-free.
LifeProof FRĒ case is 2 meters drop proof; that's why it will protect your expensive iPhone from possible drops. Moreover, it is made with environment-friendly material, i.e., Made with 50% recycled plastic.
In addition, it is compatible with mag safe, and its precise cut-out helps smoothly access all ports and buttons.