🗓️
October 13, 2023
By ✍️
Jaysukh patel
We need to care about the environment and follow the rules in silent places. That is the reason we need to turn off Camera Shutter Sound on iPhones. Due to the Privacy restrictions, some countries and cities don't allow the Smartphone Company to mute or turn off the camera-click sound while capturing photo from the official app lots of guys asks us how to turn off the camera sound on an iPhone without muting. You guys this is not possible to stop the iPhone camera shutter sound without turning the physical sound switch off.
Japan's iPhone users can't turn off camera shutter sound. So they are looking for a Silent Camera App for the Japanese iPhone. We are not against the rules of country-specific, but the rule should be obeyed as in my personal opinion, that's good for all.
2 Methods of Quiet or Turning off Camera Shutter Sound on iPhone
Some iPhone users are also finding the solutions and Want to Get sound on camera iPhone so other people can justify and be ready for the second pose. Use below two settings and Fix your Cabers sound problem all the time.
For iPhone 15 pro users Using the action button
The iPhone 15 Pro series boasts an innovative Action button instead of the typical silent switch. Rest assured, users can seamlessly transition between silent and ring mode by pressing and holding down the Action button until they feel the haptic feedback. This feature ensures a seamless and stress-free mode transition, making it a convenient and reliable option for users.
To change the action button mode- Go to Settings > Tap the Action button > Now swipe left or right side to find Silent Mode. So this will set your phone action button as a silent switch like a traditional silent switch, but keep in mind, that you have to press and hold on the action button until you feel haptic feedback. Or Launch the Control center (Swipe down from top right corner > Tap on Bell icon to mute and Unmute. Mute it.)
Method 1: Using Side Silent Switch on iPhone
Turning on the Side Silent or Mute button, Keep the position off this switch at the orange mark is visible it means the Camera sound is muted. This Switch auto-disables all iPhone sounds like Notification Sound, Ringtone, or Alert/Reminders Tone. So be aware of that and Re-Enable after putting it off. Because you might miss an important notification and Call while you are traveling. Otherwise, I recommend you enable Vibrate on silent settings.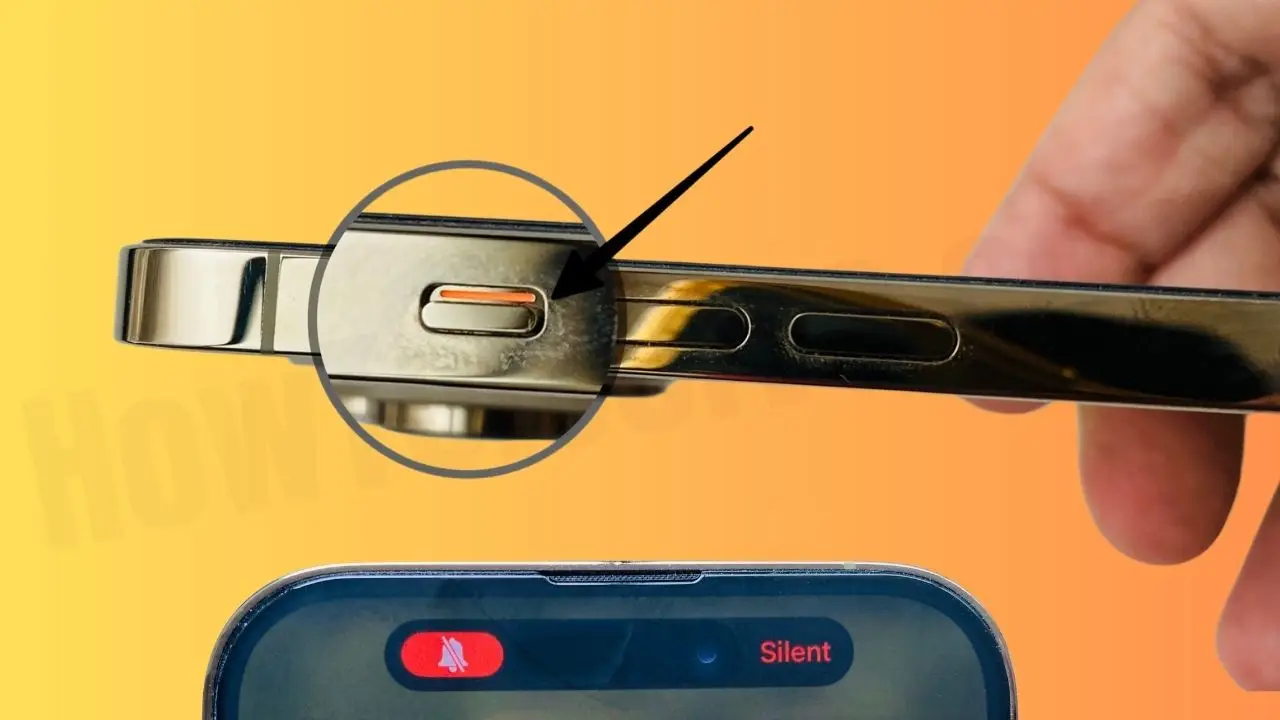 Turn off Vibration Even with Camera Shutter click…Follow the below steps
Step 1: Launch the Settings App on your iPhone.
Step 2: Tap on Accessibility > Touch > Vibration. (Disable the toggle to turn off Vibration on iPhone completely).
Step 3: Under the Physical And Motor Touch.
Step 4: Tap Vibration. (Disable the toggle to turn off Vibration on iPhone completely).
Now we can enjoy our time in silent mode as well.
If the Mute/Unmute button is upward to the screen position, it means, the Camera Shutter sound is enabled.
Method 2: Turn on/Turn off Camera Click sound using Assistive Touch
Use the Virtual Button of the iOS device (Assistive Touch) if your side button (Mute/Unmute button is broken or not working).
Enable Assistive Touch on your iPhone, If enabled then you can add the Volume Button and Mute button using Customize Assistive Touch Settings on your iOS device.
Step 1: Tap on the Assistive Touch button from the home screen or lock screen of iDevice.
Step 2: Next, Tap Device option.
Step 3: Then, Tap on the Mute/Unmute Bell icon. Turn toggle off Camera Shutter Sound, Keep it like this.
That's it.
Above Settings and Workaround Won't turn off Camera Shutter sound, Follow the Troubleshooting
1: Check your Country is Black Listed in the list of Apple's support page: Camera Shutter sound is off by default from Apple.
2: No. There is no "solution" it is against the law in Japan to silence the shutter sound on digital cameras and other electronic devices that can take photos.
3: Check for Update iOS to the latest version
Open the Settings App on your iPhone
Tap General
Click on Software Update [your phone must be connected to internet wi-fi or cellular data on]
Tap Download and install Update. (Currently, the latest free iOS firmware is iOS 15 or later)
4: Hard Reboot iPhone and Try Again.
That's it.
Like and Follow me on social to get more updates that you notified first or Share the two excellent ways to Turn Off the Camera Shutter Sound on your iPhone.