The tech giant Apple is a famous one to give new milestone features in its every iOS edition. Although to achieve newly seeded on iPhone, iPad or iPod, there is not a thrilling option to download and install iOS 11 version apart from usually legal way. On the other hand, the standard procedure to upgrading/downgrading iOS device is not difficult. However, sometimes in-meanwhile or after getting the update; there are many users, they have come with issues like upgrading system but can't enter the system, iPad or iPhone stuck on boot screen after upgrading iOS (for example, after upgrading iOS 11.2.2 from iOS 11.x). if having a same kind of problem, then don't worry. We offer some solved clues which are given below, so let look on it and get enjoy.
This issue happened while upgrading and installing iOS 11 on my iPhone. I did enroll and remain all procedure correctly. But, my iPhone stuck on boot screen after upgrading iOS. At bottom, I am showing you essential best methods to get the fix on your live issue.
How to Fix iPhone Stuck on Boot Screen After Upgrading iOS
We know, you are pretty eagerly to touch awesome iOS 11 features like Night Shift Mode, Customized Control Center, Screenshot preview, best classroom experience is about to get better on iPad with iOS 11. But, might you cannot able to enter the system or show up restarting loop again and again.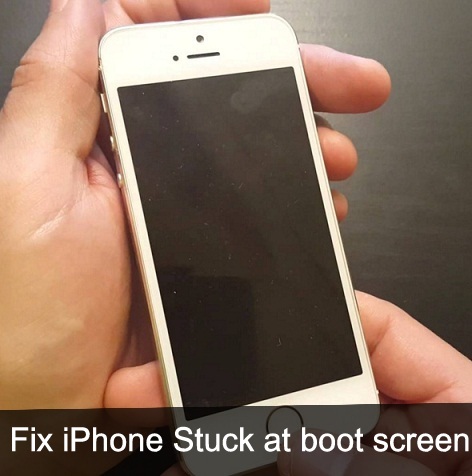 Method #1.
Step 1. Attach your iOS device (iPhone/iPad) to the Mac/ windows via iTunes.
DFU mode on iPhone X, iPhone 8, iPhone 8 Plus
Step 2. Now, turn the iPhone or iPad off.
Step 3. Let now for iOS 7/7 Plus and Earlier iPhone: hold home and power buttons together for at least 10 seconds. For iPhone X/8/8 Plus: Side button and Volume Up button for 10 seconds.
Step 4. Release power button, but keep holding home button (iPhone 7 and Earlier), Volume Up button (iPhone X/ iPhone 8/8 Plus) until the Mac or laptop beeps as a USB device is recognized (or until the restore starts).
Step 5. At no point should the display come on. Now your restore should work.
You're done.
If you having problems? Try adjusting the 10 seconds to be slightly less like 9 seconds, then 8, then 7. It's a tricky timing but you will eventually get it. After tried this clue, if you get same problem, then go ahead for next solution.
Method #2. To fix iPhone stuck boot screen or on Apple logo after upgrading iOS 9
Step 1. Hook up your iPhone/iPad powered on to the computer with the iPhone/iPad on
Step 2. Now hold home / power buttons until the iPhone/iPad turns off and keep holding for 10 seconds. If the iPhone/iPad ever turns on during this duration, start over and hold for less time.
Step 3. Now release power and continue holding home until the computer recognizes the iPhone/iPad.
Please leave your replay about fix iPhone stuck on boot screen upgrading iOS 11. In addition, you can share your thought on our social network profile facebook, Google Plus and Twitter. Get more tips and tricks on any iPhone model.