🗓️
August 14, 2023
By ✍️
Jaysukh patel
In Technical terms, a request Timed out means no response from the server in a limited period of time. That means your Clubhouse app is not connected to the Internet or Service because of too many reasons. Let's I am clarifying the issues for your Clubhouse app showing Request Timed Out Error with Red Banner.
I assume that you have checked that your app is updated with the latest version of the app from the app store. And You are getting the same error message periodically compared to other clubhouse users nearby your friends or the family.
Tips to Fix Clubhouse Request Timed Out Error on Your iPhone & Android
1. Clubhouse Server Outage:-
Large enterprise companies, especially Social network apps, feed huge server space and use huge bandwidth periodically. And create a problem like this. This Temporary problem is frustrating and can't be solved from the user's end. At that point, users must wait for the app server to go up and normal.
Most of the time Clubhouse users can't load the clubhouse feed page, won't create a new room, or Participate in the Clubhouse room.
Till now, Clubhouse doesn't share clubhouse service maintenance notifications and live updates officially on a website page. You can see the "Trending Clubhouse News Regarding this error on Google".
The solution for this problem is, Just wait for few minutes and try after sometimes. also, you can share this problem with your friends, are they facing the same issue?
2. Fix Connectivity Problems
Clubhouse audio-based app is crucially performing on 3G Cellular data plans or low network. But sometimes, poor or dropping network connectivity issues show the "Request Timed Out Error" error message on Clubhouse.
First, check Available Data in your Carrier plan, And Activate Data Roaming if you are traveling or moving into another location.
Otherwise, you can turn on the internet through another device's personal hotspot or WiFi Network.
Cellular Data is turned on for the Clubhouse app: Settings > Cellular Data > Enable the toggle and scroll to find the Clubhouse app.
Enable toggle for Clubhouse app and That's it.
Fix the other connectivity issues from VPN, and Internal software bug, so follow the solutions below.
3. Disable VPN or Uninstall VPN
A VPN connection creates security issues, Clubhouse is targeting audions based on geolocation. As a result, users can Meet local area people in a club and enjoy the clubhouse app efficiently.
On iPhone,
Settings > Turn the toggle to the left side to disable VPN.
On Android,
On Android:- Open Settings app > Network & Internet Advanced > VPN > Turn off VPN.
If you forgot to turn off VPN accidentally. are you intentionally using VPN with the Clubhouse app? Turn off VPN from Phone settings or Delete VPN Profile from the settings app.
4. Force Close app and Re-launch:-
First, keep your Clubhouse app updated with the latest version from the app store. Then Force closes the app from the app switcher screen then re-opens on your Phone.
Swipe up the finger from the bottom edge until all apps open on the App Switcher screen Preview. Swipe up the Clubhouse app to force close.
5. Reset Network Settings:-
if the problem is with Network settings installed on your device. then we can fix it in just a few seconds. Only Do Reset network settings and Check the problem is fixed or not.
Note: Reset Network settings option only, Erase Settings related to network, will not erase data like Contacts, Messages, Photos and Videos, Notes and more.
on iPhone,
Open Settings app on iPhone > Tap General > Scroll to Transfer or Reset iPhone > Tap Reset Network Settings [Enter your iPhone passcode]; your Phone will reboot once. And Re-join WiFi or Check After turning on Mobile data from the settings app.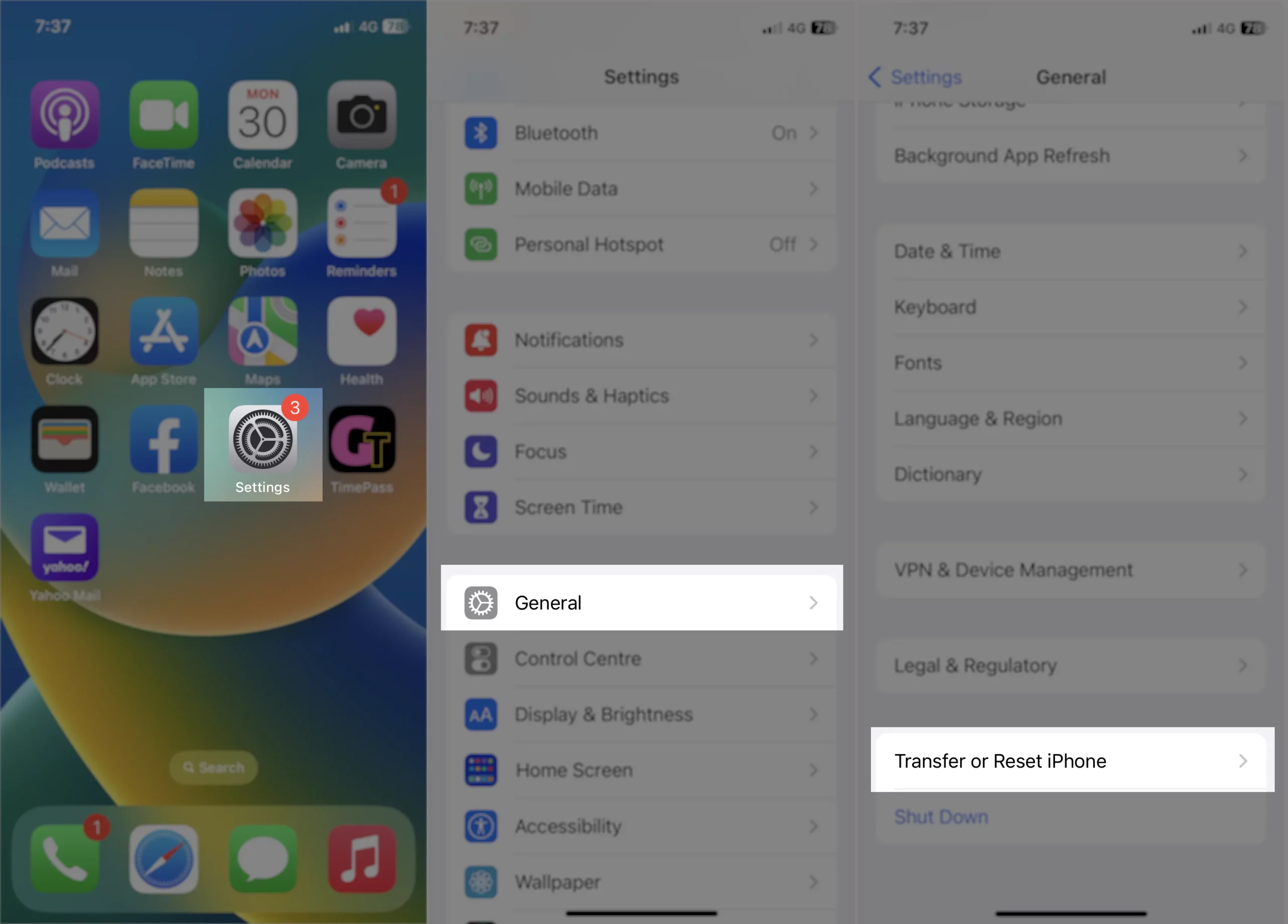 On Android,
Reset Network Settings on Android Mobile:- Open Settings app > General Management or Systems, According to Android Device and Version > Reset or Reset Options > Reset Network Settings > Confirm Reset.
6. Logout and Login Account on App:-
Logout and login might fix the issues if you logged out clubhouse app but your apple is open in Login mode. Close the app's login session manually with the Server's login session. Re-login your Clubhouse account using a mobile number will help you to fix the issue in some circumstances if your problem is related to this.
Open Clubhouse app > Tap on Profile at top right corner > Tap on the Settings gear at top right corner > Scroll to last and Tap on Logout option.
7. Country Blocked This connection
Some Countries blocked Clubhouse app use within the territory. That might be against government policy and misuse. So the People are leaving from there are restricted automatically, in that can Your app will see the error message "Request Timed Out Error" on Clubhouse App. Chaina blacklisted this app an users are showing error message.
So, you can't use app user interface from scratch. also VPN techniques will work in some case if your Phone number is outside the USA. [Use Clubhouse in Restricted area in your responsibility, i recommend to use for user benefits only]
8. Contact Clubhouse support team:
Clubhouse support able to track your problem with the error message that you are getting on your Clubhouse app. Technical support is open now to fix the personal problem.
Open the Zendesk support link, Send the correct details, Like Registered email, Username [@username], Select Technical issues from the topic, and submit relevant information. If you have a screen with an error message, send it to the clubhouse support team.
Above all, troubleshooting tips really help you to fix the Request Timed Out Error on Clubhouse App.