Last Updated on Nov 10, 2020
Why Reset Sync Data Apple Watch Won't Work? All the Applications on Apple Watch do auto-sync data to your iPhone for Messages, Chat apps, Mail, Contacts, Calendar, or more. But unluckily, some of the people not getting up-to-date data on its Apple Watch quickly from the iPhone. The same thing, I also faced I was unable to get my recent contacts list on the Apple Watch contact app. As a solid solution, the brand Apple recommends Reset sync data on Apple watch to reset the sync data only on iWatch. So to do fix, you must attempt instantly action without erasing all the data. For some users, Reset Sync data Apple watch won't work. Are calendars or contacts not syncing on Apple Watch?
Reset Sync data apple watch Won't work After update WatchOS, we can not downgrade the WatchOS version to the previous OS. So we should follow the below guide.
Fixes for Reset Sync Data Apple Watch Won't work or Doesn't Effect
Solution #1. Restart/Reboot your Apple watch
Press and hold the side button and Digital Crown at once. Until you see a black screen on Apple watch. Now press and hold side button only to turn Your Apple iWatch ON.
you guys, reboot iWatch won't work to you, the potential solution is given into the next step, kindly follow up carefully and get rid of Reset Sync Data Apple Watch Won't work.
Solution #2. Erase All Content and Settings from iPhone
Step #1: Open the Watch App on your iPhone.
Step #2: Go to My Watch tab section on the Watch app.
Step #3: Next, Go to General > Scroll down to Reset option > Erase Apple Watch Content or Settings.
Step #4: Verify again and attempt factory settings Apple Watch like new.
the advance solution, you will get by scroll down the screen.
Solution #3. Reset or Erase from Apple Watch Without iPhone
Step #1: Open Apple Watch Home screen, Find the Settings app on Apple Watch with a gear icon.
Step #2: Next, Tap on General option > last option is Reset on apple watch.
Step #3: Erase All Content and Settings > Enter watch passcode.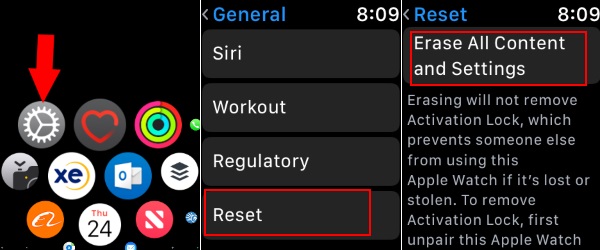 Step #4: Successfully Reset Apple Watch and Re-Pair your Watch as like a brand new.
Solution #4. Restore Apple Watch to Factory Settings
Erase all iWatch content and settings from apple watch. (Go to the Settings app on watch > General > Reset > Reset all content and settings).
Or using Watch app on iPhone (Open watch app > My Watch > General > Reset > Erase all content and settings > Enter passcode > Confirm the dialog).
When you repair or connect the apple watch on your wrist to the iPhone watch app. Setup on watch app asks for restore Apple Watch from a backup taken by your iPhone automatically.
Hope you get fixed Apple iWatch problems from the root. Still, any issue with Reset Sync data apple watch Won't work, then contact the Apple Watch support desk.
we are happy to help you, submit this Form, if your solution is not covered in this article.