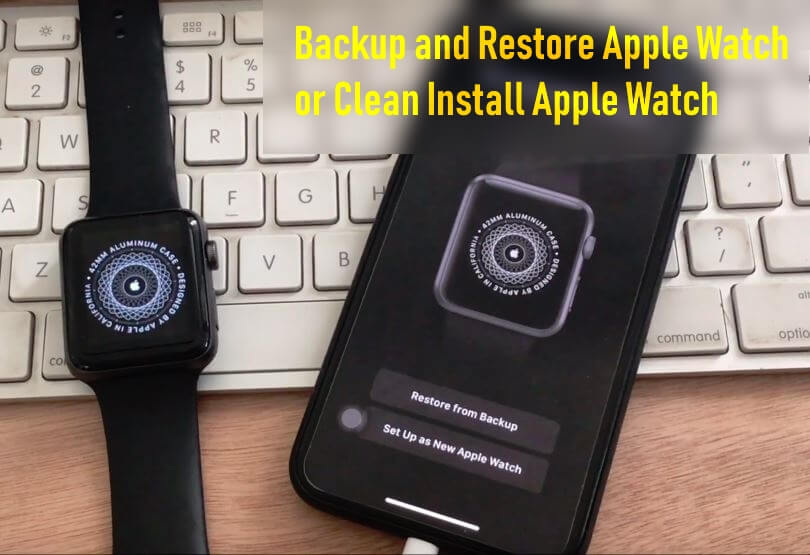 Last Updated on Sep 30, 2019
Backup and Restore Apple Watch Repair all software issues without removing old data from your Apple Watch. Whenever Clean install WatchOS remove old data and Setup like a new. Backuping Apple Watch isn't that handy as iPhone. In iPhone, we just have to follow three-four steps, and that's it. Almost every file and settings are included in the backup. Whereas, the backup taken in Apple Watch misses some of the settings and data. But still, it is very advantageous at least Apple is giving us an option to back up Apple Watch. Otherwise, we will have to set up Apple Watch every time as new. This Guide and steps are compatible with your Apple Watch 4, Apple Watch 3, Apple Watch 2 (Cellular, WiFi/ GPS).
we are happy to help you, submit this Form, if your solution is not covered in this article.
We have shown you two different methods to take a backup of your Apple Watch. Suit yourself.
What will be included in Back Up?
Language
Time Zone
Particular App Settings like Distance, Units, and Maps
System Settings such as Wi-Fi networks, haptic settings, brightness, sound, etc.
Fitness data and achievements
What will not be included in Back Up?
Passcode of your Watch
Playlist synced to your watch
Debit/Credit Card information of Apple Pay
Activity Calibration data as well as Workout data stored on your Apple Watch
There are two different ways to take a backup of the Apple Watch one is using iCloud/iTunes that is manual. Besides, the other method is straightforward; you just have to unpair the Apple Watch from iPhone. Here's how to Unpair Apple Watch from iPhone.

How to Backup and Restore Apple Watch or Clean install WatchOS [Full Guide]
How to Unpair Apple Watch and iPhone
Step #1: Keep close your iPhone and Apple Watch.
Step #2: Go to the "Watch" App on your iPhone.
Step #3: Tap on "My Watch" tab.
Step #4: Select the Apple Watch to unpair.
Step #5: Now, tap "Unpair Apple Watch."
That's it! During the unpairing process, your apple watch store recent backup on your iPhone. Now move or copy your iPhone Backup that includes Apple Watch Backup to iCloud Or iTunes using Below steps.
How to Backup Apple Watch
Using iCloud:
Step #1: Make sure your iPhone is connected to a Wi-Fi network.
Step #2: Launch the "Settings" app on your iPhone.
Step #3: Tap on your name.
Step #4: Scroll and select "iCloud."
Step #5: Tap "iCloud Backup."
Step #6: Lastly, hit "Back Up Now."
Wait until the iCloud backup gets completed successfully. In case you need to verify the backup is completed or when was the last backup was taken, under Back Up Now, the section you will get to know. The date and time of the last Backup will be displayed.
Using iTunes:
Step #1: Check the version of iTunes on your PC, if not updated, then Update the iTunes.
Step #2: Launch "iTunes."
Step #3: Connect your iPhone to PC using Lightning cable.
Step #4: Tap "Trust This Computer," when the pop-up appears.
Step #5: Now get back to iTunes, and select your iPhone.
Step #6: Click on "Back Up Now."
How to Restore Back Up in Apple Watch
Step #1: Bring up the iPhone and Apple Watch nearer.
Step #2: Go to the "Watch" App.
Step #3: Turn on the Apple Watch.
Step #4: On your iPhone, you will see "Start Pairing."
Step #5: Select "Start Pairing."
Step #6: Next, you have to hold the iPhone right above the Apple Watch to pair.
Step #7: Alternatively, you can pair the Apple Watch manually by entering the code.
Step #8: The next screen will ask you to "Restore from Backup" And "Set Up as New Apple Watch."
Step #9:
Select
"Restore from Backup."
Step #10: Now, tap on the latest backup to start the restoring process.
Step #11: Follow the on-screen instructions and complete the process.
How to Clean Install WatchOS On Apple Watch
A clean install will remove your all Bug fix that affected your Apple watch and Will install New WatchOS completely that downloaded on your iPhone Watch App. Still, you don't have downloaded and pending for your Apple watch, Follow the Third Step to download and install latest WatchOS that you can install after clean up your Apple Watch.
1. First of all, unpair your apple watch, This process you can do from the iPhone Watch App.
2. once you unpair Successfully, Repair apple watch and Setup as New Apple Watch.
Premium Support is Free Now
We are happy to help you! Follow the next Step if Your Solution is not in this article, Submit this form without Sign Up, We will revert back to you via Personal Mail. In Form, Please Use the Description field to Mention our reference Webpage URL which you visited and Describe your problem in detail if possible. We covered your iPhone 11 Pro, iPhone 11 Pro Max, iPhone 11, iPhone 8(Plus), iPhone 7(Plus), iPhone 6S(Plus), iPhone 6(Plus), iPhone SE, SE 2(2020), iPhone 5S, iPhone 5, iPad All Generation, iPad Pro All Models, MacOS Catalina or Earlier MacOS for iMac, Mac Mini, MacBook Pro, WatchOS 6 & Earlier on Apple Watch 5/4/3/2/1, Apple TV. You can also mention iOS/iPadOS/MacOS. To be Continued...
How to setup or Repair apple watch after unpair [On Setup time, Select Set Up as New Apple Watch]
3. Now, Install Available Update from your iPhone Watch App.
Open Watch App on iPhone.
Tap on my Watch Tab.
Tap on General > Software Update.
Check Any Pending Update is available for your Apple watch or not? if yes, then first download and install under WiFi connection.
Also, Your Apple Watch has at least 50% charging and connected to Charging cable.
iPhone Must be connected on a WiFi connection.
Above Three Step you must complete to Clean install WatchOS on Apple Watch.
Keep in mind that you don't need to change any settings, as we have restored the backup into the Apple Watch.
Thanks for Visiting us. Be more helpful to others, Simply share this solution and guide on Backup Apple Watch Data, Restore Apple Watch Data and Clean install WatchOS on Your Apple Watch with your Friends or Family. also, you can your problem with us below comment box.