Last Updated on Nov 12, 2020
Now on new big screen iPhone device learning made easier compared to small screen devices (iPhone 5S and early). Most of the folks (Child) always eager to learn a new language through daily practices bypass out questions coming from online language App. Here you can learn all the languages that might be not popular but you want to learn for your personal progress and Business purpose that you will get success by using these Language-learning apps for iPhone and iPad compatible with most of the older iOS version and latest iOS.
Here I describe all the requirements, Pro & free memberships and unique features that are you have maximum use while use app for gathering new language knowledge.
Also get your education knowledge through Best education apps for iPhone and iPad.
Most useful Language-learning apps for iPhone and iPad
#1. Duolingo: Learn a new language in free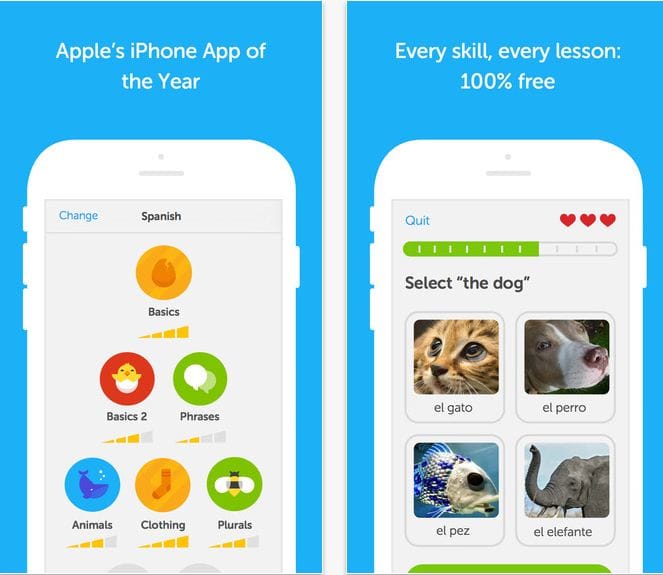 Millions for happy users and Thousands of positive reviews on this language learning app very trusted for the newcomers. Most popular on digital media, and maximum languages covered Spanish, English, French, German, Italian, Portuguese, Irish, Dutch, Danish, Swedish. Very well Compatible with iPhone and iPad. The clean user interface, ads free, No hidden charges making free.
#2. Memrise: Totally free language learning
Not only learn other language but also increase knowledge about other geographic regions history, Science and culture in free of cost, an awesome algorithm that will work perfectly to grow you.
#3. Babbel: Learn any language
Babbel awarded in top 9 countries as a top best language learning app for iPhone. Throughout different 14 languages, you can pick any one in free cost. Unlimited sample exercises. Easy to learn new Phrases and Works through picture guide. Multi-platform support for use same functionality on iPhone, iPad and Mac.
#4. Random House: Learn Language
Random house Step by step learning tutorials have techniques to learn start from simple word to long sentence made in picture and video visualization. That's the fun way to learn and make strong you in other language.
Above all are the Language learning apps for iPhone are very valuable for starter and expert as well. Never miss to install and use it. Are you happy? With these apps that share your experience to other.