A disturbance is the biggest issues in the word. That we overcome or stop by taking some action. So Each app has settings that help in customize as you wish. Here's very beautiful snapchat features that we can try on our any iOS device. Do not disturb stop or unwanted mute notification for that person that is in your chat history and your Friends list.
Let's quick look the very important guidelines on how to turn off or turn on Do not disturb on Snapchat iPhone and iPad.
we are happy to help you, submit this Form, if your solution is not covered in this article.
3 Ways: Turn off or Turn on Do Not Disturb on Snapchat iPhone and iPad
Step 1: Launch the snapchat app on iPhone and iPad.
Step 2: Next, to Click on Friends list (At the bottom right corner of the camera screen, Browse picture). See the friends that in your list.
Step 3: Now, Force touch on Friend's name. And See the list that all are on your list.
Step 4: You will see the below screen, with Setting options for the single user only.
Tap on settings to expand the list. On of them the important option is Do Not Disturb.
Tap on it.
Turn off Do Not Disturb in a Snapchat app on iPhone/iPad
Follow the steps up to 3, Find "Turn on Notifications" option and Tap on it.
Snapchat Global Notification settings
You are looking for Turn off Notification for the Snapchat app. Open the Snapchat app on iPhone/iPad.
Launch the Snapchat app on iPhone/iPad. Tap on Profile icon > Settings.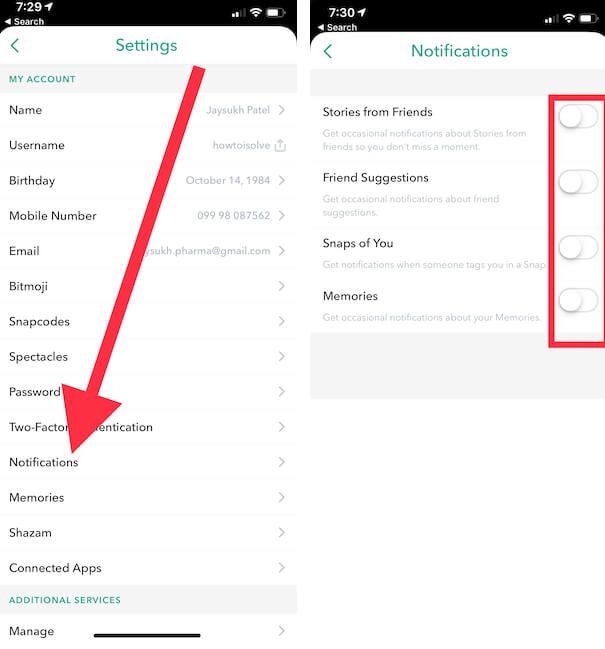 Scroll down and find Notifications. See the different notification settings like Stories from Friends, Friends Suggestions, Snap of you, Memories.
Turn off or Block snapchat notifications from iPhone
Go the Settings app from your iPhone/iPad.
Next, Find the Notifications > Scroll down to the Snapchat app in the list.
Now, the First toggle is for Turn on or Turn off Notification for the Snapchat app.
Hope you enjoy this tricks on snapchat notification. Like it and Share it. Share this guide with your friends or anyone who's looking to Snapchat notifications manage on iPhone and iPad.
Premium Support is Free Now
We are happy to help you! Follow the next Step if Your Solution is not in this article, Submit this form without Sign Up, We will revert back to you via Personal Mail. In Form, Please Use the Description field to Mention our reference Webpage URL which you visited and Describe your problem in detail if possible. We covered your iPhone 11 Pro, iPhone 11 Pro Max, iPhone 11, iPhone 8(Plus), iPhone 7(Plus), iPhone 6S(Plus), iPhone 6(Plus), iPhone SE, iPhone 5S, iPhone 5, iPad All Generation, iPad Pro All Models, MacOS Catalina or Earlier MacOS for iMac, Mac Mini, MacBook Pro, WatchOS 6 & Earlier on Apple Watch 5/4/3/2/1, Apple TV. You can also mention iOS/iPadOS/MacOS.
Jaysukh Patel is the founder of howtoisolve. Also self Professional Developer, Techno lover mainly for iPhone, iPad, iPod Touch and iOS, Jaysukh is one of responsible person in his family.
Contact On: [email protected] [OR] [email protected]