Last Updated on Aug 17, 2023
macOS Ventura Updated! would you like to Mute the clock voice on Your Apple Mac? Like mac announce time every hour, Half Hour, On the Quarter-hour. An alarm clock announcement is apple's own time management feature available on iMac, MacBook, and MacBook Air. So you can customize its own way, like a mute clock voice on Mac. Alternatively, you have three different options for announcing time from the clock as a bell or voice speech on the hours, On the half hours, or On the quarter hours interval.
In more also, customize voice speech based on international languages (Chinese, Arabic, Dennis, Dutch, Hindi, Russian, Spanish, Turkish). Most folks remove clock voice speech because of inappropriate language or heavy tune.
Note: This Guide covered the latest macOS Ventura, macOS Catalina, Mojave, High Sierra, Sierra, EI Capitan, and Earlier.
Steps Turn Off Mac Announce time Every Hour on Mac
How to Stop your Mac Announce the time macOS Ventura
The new macOS Ventura Update has an easy option under the System settings, Let's enable and Disable the Time announcement on Mac, and MacBook Every Hour.
1→ Go to the Apple Logo from the top Mac menu > System Settings.
2→ Next, click on "Control Center" > Choose "Clock Options." appear under the menu bar only. [Please ignore the below picture cause of it was taken from macOS Ventura beta].
3→ Select the Interval for Announce time. also, we can change the Speaking voice using Customise Voice… Option.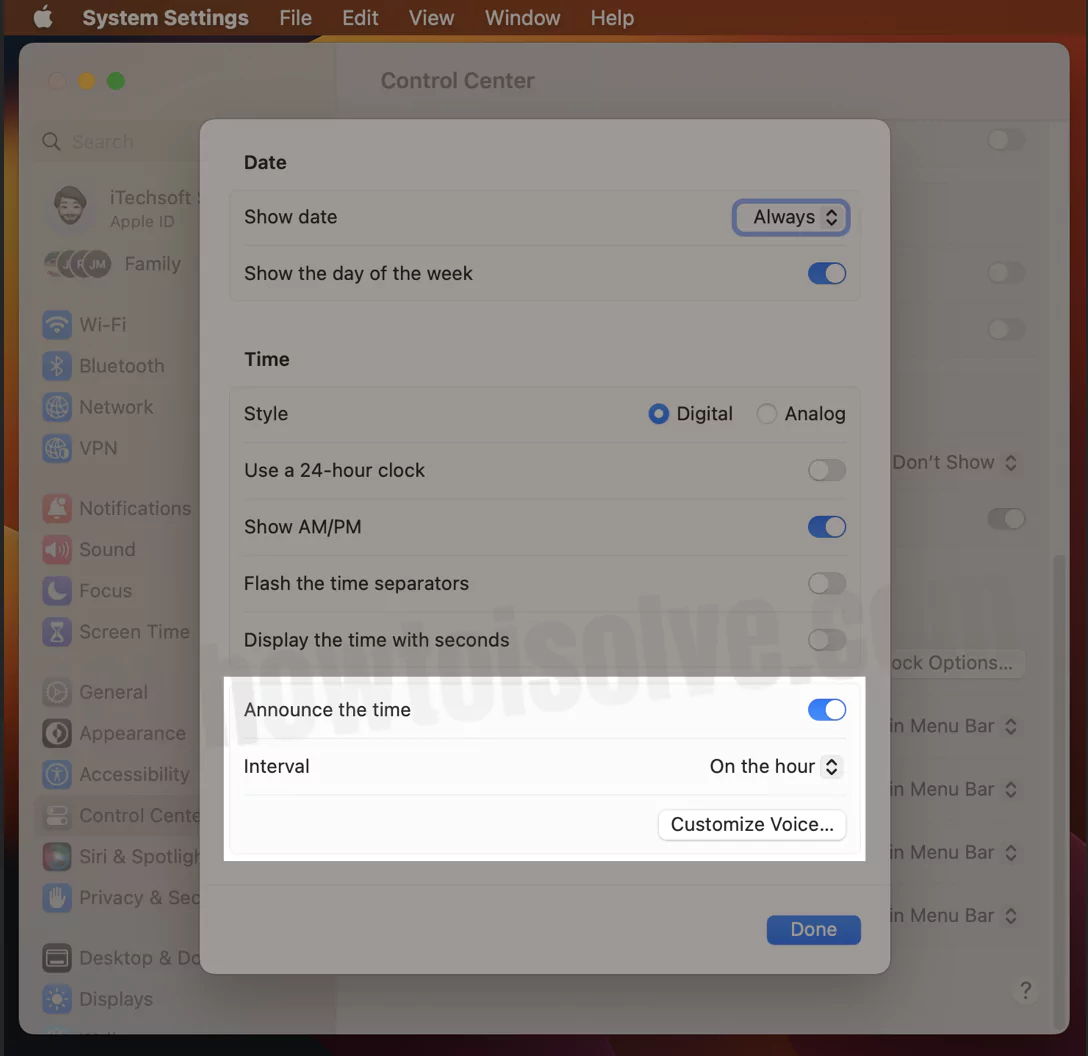 Select,
On the hour
On the half hour
On the quarter hour
4→ That's it. In addition, To customize Your Mac Announce the Time with speed, System Voice and Use custom rate, Use custom volume…Click on "Customize Voice…"
5→ To change Mac announce the time with a different voice, select it from the options voice.
6→ Click on Okay > Done to apply the changes.
How to Turn off Time Announcement on macOS Monterey/ Big Sur
macOS Monterey announce time settings changed after the update with macOS Big sure. Follow the below steps to Turn off/Turn off or Change Interval.
1→ Click on Apple Logo from Top mac menu > System Preferences.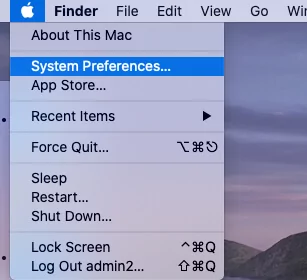 2→ Open Dock & Menu Bar.
3→ under the Section Menu Bar Only, Select Clock and Menu Bar > and see all the custom settings for Show Clock on Menu Bar. and the last section is for Customise announce the time. For every one hour, On the Half Hour, On the quarter Hour. Uncheck for Complately turn off and Check for Turn on.
Also Mac users can customise Voice that speak mac System Time. That's it.
How to turn off time announcements on macOS Catalina and Earlier
Follow the below steps for change time announcement settings from Every hour to Half hour or Quarter-hour.
Step 1: Go to the Apple Menu from the top right corner.
Step 2: Next, click on System Preference.
Step 3: Then, Date & Time for all activities related to system time.
Note: To make changes in setting you must need an administrative Username or password.
In more settings, the related clock can be changed from here, clock vision like Digital or Analog. AM/PM format, With date.
Now you are done. Get Here Best Clock Apps.
Way to Change the clock time Zone on Mac OS X
are you moving from your country to outside? Unfortunately, the time zone doesn't make the change automatically through the geo wifi location. So you can set it here manually. Under the Time Zone section. Uncheck Set time zone automatically using the current location.
Now move your cursor aero on the map to choose country, then closest city from the dropdown.
needs more help on customizing/Turning off or Mute clock voice on macOS with MacBook, then comment on below comment box.