🗓️
April 27, 2023
By ✍️
Jaysukh patel
Are you struggling to find a top language translator tool for your Apple iPhone? Don't worry. Let's take a closer look at the given precious best Translation Apps for iPhone below. Yes, your iPhone isn't only a handset to use for calling, offline navigation, and just connected to the internet via Wi-Fi or cellular data. But you can also use it as a language translator with software tools for iOS apps. This collection I really dedicated to international travel buffs and those guys who want to learn a new language using a translator tool and many other purposes.
I hope this article will help you to get enough features, top-level, and good reviews Applications that work on the Go for you and your mate. Let's go down, and yeah, don't forget to share with your soul mate, friends, and family members who are still planning Online learning language courses.
Quicky Translate All languages to Native Language Offline & Online
Indeed, keep this translator and dictionary combo always on your palm.
Is There a Translation App for iPhone?
I'm glad to let you know, Apple has its own Translator App. Previously we had to download third-party applications for translation purposes.
If you haven't used Apple's Translator App, check this article, and learn how to use Apple Translate App on the iPhone.
What is the Best Translation App for iPhone?
When you get to translate between languages and that particular app supports the language you're looking for, I guess that translation app is best for you. Nowadays, most applications support offline translation, so there is nothing to worry about. This list contains all the best translation app for travel, the best Spanish translation app for iPhone, and the best text translation app for iPhone.
#1. iTranslate Translator
iTranslate not only a language translator iOS app but also has a dictionary (Synonyms + different meanings). Therefore in this single app, the user can get double befit. Besides, it just takes 600MB space to download and install on Apple iPhone or iPad.
It also gives a flawless performance on Apple Watch and supports iMessage API. Hence, you can send the translation to your Friends by blue bubble iMessage.
Functionalities
→Supports language translation of over 90 foreign languages
→Straightforward to translate, share among friends, add favorites, see day-to-day history, etc.
→ It provides offline and speech-to-translation services, but that are premium (Paid) features. There are three subscription slabs; you can buy them as per your need and budget.
→ Translate languages Spanish, French, Hawaiian, English, and many more.
#2. Google Translate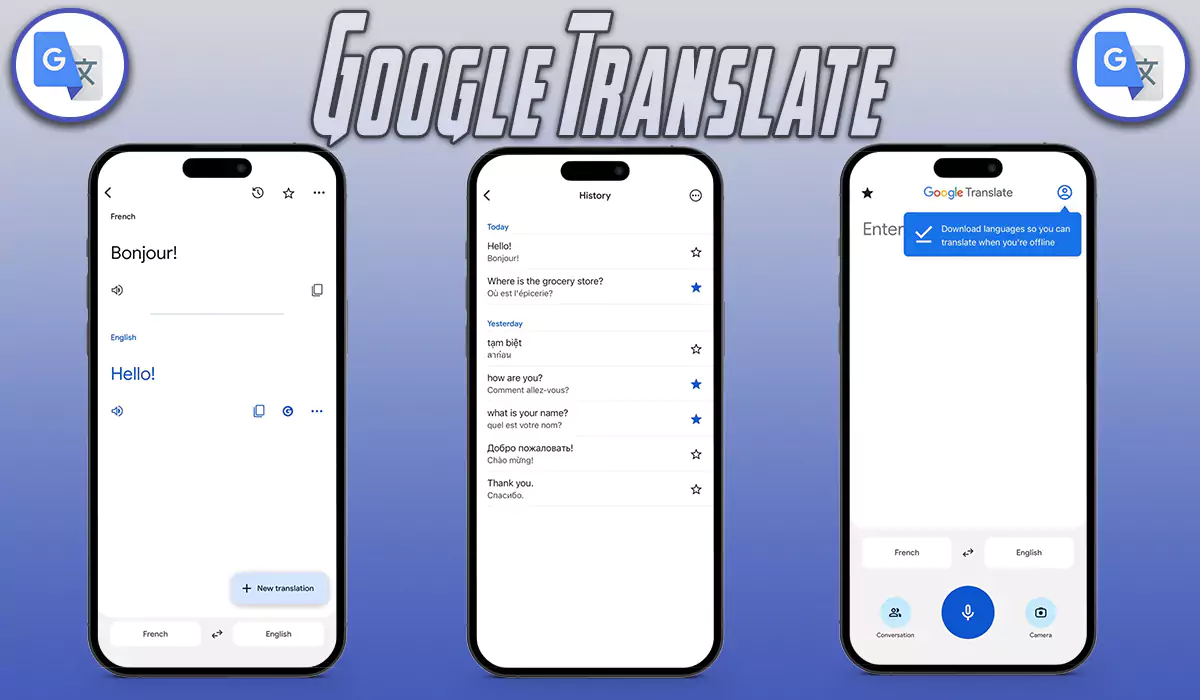 Google Translate app is a product of the search engine Google. The free App lets you translate photo texts efficiently using the iPhone camera. For that, you must have Google translate App installed. Google Translate wants permission to access the iPhone's microphone, camera, and photos app. Good English to Spanish translation app no internet needed. Let's know the flagship features of this App.
Key Features:
→The great thing about this app is it is a translation app for the iPhone without an internet connection, meaning it can translate between 59 languages offline.
→iOS translation App offers to convert up to 103 languages by typing globally.
→The camera translator feature is really stunning, with your iPhone camera, you can easily translate (still allowed 30 languages) fonts in an image, for that you will have just to point a camera.
→In short, we can say that the Google translate App is the best Photo translator, offline translation app for iPhone, iPad with the wealthiest dictionary.
→Is Google Translate app free for iPhone? Of course, the Google Translate app is totally free for Apple users.
#3. Microsoft Translator
Microsoft Translator App is a super cool translation app, jam-packed with dozens of key features that you'd need while traveling to a foreign country. It supports over 70 unique languages that enable you to carry over the translation of Voice, Text, Conversations, Screenshots, and Camera Photos. Besides, with this app, you could even learn unknown languages; how can it be done? Well, it's not a big deal. Simply listen to the message translated by the app over and over until you understand the terms.
Simply launch the app, choose between Text, Voice, and Camera Scanner, and enter the text or snap the picture. The results will be displayed on the bigger better screen.
#4. SayHi Translate
SayHi Translate app is easy to use and comes with a clean interface to perform text and voice translations or lead conversations with the help of this app. Set the primary language and the language to which you'd like to translate. The app will automatically take the input to write into the text and convert it into the target language alongside the pronunciation of the output. Does tap to translate work on iOS? Well, you can try this app within no time.
This makes it quick for you and the other person to quickly conduct a conversation without breaking up the chat. In some languages, you get to choose between Male or Female voices and control the speech rate.
#5. Camera Translator: Translate+
Camera Translator is dedicated to scanning and translating any photo in any language using AI and camera hardware. Just open the app, point the iPhone to the image you wish to translate, tap on the shutter button, set the target language, and leave the rest on the app. No matter it is JPG, PNG, or any other picture format, this app is one stop to scan and translate the photo.
If you're a traveler then, this app can act as a personal guide to translate the restaurant menu, posters, street signs, newspapers, and many more things. With the support of more than 100 languages, there won't be any problem in foreign countries.
#6. Speak & Translate – Translator
This app can voice translate between 54 languages and supports text translation of 117 languages, which means, all the popular languages are added by the developers. Plus, even if you don't know the language, the app will automatically detect the input language and translate it into your desired language. That being said, some parts of the translation are carried by Microsoft while some are done by Google Translate, which is why this app is safe and trustworthy to use.
Buy a subscription to enable offline translations, and enjoy the ad-free and limitless translations at your convenience.
#7. Translate Me – Live Translator
Another translating app that comes to mind for the iPhone is Translate Me. The best part about this app is it is well-equipped with a tool that enables you to carry on Live translation of conversations. You have to choose the languages and start a conversation. The device will automatically capture your voice and perform the necessary translations.
For a detailed list of compatible languages, visit the App Store link and check the languages that work with Voice-to-Voice translation and for Text-to-Text translation.
#8. Scan & Translate+ Text Grabber
To translate the Boards, Posters, Letters, and Other Documents, Scan & Translate+ app can do much better when it comes to these tasks. Don't worry about the precision or pronunciation; after translating the photo, the app can speak for you the translated text.
They have added an automated voice system to spell the words and let you understand the true pronunciation of the word.
Did you found any best Translation Apps for iPhone, or Apple Watch? Please let us know in the below comment box. We'll check it out and, if possible, put it reviews on the above list.