🗓️
November 28, 2023
By ✍️
Jaysukh patel
Apple Rolled out new WatchOS 10.1 for Apple Watch Series 9 and Earlier Apple Watch models. In the next update, your Apple watch will get WatchOS. Hurry on update and Enjoy great WatchOS 10 Features. In any case, you are in trouble, and facing problems during the software update of Apple watch error occurred Unable to Verify Update. WatchOS update couldn't be verified because you are not connected to the internet.
Update WatchOS 10 is stuff full with a lot of improved performance likely –
Performance improved in new Watch OS update:
in WatchOS 10 users got Calculating calories for indoor cycling, Auto Detect Gym equipment, and rowing workouts, Zoom in with Digital Crown, Third-party apps, Distance, and path during the outdoor walk and run, measuring stand activity and more.
Many users have reported that they facing terrible errors during their Apple watch update – Unable to Verify Update. So, we suggest these steps resolve it.
You can try below-given step by step instructions. Hope it'll be helpful to obviate a terrible error unable to verify update.
Before getting started following the steps, First, update your Apple iPhone to the latest compatible software version iOS 17
Go to Settings App on your iPhone.
Select General
Tap Software Update.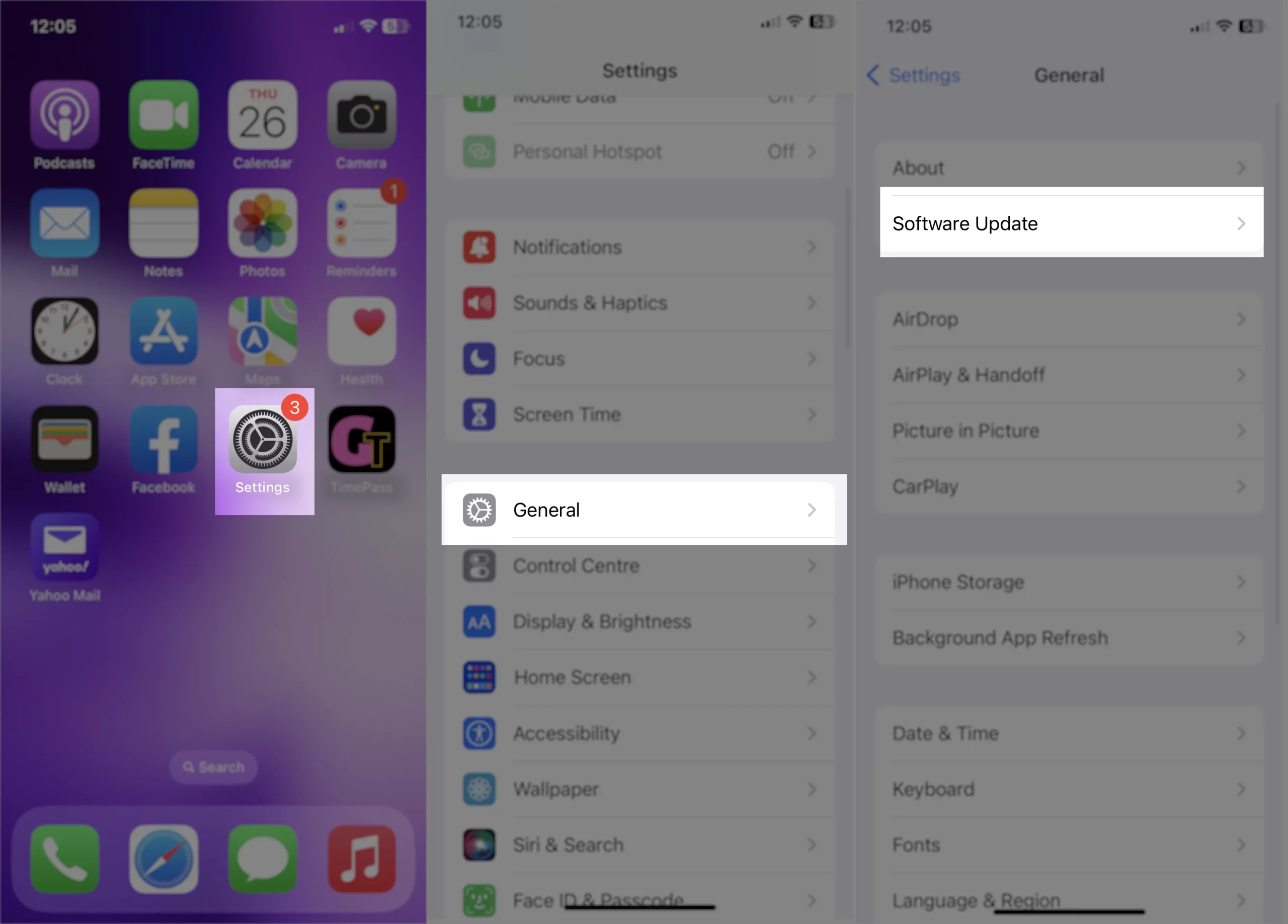 Now update your Phone firmware.
WatchOS 10 or Later Version, Directly install on Apple Watch
Apple's biggest update on WatchOS included a redesigned settings app on Apple Watch. Now We can manage all the Settings only from Apple Watch – Without iPhone. in this, Apple Watch users update Apple Watch Without iPhone or With iPhone. There are very few chances to get "Unable to Verify Update" Error on Apple Watch Update. Now follow the below steps,
Unlock Your Apple Watch and press the Digital Crown Button to Move Apple Watch Apps home screen.
Find the Settings app and Tap on it.
Next, Tap on the General option > Software Update.
Now, Put your Apple Watch on Charging mode – Use the Original Charging cable.

During the time of installation of software updates on Apple Watch, Your apple watches reboot several times with the Apple logo. So, Don't interrupt or stop the process. Until you see Charging screen Or Home screen on Apple watch.

That's it.
Quick Troubleshooting on Apple Watch Unable to Update from iPhone
Make sure your WiFi is connected to iPhone and Working. Browse something on Safari.
Not Enough Storage on iPhone, Settings app > General > About > Avaialble.
Hard Reboot your iPhone and Apple Watch. Then try to Update apple watch.
Reset All Settings on iPhone – Settings > General > Reset > Reset All Settings, Now Connect your WiFi again. Settings app on WiFi > WiFi > Select WiFi and Enter password.
WiFi is Turn on Apple Watch [Swipe up finger on Apple watch to access control center on Apple Watch, Enable WiFi that's it]. Bluetooth must be turned on the iPhone.
Everything is Fine but not Fixed: Now, Unpair and Pair Apple Watch
Unpair and Pair Apple Watch with the iPhone process is a part of getting the latest software update install on Apple Watch.
Unpair Apple Watch from iPhone: Open Watch App on iPhone > Tap on Apple Watch name [First] Under My Watch Tab > Tap on (i) information button next to Apple Watch name > Unpair Apple Watch.
During the unpairing process, Apple Watch backup will save on your iPhone first and then erase your apple watch.
Pair Apple Watch with iPhone, Unlock iPhone and open Watch app on iPhone, Keep your Apple watch near to iPhone. Scan your apple watch on iPhone and start the pairing process.
After pair successfully, You will be installed the latest version of WatchOS on Apple Watch.
That's it.
Steps to fix Software update error of Apple Watch Unable to Verify Update
Step 1. Now on your Apple Watch, Erase All Contents and Settings, this step is basically for the get back apple watch it came when it first time arrived from Apple. Then go to Step 2.
Step 2. Now, Pair the Apple Watch again to the iPhone.
Open the Watch app on iPhone and Pair it to Apple Watch.
Step 3. If you've watch backup then, you can be restored it from the backup.
Step 4. Put your Apple Watch on the Charger in the proper way [Keep at least more than 50%].
Keep always this Best Apple Watch Power Banks
Step 5. Now, open the Apple Watch app on your iPhone and tap the Update button for your Apple Watch.
For more information watch this youtube video.
That's it. Expect you get here which you want. If you did not get fixed concern Unable to Verify Update on Apple Watch, then leave a comment and describe your query for further assistance.