🗓️
September 14, 2023
By ✍️
Jaysukh patel
Get here wonderful recommendations for accessories for AirPods Max (wireless APM). Are you constantly worried about losing the longevity of your Airpods Max due to external damage? Well, if your answer is a yes, we can assure you to worry no more as we have a detailed list of all your required safety products which will safeguard your Airpods Max to the most level. Whether you are traveling or working, we have all the solutions to your requirements to ensure utter protection to your headphones. Moreover, there will be no interruption or change to the sound quality of your headphones, which adds as a pro to the list of advantages.
So, if you are considering buying the best accessories for your headphones, we suggest you read this article which contains all the necessary products you must have on your desk or a travel journey. Then, continue reading further to see what we have in store for you!
Best Airpods Max Accessories That you Must Have as a Professional, Crazzy Entertainer
1. Anker USB-C and USB-A Charger for Airpods Max
Standard Quality charging brick for your AirPods Max USB-C to Lightning charging cable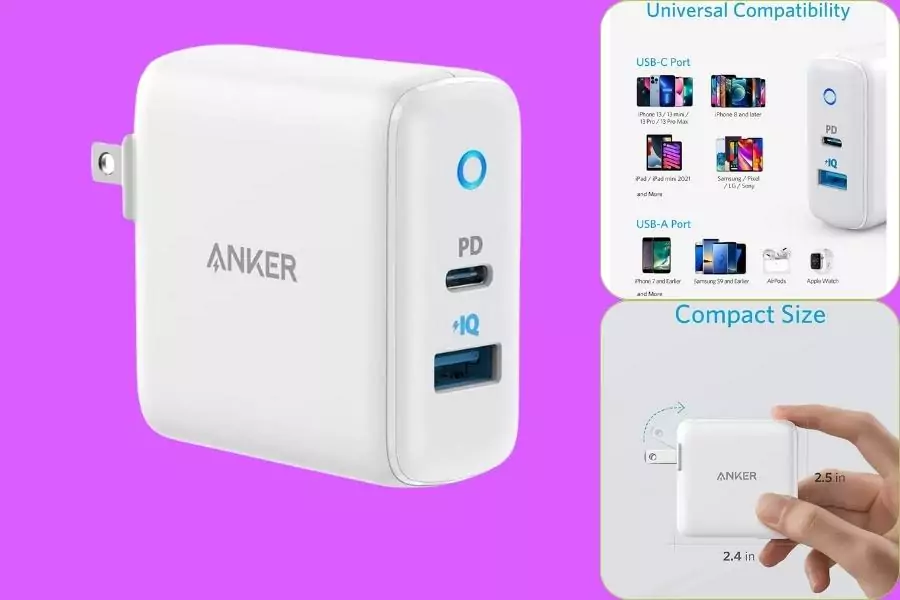 Apple AirPods Max only comes with USB-C to Lightning charging cable in the box. you must have USB-C port Adapter, if you don't have any, you will have to buy separately. Charge your AirPods in minutes with this superfast Anker charger which will not keep you waiting for long hours. The charger is three times faster than an original 5W charger which is its biggest advantage. Moreover, with this Anker charger, you are provided both USB-C and USB-A ports where you can connect your cord on either side.
The ultra-compact portable charger is a perfect pocket-friendly device that you can carry anywhere you go. Moreover, its universal compatibility will not restrict its usage to only the AirPods max but also other iPhones and Smartphones. As Airpods max comes with only a USB-C charging cable, we suggest you invest in this portable adapter which is a great fit for the Airpods and other devices.
So, if you are looking for an all-in-one adapter, here is your answer. Order your Anker 32W adapter charger from Amazon today and get it delivered right at your doorstep with Amazon's quick delivery. Grab your best offer now!
2. Spigen Airpods Max Stand and MagSafe Charger Pad
Headphone stand that particularly care for your AirPods Max
In this era of work from home, a messy desk is understandable. However, if you are someone who refrains from having one, we have an excellent recommendation for you which will help keep your desk tidy and will not allow your headphones and iPhone to stay off your sight. This Spigen dual compatible stand is a great choice if you are looking for something where you can safely place your Airpods Max and simultaneously charge your iPhone 12 or models post that.
The in-built charging stand is at the bottom of the Spigen stand and can stay stable on any flat surface with a gel pad and can be easily removed. This design perfectly matches your home décor and is not restricted to any certain style. We strongly recommend you buy this one as it will ease your daily mess to a greater extent, and you will also find a better productive working vibe with this stand at your desk.
So, grab it now without any delay. An Amazon purchase will help you get this product right at your doorstep, and so, we suggest you buy this one earnestly.
3. Headphone Stand and Headsets Holder with Wireless Charger
All-in-One Stand to Put your All tiny Apple gadgets
Another notable Airpods accessory would be this all-around headphone stand which can function more than safely hold your headphones. With this all-around stand, you can keep your desk clutter-free and your desk space organized by arranging your mobile, Apple Watch, Airpods Max, and Airpods Pro case, everything in one place. Moreover, this stand can suffice your headphones of any brand and is compatible with charging your mobile phone of any company that supports wireless charging.
The stand also consists of a 2-port USB-C charger where you can instill your USB-C wire and charge your phone. There is no doubt that this headphone holder and wireless charger holder is a perfect addition to your home or office gadgets which will also help you keep your stuff organized and in place at all times. Its design does complete justice to add to your home's décor, and so, we recommend you buy this one. It is compact, lightweight, and portable, making this product even more desirable.
So, delay no more and grab it right away from Amazon. By placing a quick order here, we can ensure you trusted and quick delivery along with bonus offers. So, go and order it now and make your home or office desk look prettier than ever before.
4. Headphone Stand and Wireless Charging Station
A Platform that Works amazingly for APM headphone
A universally compatible wireless charging station and headphone holder is a perfect addition to your work desk, and we strongly recommend you buy this 4-in-1 product. This 15W fast wireless charging station is compatible with every device that supports wireless charging.
Also, the detachable headphone stand comes with a Type C charging port to charge your wireless headphones. Another reason for buying this multi-spaced charging station is its storage saving and clutter-free benefit. Moreover, you can entirely trust the wireless charging station as it is safe to use and is heat dissipated.
The multiple benefits of this wireless charging station make it an even better product and quite a preferable gifting option if you are in quest of one. It also goes well with keeping your home and work desk tidy and clean. So, get this now. Make a quick Amazon purchase today and make the most use of this given product here. Grab now before it out stocks!
5. Under-Desk Headphone Stand Mount
A Lovely Headphone Hanger – Easy to install
An accessible and quite easy product from the Elevation Lab Store is here. This under-desk headphone stand mount will ensure to have your headphones out of sight and easy to reach at all times. It can be easily installed and mounts securely on flat surfaces. However, it will not stand still on unfinished woods or fibrous surfaces.
Another pro of this headphone stand is its thick silicone built and improved inner steel reinforcement, which improves the sturdiness of this product. We recommend this one because it lessens the cord clutter and can safely hold your headphones. At least two headphones can be held properly on this stand mount.
So, if you are looking for a perfect accessory for your headphones, you must check this one out on Amazon. Making a quick order will have this product reach your doorstep with no extended delay. Therefore, you must check this one out now and order it in a go.
6. Earpads for Airpods Max Headphones
Replacement Ear Cushions Ear Pad for APM – Perfect Memory Foam
Attain exceptional comfort to your listening experience with Airpods Max by getting these ultra-fit and comfortable earpads. Made with premium materials, these cushions are made with skin-friendly protein leather and comfortable memory foam. The earpads also do not restrict the original sound quality of your Airpods; rather, they enhance the sound quality and listening experience to a greater level by fading the external noises and making way for you to hear uninterrupted music.
The simple installation of these earpads will not demand much of your time and energy, and all you need to do is put them on your Airpods Max headphones, and they will be attached hassle-free with the inner magnet. Its supreme quality and toughness will prove no harm to your Airpods Max, and this will, in turn, become one of your favorite Airpods accessories.
Therefore, we recommend you buy this one as it is affordable and available in the varied colors of your preference. Furthermore, a quick Amazon purchase will bring better ease to your shopping experience as you will get the product delivered right to your doorstep in no delay. So, grab it now and enhance the look of your Airpods Max headphones by making them look newer, better, and prettier.
7. Universal Headset Holder from Benks
A kind of luxury accessories for Airpods max
A desktop headset holder is one of the essential accessories you must not miss out on. It is quite understandable that you may lose sight of your headphones or wired earphones while working, adding to your work pressure. So, to eliminate this stress and contribute towards a clear desk, we have a great recommendation for you to look at, which is this desktop headset holder.
A sturdy and elegant-looking holder is all you need to keep your headphones safe and tidy at all times. This headset holder features a silicone pad with a steel construction design to provide a safe foundation to hold your headphones. Moreover, the part where your headphones will be held is designed in a curve to bring forth better headphone protection and avoid any damage. The wide compatibility of this product can hold headphones of any size and weight, which makes this an even better product and a much-needed accessory. Its design can fit any form of décor in your home or office, and the stand will continue to look stylish.
So, we suggest you buy this one as this product will bring style and comfort to your home or workplace and give a special dedicated space to your headphones, which acts as a matter of the device's safety and longevity. Therefore, you must grab this now, and we recommend you order the product from Amazon to get a trusted and quick delivery. So, grab it now!
8. Hard Case for Airpods Max Headphones
Travel Carrying Headphone Case – A Complete Fit for Travellers
This is an accessory you should not miss out on as it will ease your travel journey and the safe carrying of your Airpods Max headphones to another extent. The easy-to-carry case has been designed explicitly for Airpods Max headphones which you can conveniently carry everywhere you go. Furthermore, the case comes with triple protection, and complete assurance can be attained on your headphones' utmost safety while en route your journey.
The case contains a hard EVA exterior and holds a soft interior lining with bubble padding, which is shockproof. With this case, you can also get double protection against spills, scratches, drops, etc., which gives way to better security to your headphones. In addition, a pair of silicone cover as ear cups for all-around protection will also be available with this case, making it an even better choice.
A two-way zipper is included to secure the travel case, and the case ensures a wide opening and secured closure. There comes an extra mesh pocket with this travel case wherein you can store whatever you like, for example, your charger, adapter, cable, cord, etc. This compact and easily accessible headphone travel case is something to look at, and we are sure you will find this product equally useful as we do.
So, grab this travel case now and place your Amazon order today. We recommend you on purchasing this one from Amazon for quick delivery. Also, with Amazon, you can avail yourself of plenty of discounts and offers, so get it today before the product goes out of stock!
9. Travel Leather Headphones Case for Airpods Max
AirPods Max Storage Cover to carry for long trip
A premium leather travel case is all you need to carry along while on a journey. This one from WIWU is an excellent choice to consider if you are looking for appropriate, stylish, and convenient bags for your traveling. A travel bag like this consists of an in-built magnet wherein the Bluetooth will be automatically disconnected as you place the headphones inside the case and connect them once you take them out of the case.
Another advantage of this cover is that it is eco-friendly leather material. It is a perfect buy for your daily routine, and the bag can be carried over to professional business meetings. You will find no extra burden to your luggage as this case is quite lightweight, which is why this is one of the preferable options. Its protective design adds a splash-proof shell that prevents liquid or dust from entering through the bag, which secures your headphones greatly. The bag comes with a 360-degree push lining which will ensure no bumps, squeezes, or scratches to your headphones, and so, this sturdy element is a better, preferred purchase.
The standard materials used in making this travel bag contribute to the pleasant smell of the bag, unlike many others where bags usually do not give out an appreciable odor. So, we highly recommend buying this travel leather case for your Airpods Max. A quick Amazon order today will provide you with speedy delivery and extensive offers, which you must look at now!
10. Silicone Cover Case for Airpods Max
silicone protection for the ear cups to Make your APM bulletproof
Have a look at these elegant silicone covers, which are sure to enhance your Airpods Max headphones' exterior look significantly. One of the essential Airpods Max accessories, these anti-scratch ear cup covers are something to not miss out on. Of course, it would help if you especially considered the range of colors available for these silicone cases. The case adds no additional weight to your Airpods Max. Instead, it works just as fine in enhancing the look of your headphones.
The precise cutouts and accurate design of the headphones make this accessory a highly desirable product. There will be no interruption in using the buttons of the headphones, too, as the headphones are built in such a delicate and intricate way. Moreover, this accessory ensures it contributes to protecting your Airpods Max as the cover minimizes daily scuff and can protect the headphones from scratches and bumps. The premium material used for the silicone cover will be awestruck you with its durability. The material is also anti-dust and anti-yellowing. Its easy installation makes this headphone cover more admirable.
So, get this silicone cover today and give an all-new touch to your headphones without any delay. If you plan on buying this product, we recommend you purchase it from Amazon, one of the best platforms to place a quick, trusted order and, in turn, get speedy delivery.
11. Spigen Ultra Hybrid Pro for Airpods Max Headphones
A gorgeous APM cup cover that definitely give nice look
Protect your Airpods Max headphones by getting these ear cup covers today, which give an elegant look and stay up to the mark in terms of protecting your headphones. These crystal-clear ear cups will make a way not to hide the original colors of your Airpods Max and provide protection simultaneously.
The purpose of these lightweight headphone covers is to minimize the daily scuff. You can completely rely on the durability and zero yellowing of the clear cups even after extreme usage. Also, the precise cutouts of the ear cups around the digital crown ensure clear sound quality and uninterrupted music, so you can consider adding these accessories for your Airpods Max. The covers are compatible with the Airpods Max Smart Case.
So, wait no more and invest in this accessory from Spigen. An Amazon purchase will make it better accessible for you as you will get the product delivered wherever you want in just a day or two. Therefore, grab it now before it goes out of stock!
12. Carbon Fiber for Airpods Max Case
Perfect Accessories for AirPods Max offer Reliable Quality
Give an even better look to your Airpods Max with this original case from Monocarbon, a perfect choice to add enhanced protection to your headphones. This case is made up of real carbon fiber materials, which you can completely trust for your Airpods Max as it will never fade and will provide a good, soft touch.
The stylish protective case adds to the beauty of your Airpods Max headphones and is very suitable and comfortable to wear. Its perfect built-up makes this accessory quite enticing and admirable. The accurate and finely cutout material of this case is another reason why we recommend you to purchase this one. The reliable quality of this protective case and its lightweight and portability add to the convenience of the Airpods Max headphones. Hence, this protective cover is a very good choice if you are looking for a cover made of premium materials and soft leather, as it will not add any additional burden.
So, if you wish to buy this protective cover from Monocarbon, an Amazon purchase will be worthy for you, considering the many offers and discounts one can achieve here. Therefore, we suggest you buy this today without any delay, and we are eager to see you beautify your Airpods Max headphones with these protective covers.
13. Headband Cover Replacement for Airpods Max Headphones
Great Protective Sleeve for AirPods Max headband
Add a stylish look to your Airpods Max headphones by getting this colorful cover case which is a perfect accessory for your headphones and will also act as a protective measure for your device. The headband is explicitly designed for Airpods Max, and they also do not demand any tool to be installed. It is easy to access and comes in varied colors, which adds to the beauty of the headband.
You will not be demanded any extra space in your bag. Instead, the headband will look like an original part of your Airpods Max, which happens to be a very considerable pro of this headband. We recommend this product considering its durability and soft silicone material, precisely cut and built perfectly. Furthermore, its shockproof and shatter-resistant feature makes it another worthwhile reason to buy this headband. We can assure you of the comfort and durability of this headband. It is also a great gifting option for someone you know who would love this accessory, so go, get it right away!
An Amazon purchase will be helpful for you as you will get the product at your doorstep without the long wait. Therefore, we suggest you buy this one before the product goes out of stock.
As you have now given a close look at what we have in our recommendations for your Airpods Max headphones, it is time you must pick your choice and get the much-needed accessories for your headphones. Safeguard them from any damage and ensure complete protection to your headphones with these durable and reliable accessories. Also, if you are looking for a nice gift idea for your loved ones, the above list holds the perfect options and is quite useful as well.
We recommend you purchase these from Amazon, a platform for anything you want, as here you can avail varied colors and different size preferences to choose from, along with quick delivery at your desired location. Oh, and the discounts on Amazon are mind-blowing, and therefore, we recommend you buy your required accessory from here. So delay no more and pick your chosen product today!