There are many barcode scanner apps available on apple iTunes store. But here are given some top five best barcode scanner apps for iPhone and iPad. Generally, Barcode scanner is use for business looking, library and hand-held scanner. A barcode scanner is cost-effective, fast and reliable. Data obtain from barcode is rapidly and accurately. Barcode scanner provides many benefits including efficiency, easily of implementation and cost effectiveness. These apps are currently used in both the commercial and industrial sector widely.
Using this Barcode Scanner apps for iPhone we can save time, increased the efficiency and less mistake in the business sector. These apps will maintain the supply chain and data management for business.
Top Best Barcode Scanner apps for iPhone and iPad – iOS 8/ iOS 7/ or later
1. Quick Scan (Free)
This is the best app for finding the lowest price for any product. Quick scan app protects your favorite product for the future reference. It can also distich links by email. This app best future is when we are scanning anything then led flash light option is given. In latest update version new assortment for iOS 7 is amazing and its search for both products and deals. This app helps to scan all type of barcodes such as UPC, EAN and ISBN.
2. NeoReader(Free)
This is best fast, simple and highest operation QR reader on the store. These app automatic catchups which type of the code are given and employ your own QR code. It is view the different codes such as wifi, meCards, vCards, email, history etc. This app integrated with web browser. Neo Reader scan all types of best 1D and 2D code.
3. RedLaser
It is the best app for finding price for online shopping, deals and product. It is scan all type of retail barcodes products. It can help you to decide right decision for your product. Red Laser is also used for safety backup your account, data and history. It creates QR code for finding contact info, url and location. This app keeps your fidelity cards in one convenient place.
4. ScanLife Barcode (Free)
This is the best app for quickly finding review and product prices by scanning the QR Code or Barcode. You can also access the current deals, discount and special demand on your interest product. It also checks your product reviews. Scan Life barcode create your own QR Codes that can save your details.
5. Shop Savvy (Free)
This app is best for easily handling shopping, simpler and quickly find best online and local price for products. Using this app you can also review of customers and read comprehensive product detail. With Shop Savvy you can create and share list of your best product with your favorite people. This app also use to checking the price of product and display the product screen.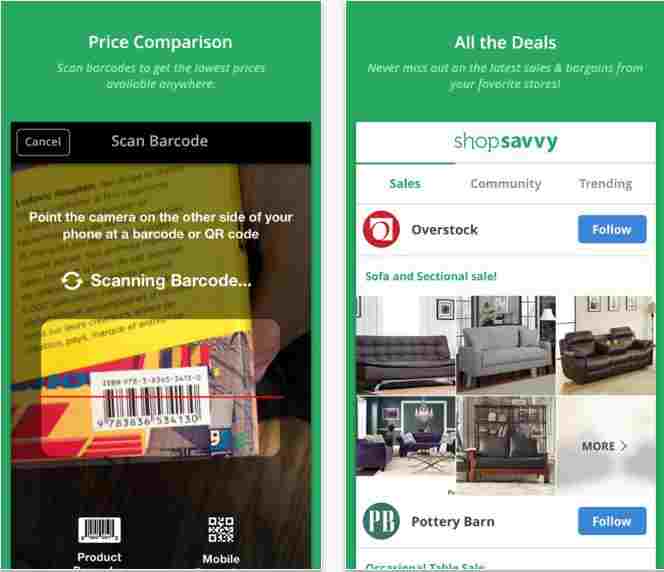 These all the apps work with precision, millions of product and name hide using this technology. So these all are apps for Barcode Scanner apps for iPhone, iPad are very popular in Market, So don't miss share, which one you used and which you like most as compare to others on same categories.