Reviewed top best Camera Long Distance Lens/ Wide Angle Lens for iPhone. iPhone XS Max has the greatest camera compared to other devices, you can get the best out of it. But if you are looking for more flexibility and want to use every single feature of the iPhone camera, then you should go for the best iPhone camera lens. It is the best investment for you if you decide to purchase the kit which will give you flexibility along with strong image results.
There are various camera lens is available for the iPhone, since you make the right choice for you we have round up the best camera lens for the iPhone. Have a look!
we are happy to help you, submit this Form, if your solution is not covered in this article.
Improve Existing iPhone's Camera performance and Picture Quality like DSLR functions
Pick the Best Performing iPhone Camera lens
1. olloclip iPhone Camera Lenses
"Now for everyone", this is the tagline by olloclip, which indicates whether you have iPhone, you can simply take advantage of your iPhone's camera because of its multi-device clip. The all-new multi-device clip is designed to provide more comfort and prevent damages to screen and camera lens. Besides, it is also compatible with case and screen protector. So if you are interested in buying olloclip telephoto zoom camera lens for iPhone XS Max then you must visit the website for complete detail and specifications.
Front and Back iPhone Camera Lens.
---
2. Xenvo iPhone Camera Lens
If you are a photography lover, then the Xenvo camera lens for iPhone XS Max or other will make your work more comfortable and worthy. Some users are saying that it adds shallow depth in the pictures even better than the portrait mode of the iPhone. We can't say it is true or not, but you can check it out once you buy then camera lens for iPhone. Wide your vision with the Truview of 0.45x wide-angle lens and capture 45% more better photos with each shot.
No matter whether you are capturing moments of your pet, peoples, natural scenery, Selfie in dark mode, it will always make your picture more bright with its precision focus compare to photo taken without a lens.
Check Xenvo Camera Lens on Amazon
---
3. CoPedvic
Get the reliable camera results of iPhone XS Max by investing a few more bucks on this camera lens. The notable feature of this camera lens is a 0.67x super wide-angle lens, a 25x Macro lens, and a 205-degree Fisheye lens to fulfill all your requirements. All these lenses have their unique functions; for instance, the 0.67x wide-angle lens is capable of capturing a shot of an entire family or team member in a single photo. The Fisheye lens incredibly gives you rounded pictures, and the 25x Macro lens is the best way to click the picture.
---
4. KNGUVTH Telephoto Lens up to 12X Zoom
Shot the fantastic images like DSLR with one of the best Telephoto lenses which offer 12X views along with adjustable dual focus. No more blurring, vignetting or breaking now you can capture photos with confidence because you have an amazing premium lens. To increase compactness and save storage the fisheye lens and macro lens are screwed together, but yes you can unscrew if you want. A portable design with a solid clip makes this lens a perfect choice for iPhone XS Max.
---
5. SELVIM iPhone Camera lens unto 22x – long-distance lens
[Upgraded Version] The five-layer lens design will make an HD image without any distortion, so it is the significant feature of this camera lens for the iPhone. To click the best Telephoto you will need to keep a distance of 12" to 40" between subject and Telephoto lens. Then comes, 180-degree fisheye lens, as I already mentioned in the above lenses and lastly the 22x macro lens which means you will get even better clarity than any other camera lens. You can easily fix and detach the lens with the easily detachable lens without any scratches on iPhone XS Max's rear camera lens.
---
6. AiKEGlobal (20x Zoom) Stronger Phone Tripod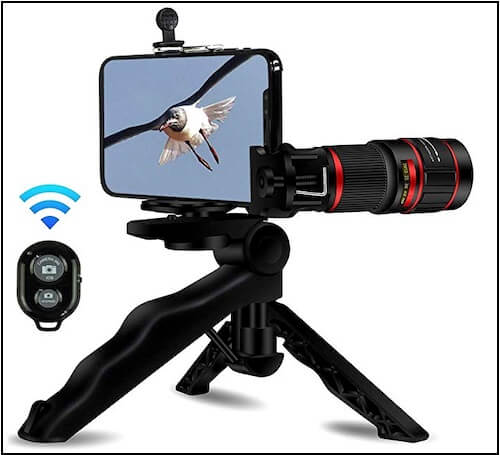 For your iPhone XS Series or iPhone XR, this lens is the best companion with this lens you can capture professional images yourself. In my opinion, this is the best Telephoto camera lens for iPhone XS Max as it offers you the tripod as well as a remote shutter so that you can focus and get clear pictures quickly. Until now, none of the companies is giving the full kit at this price except this one. Its dual focus can simply get you the best photo even in dark and long-distance places with the help of the 20X Telephoto lens. Try this best Telephoto camera lens for your iPhone XS Max.
Perfect moment iPhone lens or Other All iPhone model.
AiKEGlobal is Available on Amazon
Premium Support is Free Now
We are happy to help you! Follow the next Step if Your Solution is not in this article, Submit this form without Sign Up, We will revert back to you via Personal Mail. In Form, Please Use the Description field to Mention our reference Webpage URL which you visited and Describe your problem in detail if possible. We covered your iPhone 11 Pro, iPhone 11 Pro Max, iPhone 11, iPhone 8(Plus), iPhone 7(Plus), iPhone 6S(Plus), iPhone 6(Plus), iPhone SE, iPhone 5S, iPhone 5, iPad All Generation, iPad Pro All Models, MacOS Catalina or Earlier MacOS for iMac, Mac Mini, MacBook Pro, WatchOS 6 & Earlier on Apple Watch 5/4/3/2/1, Apple TV. You can also mention iOS/iPadOS/MacOS. To be Continued...
Above all the Valuable iPhone XS Max, iPhone XS and iPhone XR compatible External Camera lens for photography.
Jaysukh Patel is the founder of howtoisolve. Also self Professional Developer, Techno lover mainly for iPhone, iPad, iPod Touch and iOS, Jaysukh is one of responsible person in his family.
Contact On: [email protected] [OR] [email protected]