Last Updated on Sep 14, 2023An ideal collection of best 12.9" iPad Pro keyboard case list. This Advance combination will give you a unique product and customer experience with their good reviews. You can get here all good cases overview with pictures and full description. You will take care of your iPad Pro, but for that, you must have the best iPad Pro keyboard case; These all cases are designed wireless under concept Bluetooth connectivity.
So look at these cases and make decide what case you like most and want to buy. Are you looking for iPad Pro smart keyboard cases?
Superior Collection of Best iPad Pro keyboard case
#1. Snugg: iPad Pro 12.9 inch Keyboard Case
Snugg made the smart Bluetooth keyboard case for iPad Pro 12.9″. Here's a lightweight and very functional keyboard with cover perfect fit into the user's requirements. High Quality, Resilient, Sleek, Stylish, and Durable iPad Pro case has longer battery life.
Along with typing, access all other input port. Set Screen viewable angle from 0 to 360 degrees.
#2. Logitech Create Backlit keyboard case of iPad Pro 12.9
iPad Pro in 12.9-inch size keyboard case as the best Apple's smart keyboard alternatives. Smart connector keyboard with extra control on change Backlight key light intensity using the dedicated keyboard key. Too many helpful shortcuts for Browse web, Control volume.
Smart Power mode, Preserve the battery and auto manage iPad Pro Sleep/Wake. Open Logitech Keyboard case and iPad pro auto wake up.
Keyboard with case protects from all around the corner. Easy to create notes, Mails, and Message.
#3. IVSO iPad Pro Smart Keyboard Case
Are you looking for a wireless magnetic detectable iPad Pro case? Then you should go with this case because you will get everything you want. This medium-cost Noteholder case cover constructed from the good quality leather exterior and microfiber interior. Easy to install the cover, so it will make your worth iPad more secure. The case comes with the luxury gold color keyboard. So pick a keyboard case from varieties of color.
The case has 100% positive customer reviews. The reason, it's a good compatible iPad Pro Smart Keyboard case announced So far. You can type very faster than the on-screen Keyboard. I recommend this case 99 times out of 100 times.
#4. Keyboard Case for Apple iPad Pro 12.9 inch tablet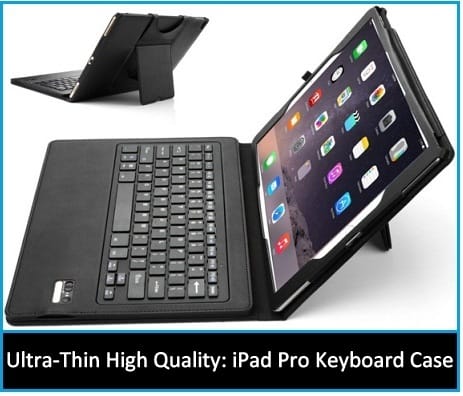 Here I am showing you 3-in one case mean, you will get there are three functions in a single tablet case likely Bluetooth Keyboard, Stand and Premium Carrying case. A magnificent feature is case gives full access to all controls of iPad Pro. Manufacture claim that this case gives real laptop keyboard experience. Therefore, order this cheapest case covers and get free lifetime technical support and a three-month manufacturer's warranty.
#5. Apple iPad Pro Aluminum body Keyboard Case Cover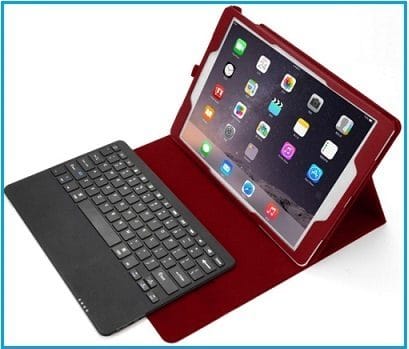 Give an Extreme look at your iPad pro. This ionic Bluetooth keyboard case is a superb one. Want to hold your 12.9-inch iPad Pro then you must have this Stand case. There are two types of cases Aluminum body and leather crafted. The aluminum case is highly durable in life than leather stand case.
Aluminum Keyboard Case- Check Price on Amazon
#6. Apple MJYR2LL Smart Keyboard iPad Pro 12.9 inch
iPad Pro the 12.9-inch case with pen holder too much popular and demand for the graphics, Editor, and Student that's officially released by Apple. Smart connector, No need for setup and External power supply. Just attach the smart keyboard and start typing. Slim, lightweight keyboard, compatible with other third-party keyboard cases.
Please share your feedback in the comment box. And tell us what best iPad Pro keyboard case you like most?