🗓️
September 14, 2023
By ✍️
Jaysukh patel
The Wonderment collection of stunning looking best iPhone 11 docking stations with Speaker. It is also compatibles with Apple's sister model of iPhone which has an 8-pin lighting port. If we talking about the flagship advantage of these docking stations is, easy to expand your iPhone sound because listed all dock shipping with built-in Speaker, Alarm Clock that helps you to wake/up and alert you from time to time According to your Alarm time set up. Also, FM radio is also available with pre-set Stations, hence, all things could complete your dream.
Let's a look by putting your eyeball on this excellent collection of the best Charging Speaker Dock for iPhone. Several acoustic technology full docking stations provide supports for Apple iPad Air, iPad mini tablets.
The Good Review Best iPhone Docking Stations with Speaker
#1. iHome iPL24 Alarm Clock FM Radio Lightning iPhone Charging Dock Station iPhone
The all-in product for your iPhone is the iHome iPL24. This product has almost all the necessary features that one might need while traveling or even camping. It has an in-built alarm clock with a weekday/weekend mode that works finely so that you wake up on time and never miss your train, bus, or plane while traveling. The charging station allows you to charge your iPhone even when you are on the move and is compatible with almost all the iPhones available in the market.
It has FM radio so that you can listen to your favorite music even in places where you have no internet reception. This feature can make your camping nights more fun and musical. You can quickly charge this device using a USB cable. It offers a good battery backup so that you don't have to worry about it getting discharged in the middle of your dance party around the bonfire.
All of the configurations mentioned above and features make the iHome iPL24 a necessary investment for every traveler or hiker. To make this unique product your own, head over to the Amazon App to get the best offers and deals.
#2. iHome Charging Speaker Dock for iPhone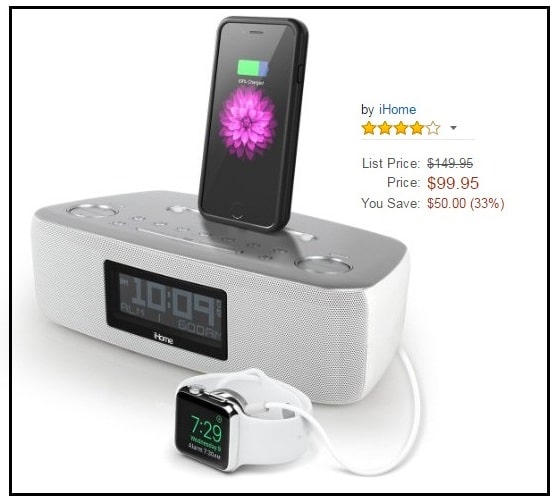 iHome's newest version lighting docking station is an impressive look and the best iPhone 7 plus docking stations with a speaker and alarm clock dock. It has a lighting connector, hence, genuinely Compatible with iPhone 7 and earlier models as well as lighting connector iPad (iPad Air/ iPad Mini) models. The front side is coming with a lot of mesh for better sound quality along with a dual alarm display that shows time. While the back side it has a USB port to charge most of the mobile devices, an Aux-in jack, Power supply port. If we were talking about its head part then you can see there all buttons for the entire system like dual alarm buttons, Power key, Volume keys, Sleep/ wake up, Auto-Sync, Play/Pause, 6 Fm Radio presets, as well as display dimmer and nap button, are there.
iHome iDL44WC alarm clock radio is case-friendly, so that lets you without removing most of the cases. It's coming with a Universal voltage adapter so you can carry it and enjoy music anywhere in the world. Choose a color out of White/Silver Or Gunmetal and Buy this medium-range radio charging docking station for you and enjoy the first-hand experience with a 1-year hassle-free warranty.
Add to bag: iHome Discount Price $99.95 for limited-time
#3. dpnao iPhone Alarm offers iPhone Charging and Fm Radio + Bluetooth Speaker Dock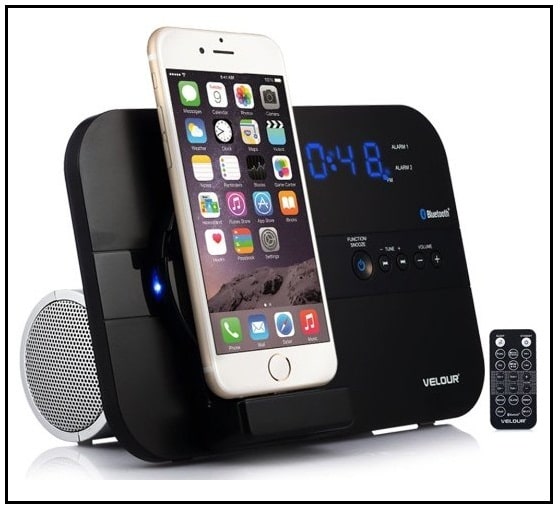 Want to play and charge your new iPhone at the same time? This Bluetooth speaker dock with the alarm clock is excellent for you. Charm look panel board with backside 2 high fidelity Speaker sound system along with FM radio receiver with 20 preset stations. The Lightning dock is compatible with Apple's all 8-pin lighting connector iPhone and iPod touch.
It has a removable support tab that is also rotatable up to the 90-degree angle. Backside USB charging port so easy to charge as well available Audio line-in port for connecting other digital audio players, iPhone and iPad with full music atmosphere. It takes little space to hold so easy to put anywhere in your office and home desk. It's shipping with company remote control to operate the entire system via RC.
Add to Cart – Apple MFI certified the item
#4. JBL – Charging Station with Speaker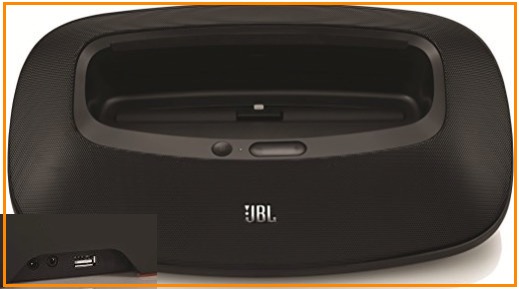 JBL the king of sound now on the best budget under $100.
Enjoy rich sound from HD media (Apple music is the best example). Extra sound effects and a mixture of hardware facilities never drain the battery. Because it has a high capacity rechargeable battery (8 hours) that plays music longer time and keeps your iPhone 7 and iPhone 7 Plus power up.
USB charging port at the backside of the speaker. 3.5mm Aix connector not more useful in iPhone 7 or 7 Plus (Because audio jack removed). but it helps to connect with other laptops, desktops, or other smartphones.
Lightweight, best for sports activity and useful at travel places. Perfect for the music enthusiast.
Alternatively, we can use it for the iPad mini, iPod.
Buy now JBL on Amazon ($94.99)
#5. Azpen Dockall D108 Charging Speaker Dock for All iPhone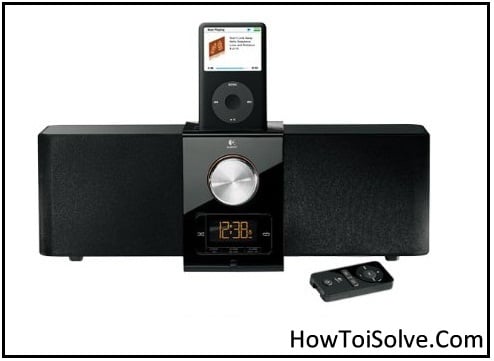 Use this compact and elegant design-charging speaker dock because it gives louder sound quality and simultaneously charging facility. The leading thing is easy to transfer anywhere from one room to another room or floor to floor. The Ideal Accessory you can also carry with you and enjoy in a Hotel room and many other convenient places. For more details about the Logitech speaker dock for iPod and iPhone like specifications and features click on the buy button.
Order here to buy: Online Deals at Big discount
#6. Bluetooth Speaker Dock with Alarm Clock for iPhone 7/ 7 Plus
Universal Speaker Dock for Apple Smartphone comes with 8-pin charging port. It's not only a speaker dock, but it has a combination of functionality such as Alarm Clock, Fm Radio, Bluetooth hands-free Call with NFC function. It comes with Remote control so easily controls the entire system remotely from anywhere in the room.
The best device to enjoy unlimited Music while you are charging your Smartphone. Never battery drain problem because with playing music at the same cycle you can also charge your Smartphone, of a course headache free.
Add to Bag: Premium quality docking station
Useful, Find more: Bluetooth Speaker dock for iPhone
Did you ever find expect given above best iPhone Docking Stations with speakers? Please share it in the below comment box.