🗓️ September 14, 2023 By ✍️ Jaysukh patelin this post, I'm going to recommend you the Best iPhone 7 Plus Waterproof Cases. Apple iPhone 7 plus is come with 5.5'' in size, but it has a dual-lens camera. Since defiantly our old iPhone case won't work with it. Also, iPhone 7 Plus model is Water-resistance but not waterproof. Therefore, we will have to need safety completely while we will take our wide color display iPhone 7+ nearby beaches, water park, bathroom, and many places, at where to be water damage chances more. So as prevention and to save money against water damage iPhone coast.
For that, the best waterproof iPhone 7 case is an excellent solution for it. The waterproof phone case is playing a vital role in the traditional life of Plumber, fisherman, etc. Therefore, here we recommend several best iPhone 7 Plus Waterproof Cases that you can you buy for brand new Apple 5.5'' iPhone 7+.
These best waterproof iPhone 7 cases shipping with a full protective seal for charging port, buttons, cameras, speakers, etc. hence, don't worry, because put the iPhone into the case and then do all Ports and seams closed tightly. That's it. Let's a look good brand Waterproof iPhone 7 Plus phone case collection.
The Best iPhone 7 Plus Waterproof Cases: Save iPhone Under the Water
#1. ORDTBY – Waterproof iPhone 7 Plus Full-Body Protective Case
An American brand, i-Blason brings a full-body durable Waterproof case for larger screen iPhone 7 Plus. It has enormous features what we daily expect on our Smartphone like good 3D touch sensitivity, louder sound quality, stunning quality HD mobile photography, and many more.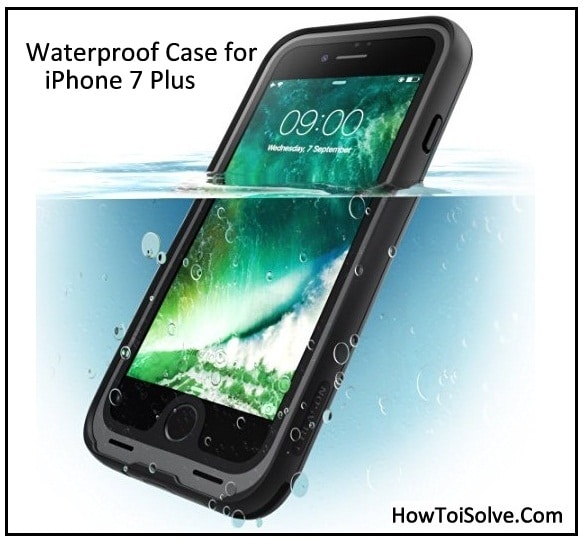 Though, these all essential things you will get after putting your iPhone 7+ into the i-Blason iP67 certified Waterproof case. Hence, you can get all-around protection for your brand new iPhone against bump, scratches, water damage, dust, and daily depreciation. Available in four kinds of bonny color options – Blue, Black, Green, and White.
Check ORDTBY Case Price on Amazon
alternate iPhone Waterproof Case
#2. Underwater Snowproof – Best Waterproof Case for iPhone 7 Plus
Underwater Snowproof case offers a complete fits Waterproof case for iPhone 7 Plus. As a waterproof accessory, the case comes with a built-in crystal clear screen protector and furnish 360-degree protection underwater up to the 6.6feet/2m level for one hour.
Very exclusive design for groove with water safety concept, hence, you could easily also access all essentials buttons, ports, FaceTime as well as dual lenses camera without any interrupt.
All over, you see the extraordinary and universally useful case – Drop Proof, Water Proof, Dust Proof, and Snow Proof. Unique idea to save your iPhone 7 Plus against in all situations. Order it and get 12 months to the hassle-free warranty.
Note – you will have to remove the screen protector if any, before apply this waterproof case. Great touch sensitivity like original beauty experience.
Underwater Snowproof iPhone 7 + fully Sealed Case – Best iPhone 7 Plus Waterproof Cases Price under dollar 20
You can also order this iPhone waterproof case
#3. Universal Bag – Snow, Water, and Dirt Proof iPhone 7 Plus Case
Perfect Waterproof & Airtight bag for iPhone 7 Plus to prevent iPhone damage against outdoor activities like Rafting, swimming, perfect for boaters Boating, paddleboard, for skiing because of snow proof and many more. It is certified by IPX8 to 30 meters (100 feet), hence, it delivers protection as well as comes with a fluorescent design to make it fresh in the outdoor night.
High-quality transparent window and two-sided Clear PVC material convenient for Underwater Photography. Just Place your Phone into the bag and apply a double swivel lock for safety. It has a port to fit strap for easy to clutch as well compatible with 3.5-inch to 6.0inch size Smartphone.
Order it Here– Special Deals on Amazon
Alternate purchase this top iPhone waterproof case cover
#4. Joto iPhone 7 plus and iPhone 7 Waterproof Dry Bag
Waterproof dry bag case for iPhone 7 and iPhone 7 Plus and also compatible up to 6.0'' Smartphone.
This standard quality waterproof case dry bag/pouch is suitable for beach, fishing, swimming, boating, Rafting, swimming, kayaking, snorkeling, and water park activities. Available in different color options like  Blue, Black, Camo, green, Magenta, white, Camo blue, and Camorgrey.
Order it Here – Price Under dollar 10
#5. Mpow Fusion Waterproof Dry Bag for iPhone 7 Plus, iPhone 7, iPhone 6S Plus
GW Fusion presented a waterproof dry bag for smartphone users. The dry bag case is compatible with up to 6.0'' diagonal size phone. Superior waterproof, however, sealing athletic fit otherwise can be shocked in water for a long time.
A perfect touchscreen supported bag is incredible for underwater photography. It comes with a stylish look and trendy for outdoor activities. Don't miss putting your phone into the dry bag and while you ready to go for travel then don't forget to put this pouch into your traveling bag.
Check Mpow Universal Waterproof Pouch Price on Amazon
Also, See Best iPhone 7 Underwater Cases.
Let's guy share your feedback in the comments box,
which one case you would like most from above given the best iPhone 7 Plus Waterproof Cases.
You also share with us by like on Facebook, Follow on Twitter.