Never miss these best iPhone 8 Clear cases. Because Apple's iPhone 8 introduced with so many distinctive features, and one of them is Qi Charging or Wireless Charging. To take benefit of Wireless Charging using any case is not possible, you will need to purchase a Case which supports this facility.
I enlist Clear Cases are just similar to others in securing the device, and there is only one part that distinguishes is its clear crystal texture. Even with the thin material, it protects the device against scratches, drops and many such damages gently. Among all the kinds of cases, some of the Apparent cases for iPhone 8 listed below.
we are happy to help you, submit this Form, if your solution is not covered in this article.
After buying an iPhone 8 clear Case, you will get Protection, Never turning yellow, charming look, shiny surface, handy and get trustworthy security.
Best iPhone 8 Clear Cases for Enjoy the Showcase, Perfectness
Spigen: iPhone 8 Bumper Clear Case
iPhone 8's new charging leads to the production of a new type of cases which supports QI charging without removing cases. Spigen has designed this case by considering all new features of iPhone 8, and hence this Spigen iPhone 8 Case supports QI charging.
With charge compatibility, the case must be protective and flexible to forbid damages. Complete cuts are made to access ports, and tactile buttons assure quick feedback, and inner dot pattern makes iPhone water-mark free.
Buy On Amazon – $10.99 [27% Off]
ESR Flexible Soft Clear case
ESR's innovative case is crafted uniquely to give iPhone 8 a fantastic look with the additional guard. The TPU material which is much flexible and long-lasting ensures a better grip at edges and which will prevent any accidental drop.
The ultra-thin interior and raised lips will secure the screen against scratches or hard knocks. Besides this, the case supports wireless charging technology which is new for series of iPhone's and so without removing case you can take advantage of wireless charging.
Buy On Amazon – $9.99
Anker – Light Clear case with Bumper Frame
Anker's distinctive feature concerning this case is it supports the advanced function of iPhone 8 "Wireless Charging." It is clear case of the thinnest layer and raised bezel for exceptional grip to protect the device.
The iPhone 8 transparent Case contains hard bumper border of PC and TPU through which it can save iPhone from falling destruction. Secure iPhone 8 without bulk and after purchasing this case get 18 months warranty.
Buy On Amazon – $8.99 [57% Off]
TORRO – Premium Clear Case
TORRO's this case is entirely crystal clear as per your demand and fits perfectly with iPhone 8 and with ultra-transparency the aluminum body of iPhone will shine.
The Case made up with finest TPU with Air cushion on edges which will give overall protection to iPhone. All the sensors and ports are accessible with this case, and the most important thing is it supports QI Charging feature.
Buy On Amazon – $9.99
i-Blason Scratch Resistance Clear Case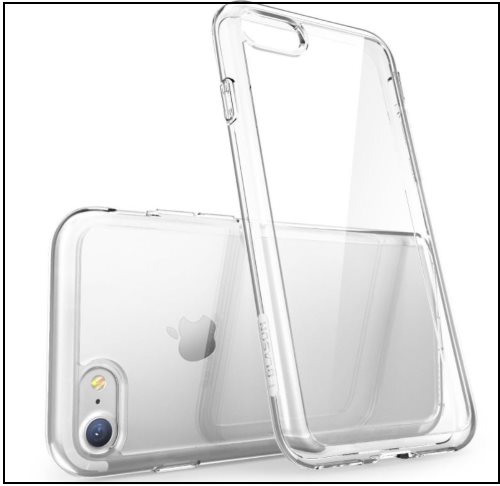 The different feature of i-Blason's clear case is it has 3H rating material for preventing scratch and for extended durability. When you have placed down the device, then the upper edges of the case will guard screen against scratches and round edges will prevent shock damages.
Highly thin and transparent texture will make iPhone more adorable and classy.
Buy On Amazon – $9.99
JETech: Shock Absorption Bumper cover
The fusion of TPU and PC offers HD clarity with great safeguard to iPhone 8. Besides this, it has many properties like Anti-scratch, shock resistant, precise cut-outs to access all ports and speakers and much more.
The round edges with Air cushion resist damages against sudden falls by absorbing shocks.
Buy On Amazon – $7.96
Related:
Premium Support is Free Now
We are happy to help you! Follow the next Step if Your Solution is not in this article, Submit this form without Sign Up, We will revert back to you via Personal Mail. In Form, Please Use the Description field to Mention our reference Webpage URL which you visited and Describe your problem in detail if possible. We covered your iPhone 11 Pro, iPhone 11 Pro Max, iPhone 11, iPhone 8(Plus), iPhone 7(Plus), iPhone 6S(Plus), iPhone 6(Plus), iPhone SE, SE 2(2020), iPhone 5S, iPhone 5, iPad All Generation, iPad Pro All Models, MacOS Catalina or Earlier MacOS for iMac, Mac Mini, MacBook Pro, WatchOS 6 & Earlier on Apple Watch 5/4/3/2/1, Apple TV. You can also mention iOS/iPadOS/MacOS. To be Continued...
Personalize Best iPhone 8 clear cases and make it best buy for your device with such an attractive and charming outfit. Don't miss to share.
Jaysukh Patel is the founder of howtoisolve. Also self Professional Developer, Techno lover mainly for iPhone, iPad, iPod Touch and iOS, Jaysukh is one of responsible person in his family.
Contact On: [email protected] [OR] [email protected]