Last Updated on Sep 14, 2023
NAS (Network Attached Storage) is the new powerhouse to store your data for the luxury of accessing it with extreme ease from multiple devices or for multiple users. SSDs (solid-state drives) are the perfect option that aid in retrieving this data within seconds and eases you through daily tasks that are technically demanding with their low latency.
We have compiled a list of superior options, each worth checking out and buying, consisting of 2.5 inches (SATA) and M.2 (NVMe) SSDs suitable and compatible with various devices to fulfill your home or office NAS requirements.
Also Read: 10 Reasons to Use NAS for Backup & Storage
Top Best Portable SSD for NAS
1. Western Digital Red SA500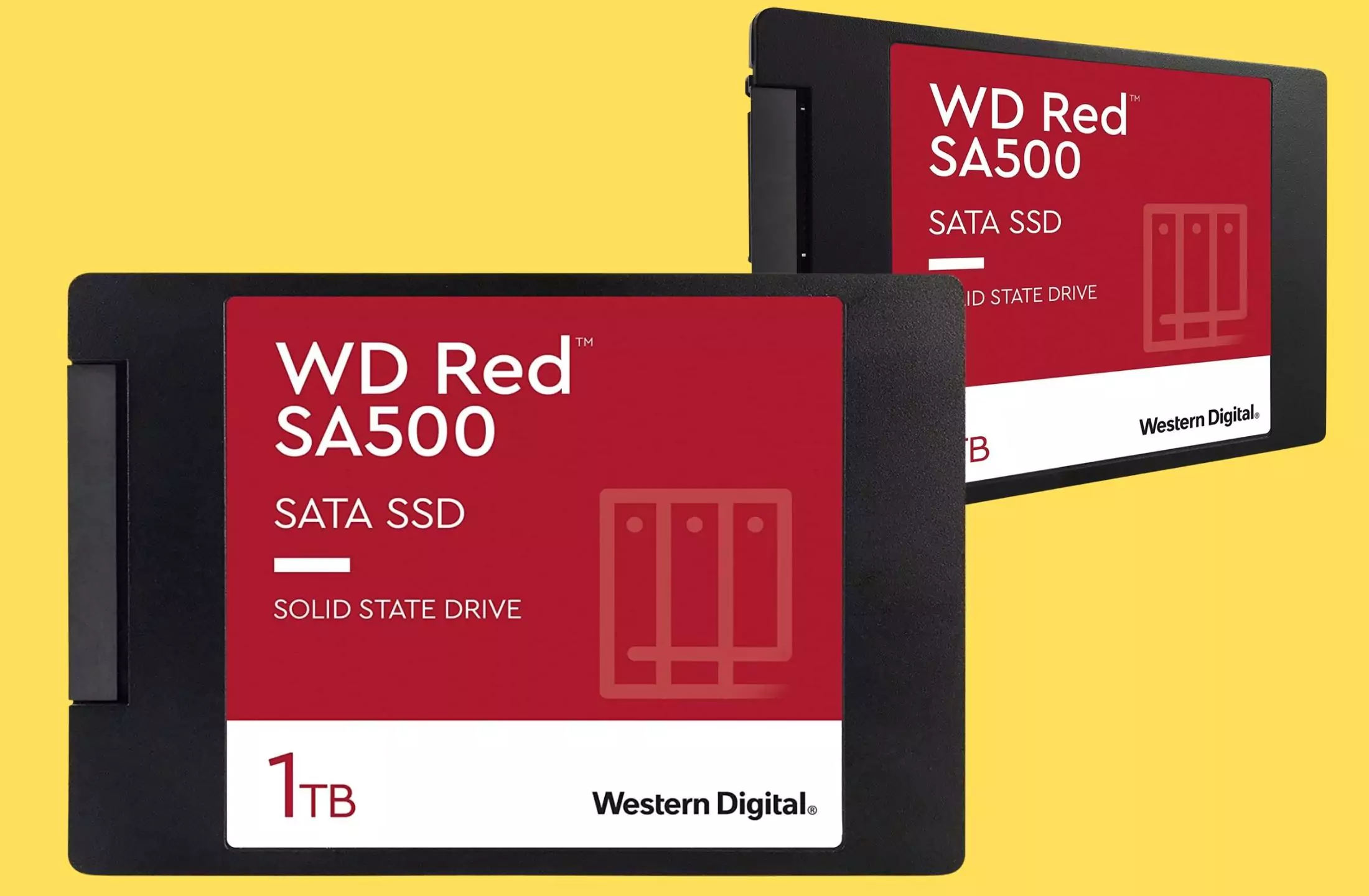 The Red SA500 is the best SSD for NAS storage, optimized for 24/7 usage, and accesses your most frequented data with rapid ease. This drive offers a read speed of 560MB/s and a write speed of 530MB/s, which boosts performance under heavy load. The endurance rate of 600 TBW (terabytes written) in the 1TB variant and the inbuilt Western Digital 3D NAND delivers maximum SATA capacity catered for all users.
Lower latency provides the smoothness of handling multiuser environments and productivity in managing demanding tasks. The Red SA500 is a perfect option for NAS office or home environments.
Also Buy: Best Cynology Docker Container
2. Seagate Ironwolf 125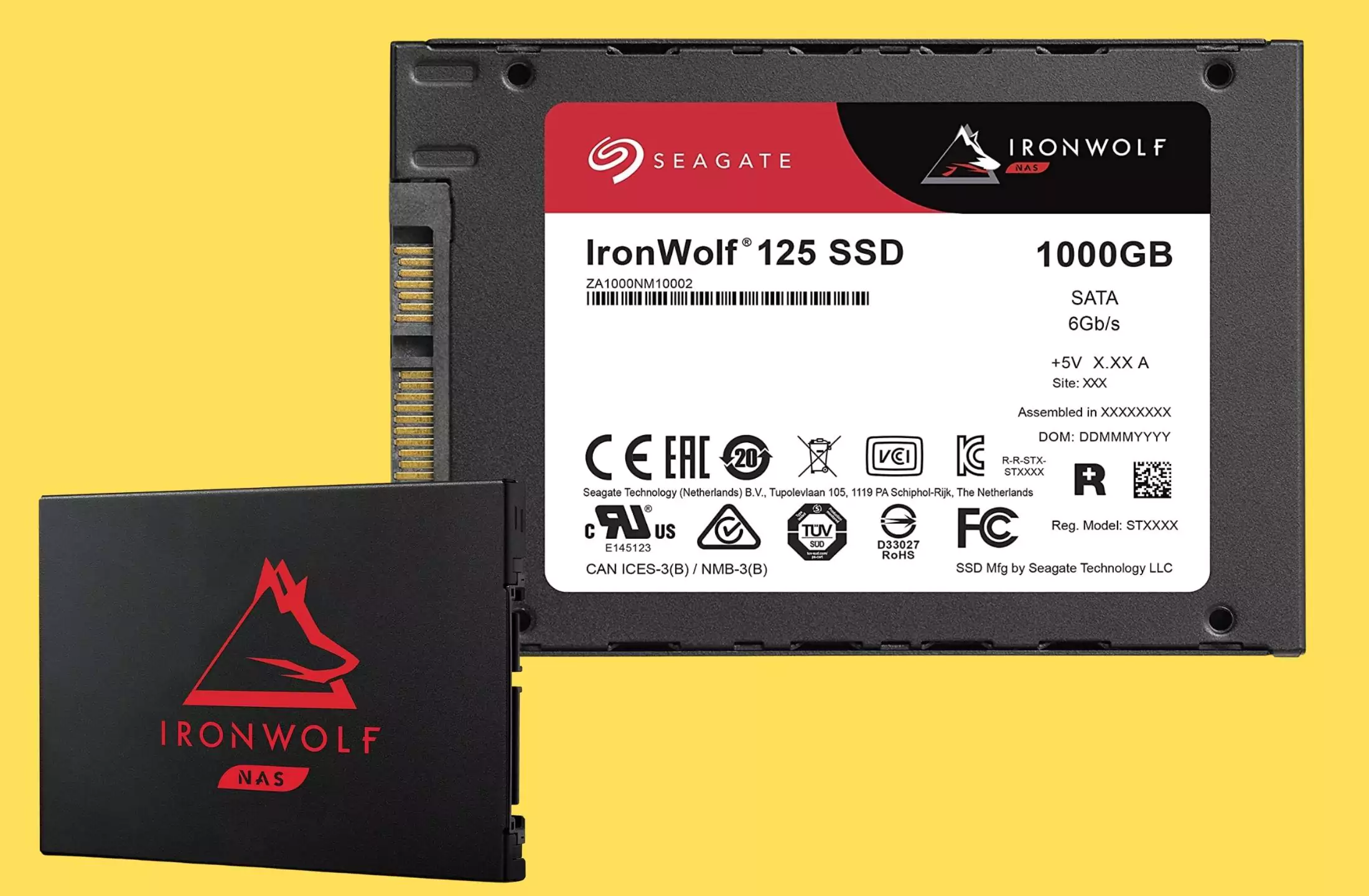 Enhance your Mac's performance with the best SSD NAS for Mac, Seagate Ironwolf 125. Seagate has an endurance rating of 1400 TBW (terabytes written) in the 1TB capacity with maximum reading and writing speeds of 560 MB/s and 540 MB/s, respectively. It's SATA connectivity enables heavy workloads and everyday high endurance operations and is available for a reasonable price.
Seagate promises user safety with their Ironwolf Health Management, monitors the health and compatibility of your SSD NAS drive, and notifies you of any sudden catastrophe. It also ensures data recovery with its 3-years Seagate Rescue Data Recovery Services.
3. Western Digital Blue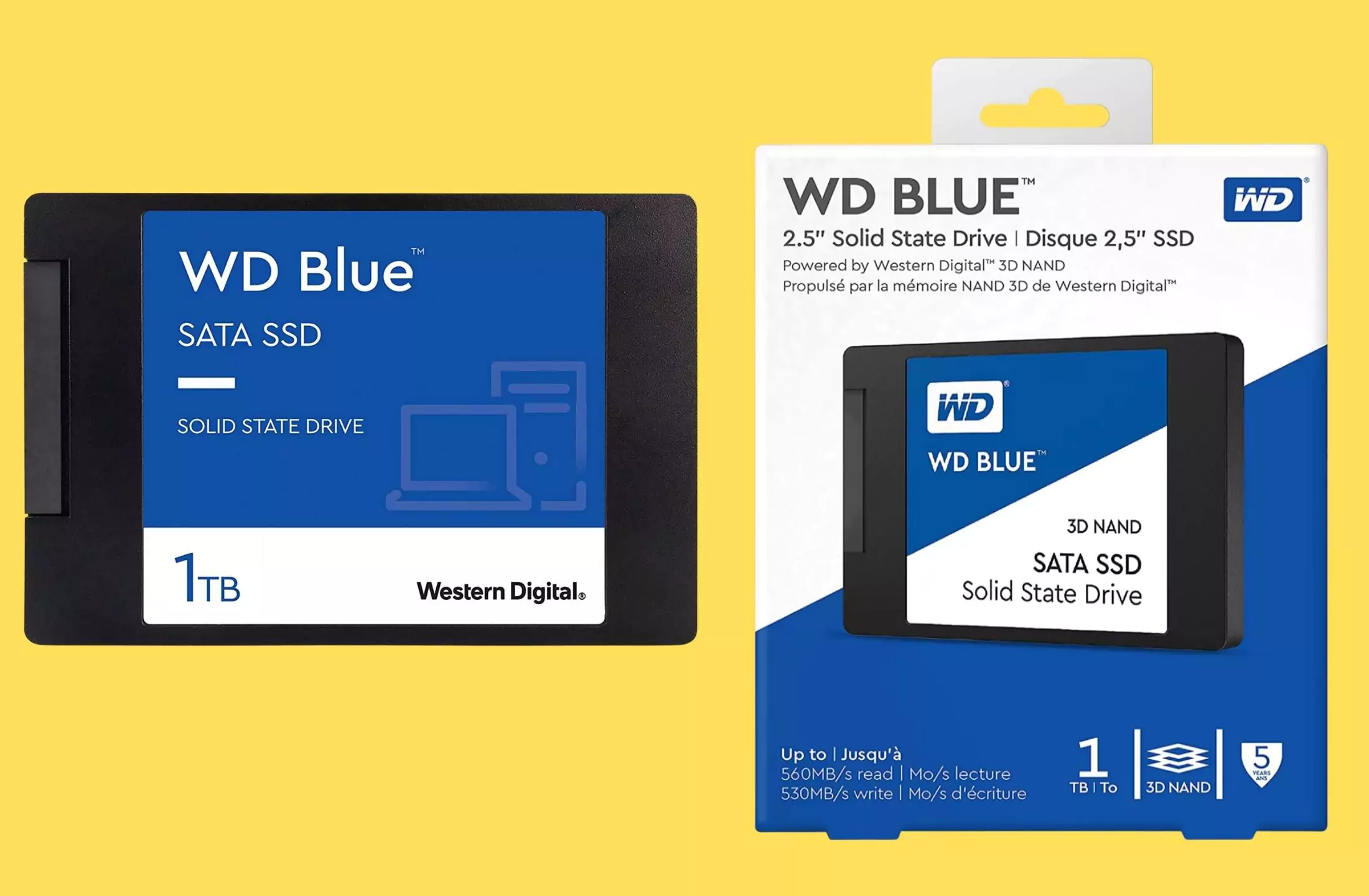 The Western Digital Blue is designed for NAS to accommodate all necessities. The 1TB variant is one of the best SSD for NAS cache as it has a 400 TBW (terabytes written) endurance, a read speed of 560MB/s, and a write speed of 530 MB/s. The drive assures maximum data reliability with 1.75M hours of MTTF (mean time to failure).
The WD SSD dashboard gives easy insight into the drive's capacity and operating temperatures. Moreover, WD's edition software, Acronis True Image, is available for free download to clone your drives, navigate the settings, and back up your operating systems and applications.
4. Seagate Ironwolf 525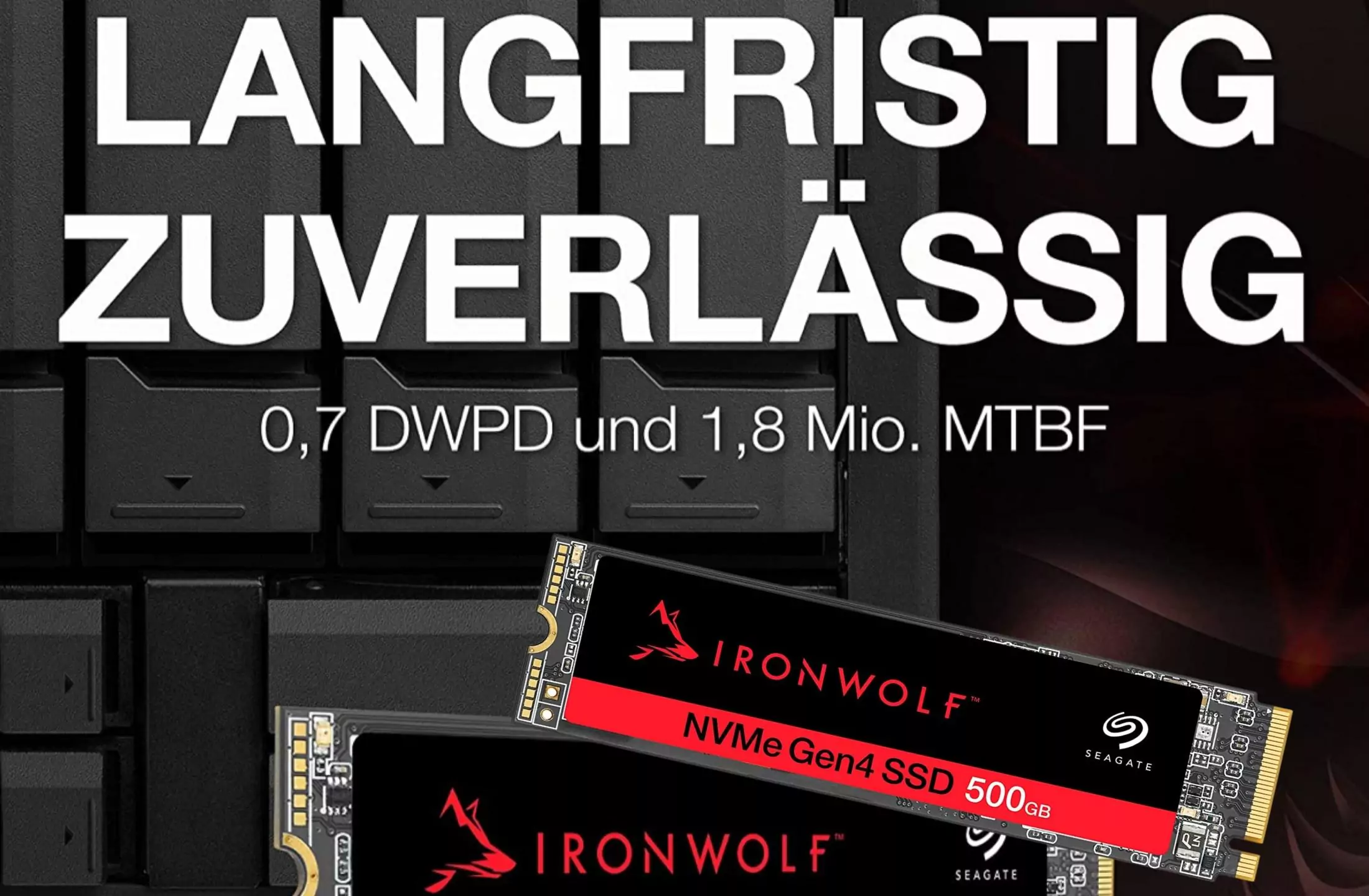 Seagate Ironwolf 525 is an M.2 NVME Gen 4 SSD designed to handle a demanding NAS usage. This drive stacks a monstrous PCIe Ge 4, 5000 MB/s read speed, 2500 MB/s write speed, and 700 TBW (terabytes written) endurance in the 500 GB version for a multiuser environment and 24/7 instant access and speed.
This SSD is one of the best NVME SSDs for NAS cache, designed to withhold intensive workload for long-term use, further secured by the 3-year Seagate Rescue Data Recovery Service. It has a durability of 1.8 million hours MTBF (mean time before failure).
5. Seagate Ironwolf Pro 125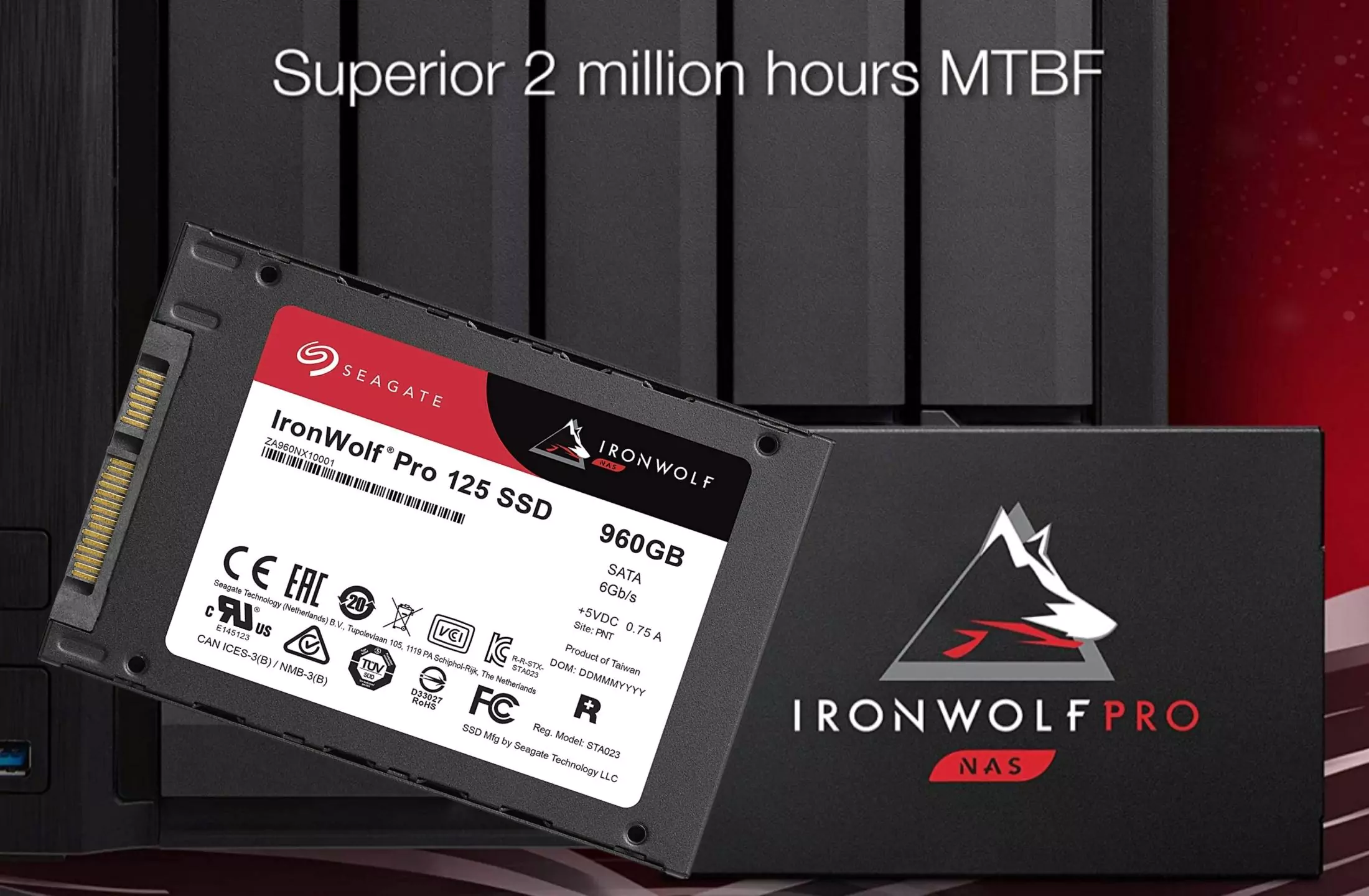 Another drive from the Ironwolf series, Ironwolf Pro 120, is a SATA SSD pro with an endurance of 1750 TBW (terabytes written) in the 960 GB storage variant and 1 DWPD (drive writes per day). In terms of transfer speed, the drive delivers 545 MB/s reading speed and 520 MB/s writing speed, ideal as the best SSD for Synology NAS cache requirements.
It is a perfect drive that undertakes all prompt and intense operations for NAS enclosures. Seagate also offers data protection during a power outage and the staple 3-year Seagate Rescue Data Recovery Service.
6. Crucial P5 1TB 3D NAND NVMe SSD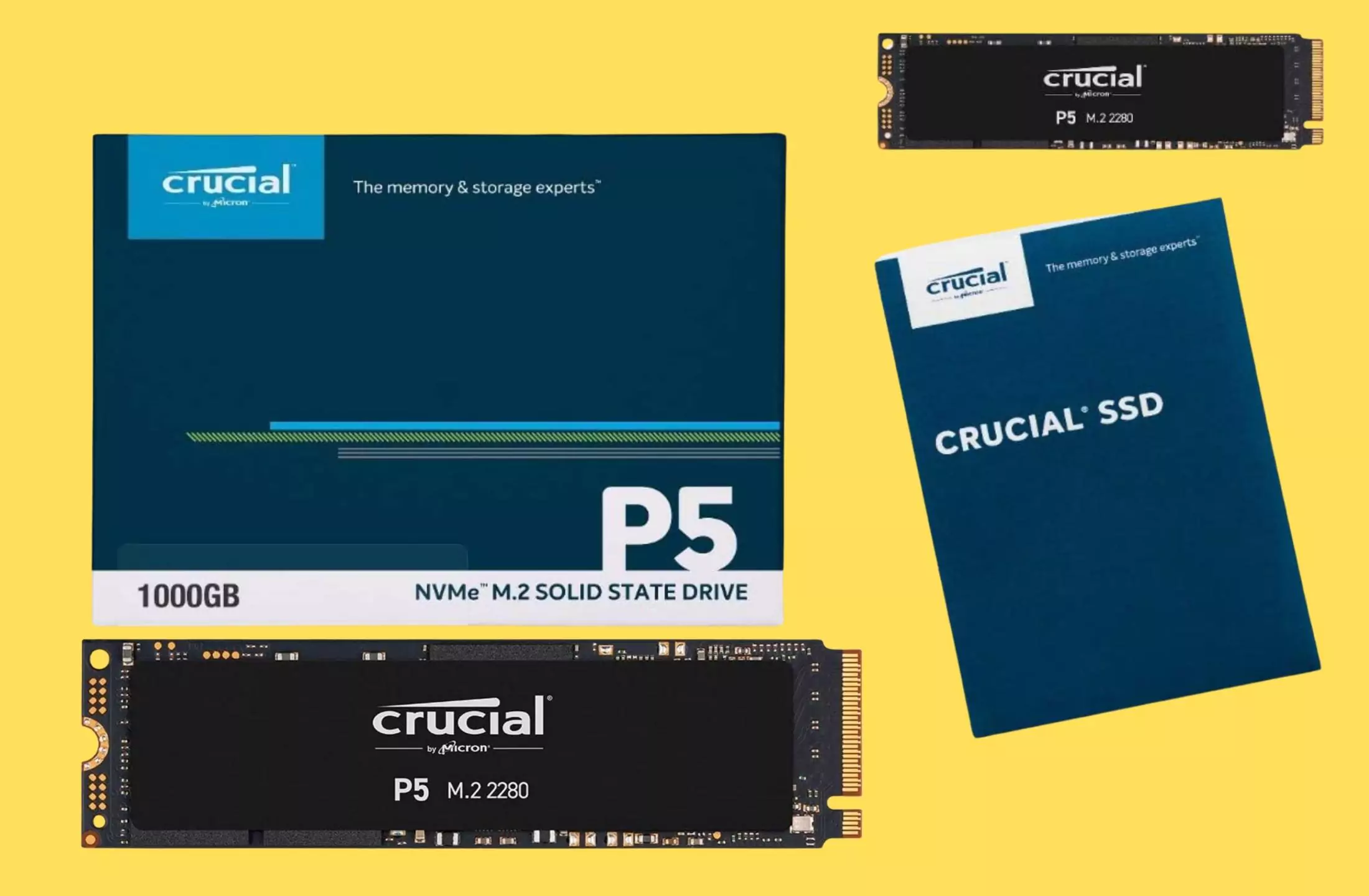 Among the best SSD for MAC for NAS enclosure is the Crucial P5 M.2 NVMe SSD, which has PCIe NVMe Gen 3 connectivity with a sequential read/write of 3400/3000 MB/s (1TB variant) and endurance of 600 TBW (terabytes written). Derive an optimal gaming and effortless workload experience with the dynamic write acceleration, error correction, and adaptive thermal protection with temperature sensors connected to the NAND components.
Utilize the company's software, Crucial Storage Executive, to monitor the operations and update your SSD. The drive is compatible with desktops and laptops that support the PCIe Gen 3 drive.
7. Crucial P5 Plus 1TB PCIe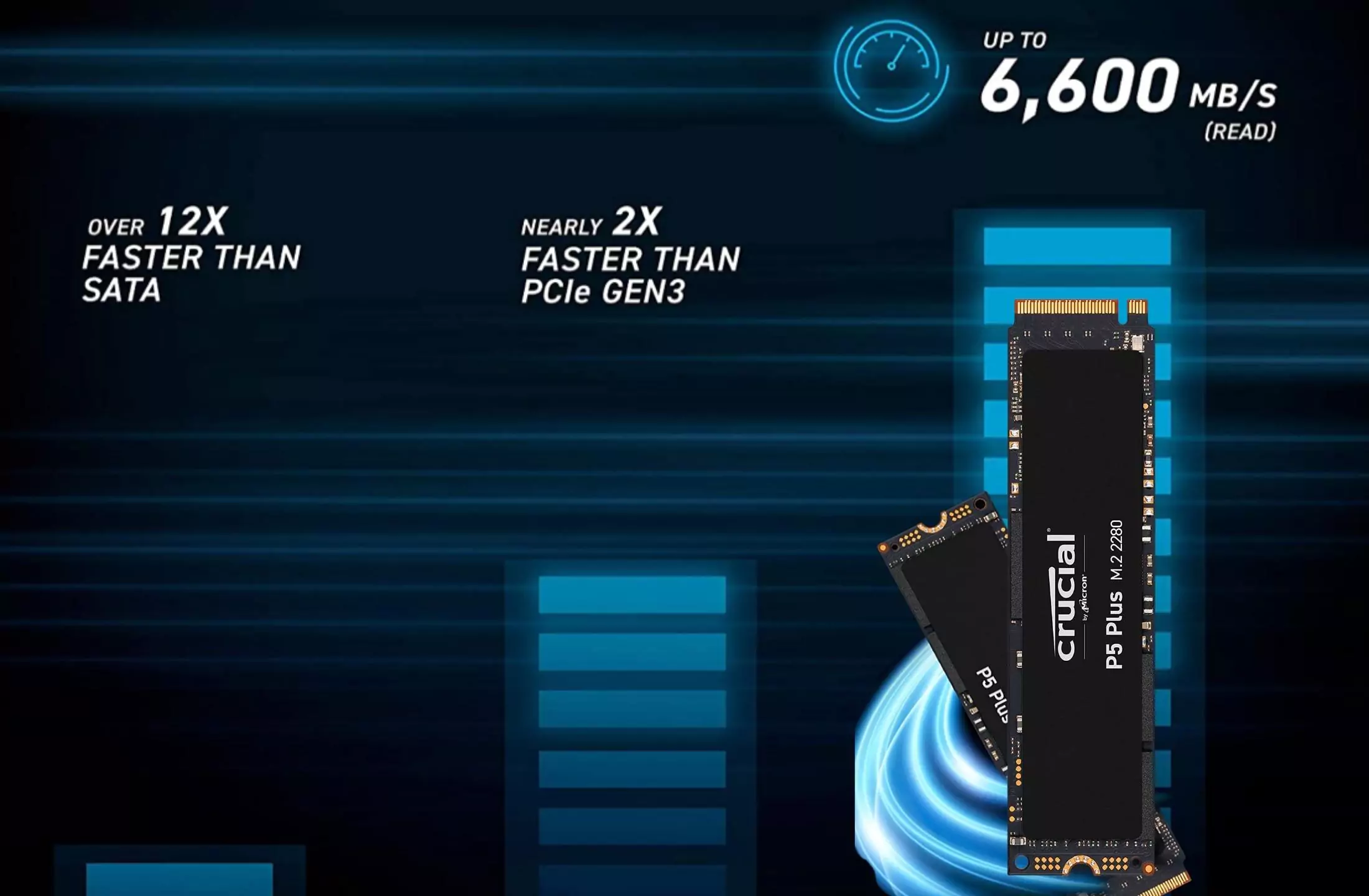 Another great, slightly upgraded option from Crucial is the Crucial P5 Plus PCIe 4.0, compatible with devices that accept PCIe NVMe Gen 4. The 1TB variant has a data transfer rate of 600 TBW (terabytes written). The sequential read speed is 6,600 MB/s, the write speed is 5000 MB/s, and the random read/write of 630K/700K IOPS.
This drive efficiently supports heavy gaming, video editing, and demanding operations. It also supplies advanced longevity with 2 million hours of MTTF (mean time to failure). Acronis True Image and Crucial Storage Executive software are available for monitoring. It is one of the best M.2 SSD for NAS.
8. Samsung 970 EVO Plus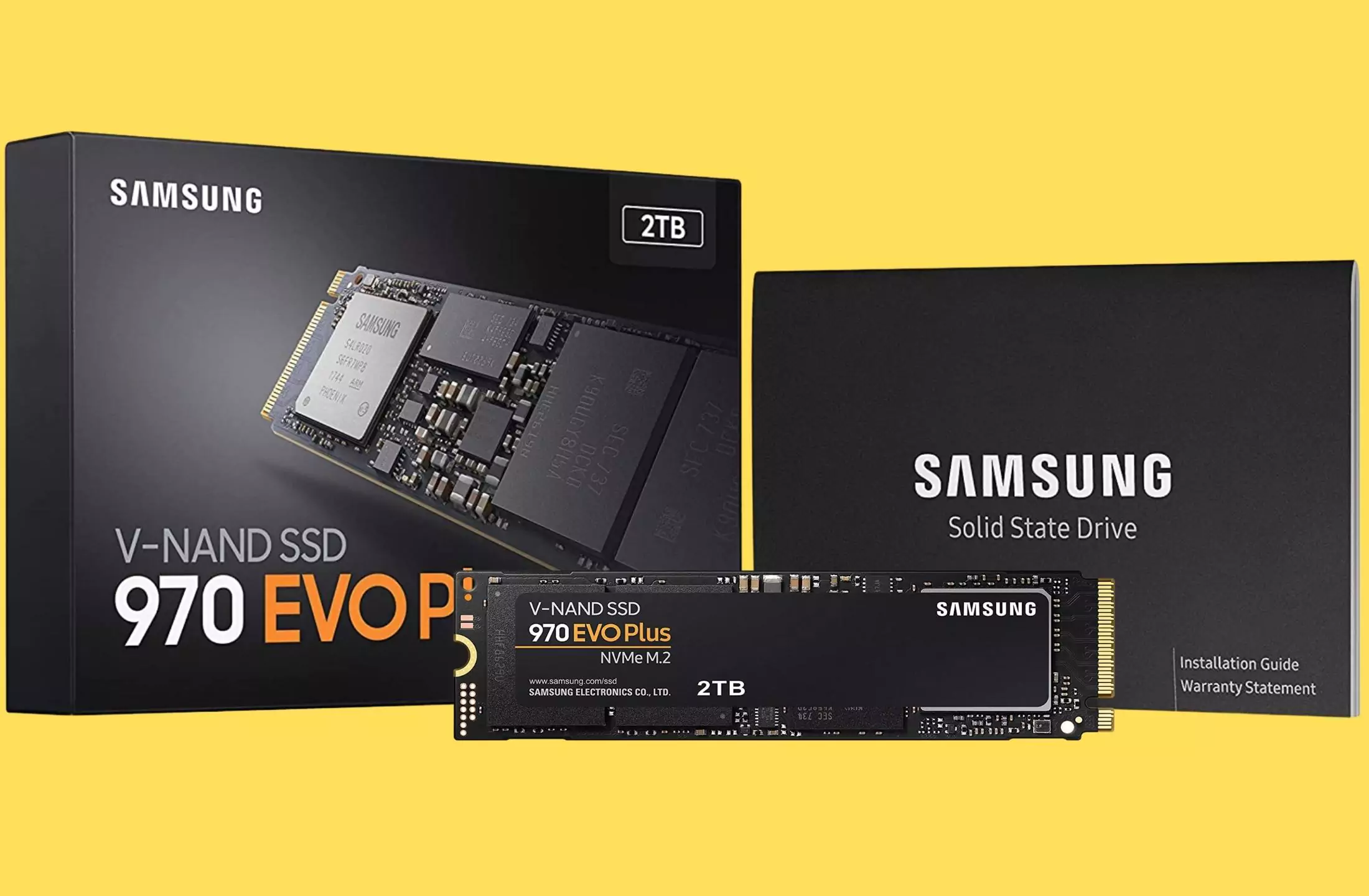 The Samsung 970 EVO Plus is an NVMe M.2 SSD with V-NAND technology that delivers enhanced bandwidth for demanding procedures with the endurance of 1,200 TBW (terabytes written) and a read/write speed of 3500/3300 MB/s in the 2TB capacity.
Samsung Magician Software aids in firmware updates, data cloning and transfers, and overall optimization. The dynamic thermal guard monitors the temperature and maintains the ideal temperature necessary for its best functioning. Worth the bang for its buck, Samsung 970 EVO PLUS is the best M.2 NVMe SSD for NAS suitable for creative content creation, gaming, or daily usage.
9. Crucial MX500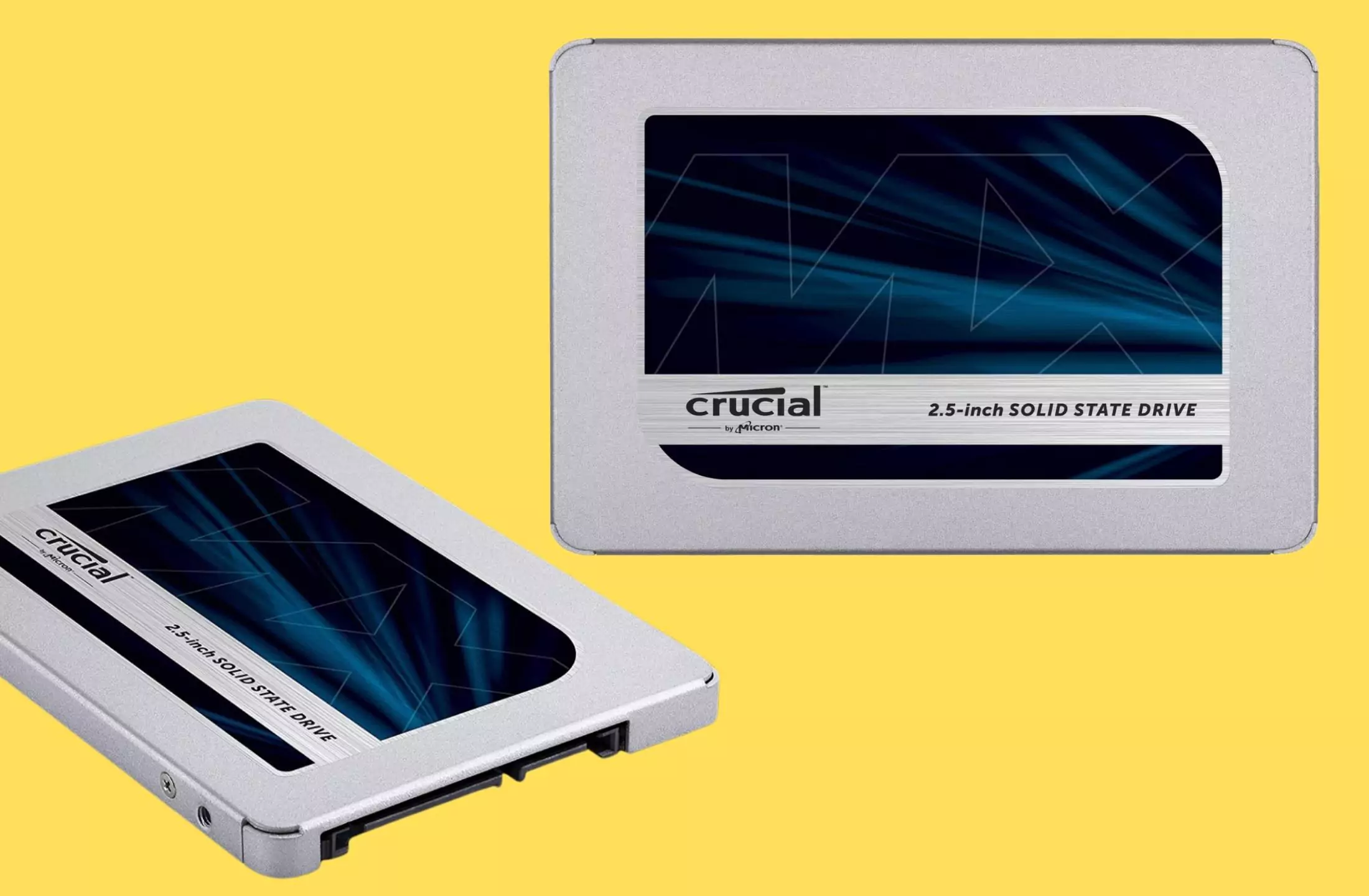 Crucial MX500 is a well-acknowledged and most reliable option for NAS enclosures, and it is amongst the best SSD for QNAP NAS. It consists of the Micron 3D NAND, the 1TB variant has a data transfer rate of 360 TBW (terabytes written), 1GB DRAM, and a read/write speed of 560/510 MB/s. These attributes offer swift access to your data, load heavy files instantly, and accelerate demanding operations.
The Crucial Acronis True Image software is available to clone and monitor the drive. Crucial MX500 is a well-praised, long-lasting, and power-efficient drive for fast, durable, and quiet yet powerful performance.
10. Samsung 870 QVO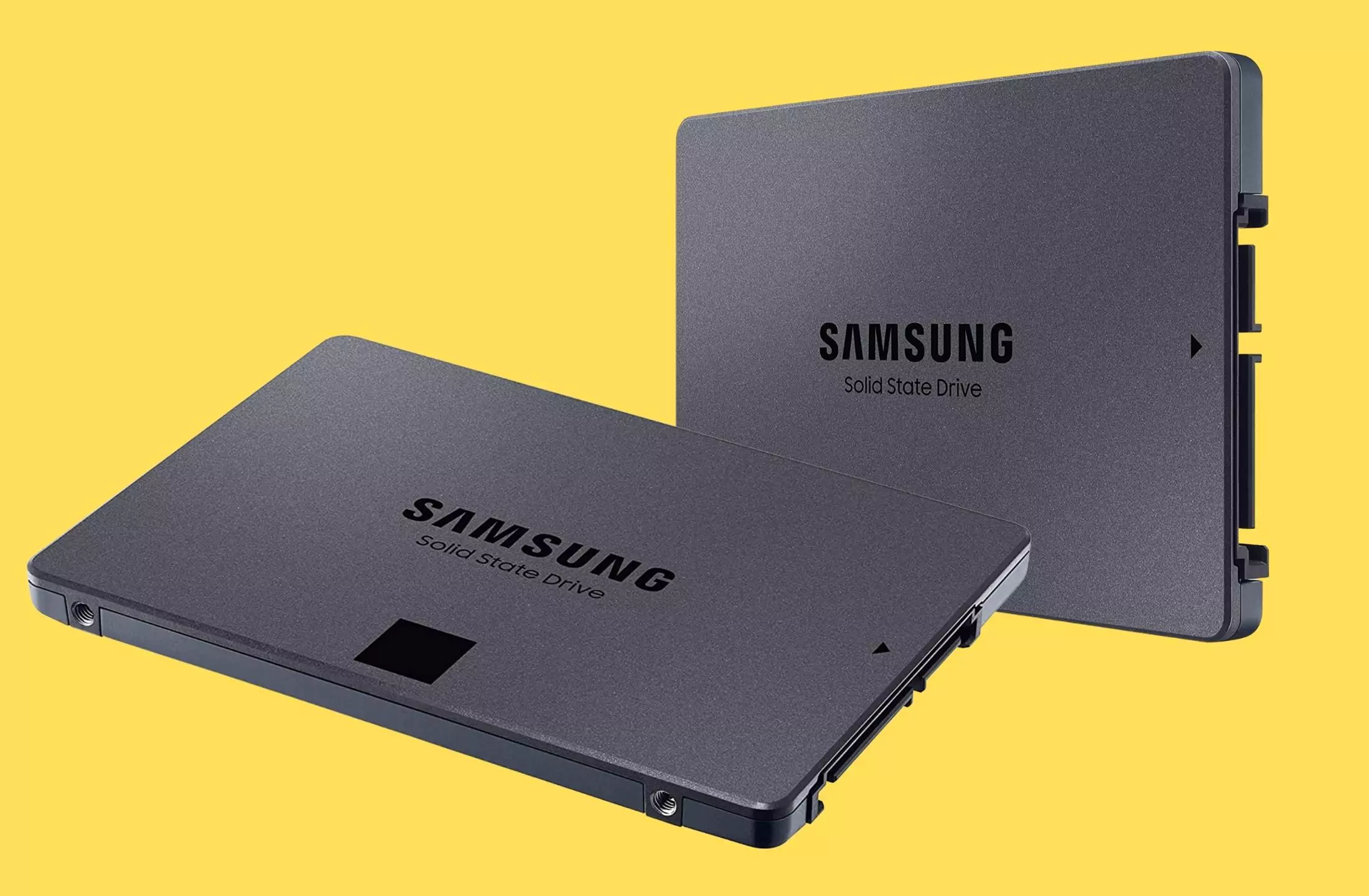 The Samsung 870 QVO 2.5 inch is a QLC SSD for long-term high performance with SLC caching. Its 6 Gbps SATA interface is compatible with SATA 3.5 Gbps and 1.5 interfaces. Reading speed of 560 MB/s and 530 MB/s writing speed with 720 TBW (terabytes written) in the 2TB capacity is excellent for NAS usage and is the best SSD NAS for plex.
You can oversee the drive's health and check updates through the Samsung Magician Software. This drive is an ideal selection in the price-to-performance ratio that Samsung has presented for daily data storage and workloads.
11. SK Hynix Gold S31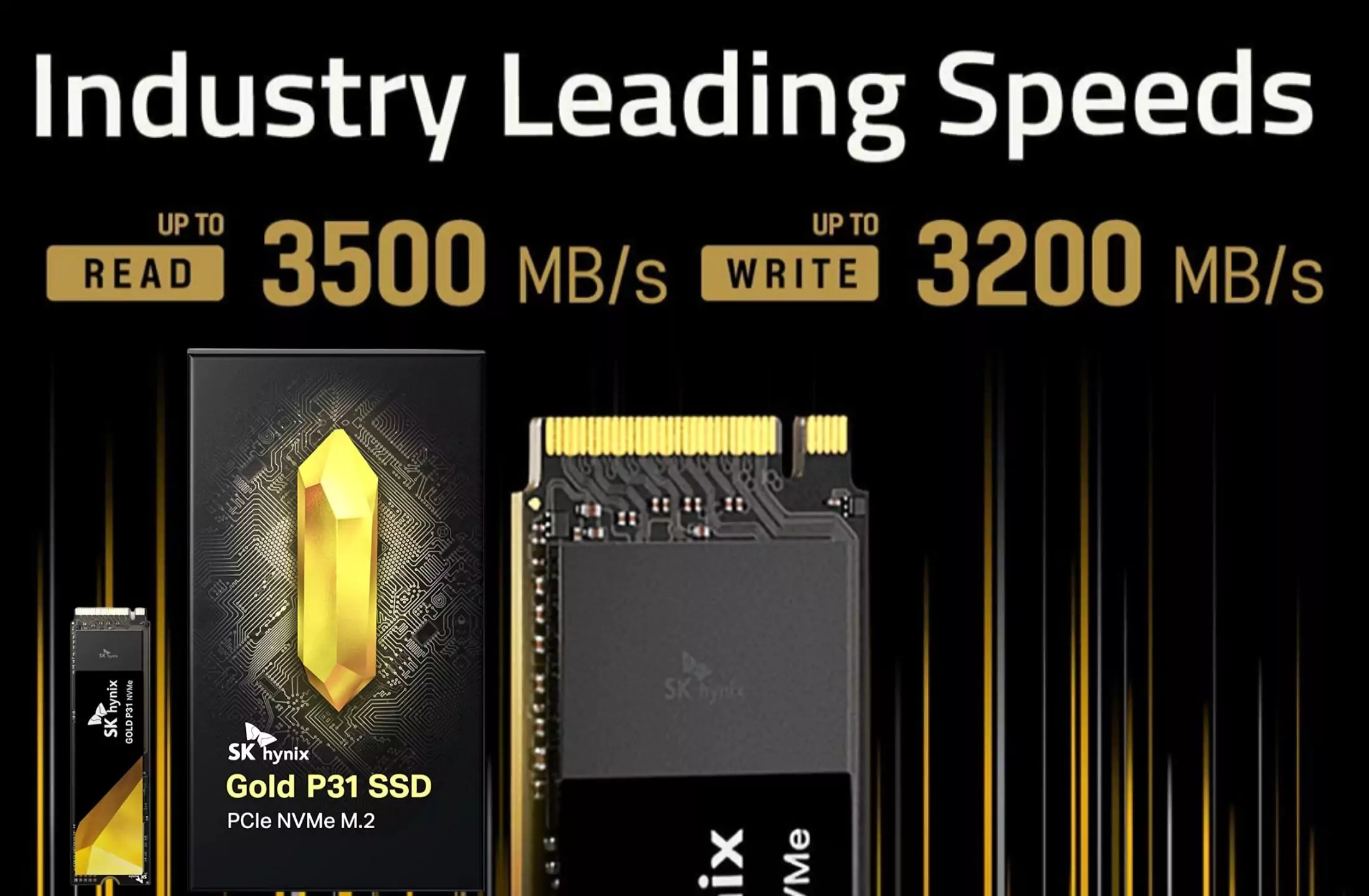 SK Hynix Gold P31 is a PCIe 3.0 NVMe SSD that utilizes its finest elements to deliver outstanding performance. It is the best M.2 SSD for NAS cache with its 6th generation 128-layer 4D TLC NAND flash, S.M.A.R.T data reporting, secure erase capability, and trim support. It comprises 750 TBW (terabytes written), a sequential reading speed of 3,500MB/s, and a writing speed of 3,200MB/s (1TB variant) with the SK Hynix HYPERWRITE cache technology.
The SSD is worth it for an affordable price to retrieve your data swiftly in an all-purpose, multi-user NAS environment with long term reliability of 1.5 million hours of MTBF (mean time before failure).
Must Read: Best NAS for Video Editing
All the options listed assure excellent and long-lasting performance with a quality user experience. They are all available on Amazon for quick one-click purchase with an ensured warranty at a reasonable price featuring ideal specs for gaming, heavy workloads, creative content creations, and streaming 4k and 8k videos. These recommendations are bound to provide you with the best NAS experience.