Keep backup before new iOS update, really serious task for all that never neglect, we are receiving many request for help in restore accidentally lost contacts, and the forums and Discussion guide this question is always at top. Here is the ultimate guide on what to do as a prevention steps for Contacts Backup from iPhone 6, 6 Plus/ 6S, 6S Plus.
Depends on your situation and location you have wide options on ways to save all contacts from contact app on another device or on cloud for later time easy to review and restore.
we are happy to help you, submit this Form, if your solution is not covered in this article.
Multiple Easy options for online backup, Offline Backup. Please take another copy all time before update, in a second you may lost very important data (Contacts) than any other.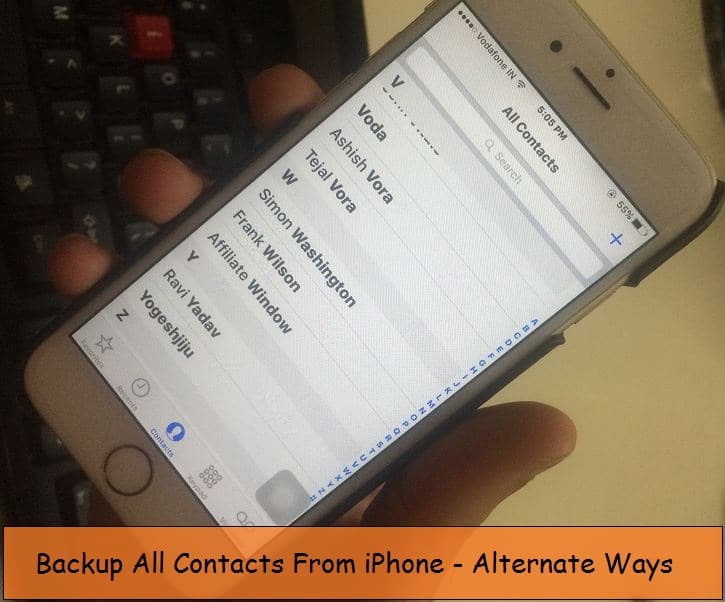 Steps for Contacts backup from iPhone 6, 6 Plus, iPhone SE, 6S: iOS 9
Contact Backup in iCloud
Contact Backup through iCloud is official way to use on any other iPhone/ Mac or Other Apple Device from restore it on device, directly.
Step 1: Open Settings app on iPhone
Step 2: Next, Tap on iCloud > Enable toggle on Contacts.
Step 3: Then, Start backup from iCloud > Backup > Enable iCloud Backup > Back Up Now
That's it. Also you have a great option on extract contacts saved in iCloud backup on Mac/ PC, Using iCloud Extractor (Use code for 30% discount: 3995AA9E68)
Using Contact Backup iOS app
Easy Backup – My Contact Backup assistance
Backup all iPhone contact in on one tap, This app create contact file for send it on Mail or save on online cloud. Also easy for restore on new device or for future time. This app is available in different 15 languages and Solved 12 lacs+ iOS users about backup contacts on iPhone. Also help to clean contact app by remove duplicate contacts and Saved with no name.
More and Get app – Free
My Contacts Backup
No sign in or registration, simply launch app and backup all contact in app then share it through Mail. Contact backup create in to different File as of your restore process. Excel, VCF (VCard), So you can use this app with limitation of 500 contacts backup at once, But the pro features is really awesome.
Get App – Free
Above are the alternate techniques for Contacts backup from iPhone 6/ 6 Plus, 6S/ 6S Plus with iOS 9 then restore or extract.
Premium Support is Free Now
We are happy to help you! Follow the next Step if Your Solution is not in this article, Submit this form without Sign Up, We will revert back to you via Personal Mail. In Form, Please Use the Description field to Mention our reference Webpage URL which you visited and Describe your problem in detail if possible. We covered your iPhone 11 Pro, iPhone 11 Pro Max, iPhone 11, iPhone 8(Plus), iPhone 7(Plus), iPhone 6S(Plus), iPhone 6(Plus), iPhone SE, iPhone 5S, iPhone 5, iPad All Generation, iPad Pro All Models, MacOS Catalina or Earlier MacOS for iMac, Mac Mini, MacBook Pro, WatchOS 6 & Earlier on Apple Watch 5/4/3/2/1, Apple TV. You can also mention iOS/iPadOS/MacOS. To be Continued...
Jaysukh Patel is the founder of howtoisolve. Also self Professional Developer, Techno lover mainly for iPhone, iPad, iPod Touch and iOS, Jaysukh is one of responsible person in his family.
Contact On: [email protected] [OR] [email protected]