Last Updated on Dec 21, 2021
Siri is now also available on the macOS platform after got success on iOS devices. Specially, business and professional persons are much excited to use the new Siri on MacBook, iMac, or Mac Mini installed with Any MacOS. Same as customizing Siri options (Enable/ Disable Siri on macOS), here you have many options for changing your Siri language, Siri voice, Voice Feedback, Input Mic types, or change Siri wakes up shortcuts.
Siri is more special for Weather, Brightness, Calendar, Wi-Fi, Bluetooth, Mange Brightness and other settings, On-screen activities on your speech, just like sent text message, FaceTime call and much more.
Steps for Enable/ Disable Siri on iMac, Macbook, Mac mini
Note: if you bypass or skip the Siri screen on macOS installation from the installation screen, or While setting up a New mac, then you can enable/ Turn it on from macOS system preference.
Siri now improving more in the upcoming days, Well you can use it regularly on your Mac system efficiently once you turn it on or Enable it.
Steps for Enable/ Disable Siri on macos
Step 1: Go to the Apple Logo from top right. Under the menu > click on system preference.
Step 2: New separate option siri present there, Click on it.
Step 3: From the right pane, Select Ask Siri for enable.
Now, See the "Do you want to enable Ask Siri?" Confirmation popup. Select Enable Option.
See Confirmation window, Allow or Disallow the Permission for Share Audio recordings. Select Not Now or Share Audio Recordings.
Now, Record your Voice using Test command showing on Screen. Repeat the Command clearly to pass and Verify successfully for Hey siri and All command.
Finally you will see the screen "Hey Siri" is Ready.
Tap on done to start using Siri on Mac using Voice command.
If you want Siri shortcut on Mac top Menu, then enable Checkbox "Show Siri in menu bar".
Siri is not available in the Top Right corner. To turn off the Siri popup, Hove the mouse cursor on it and Click on the close button to hide.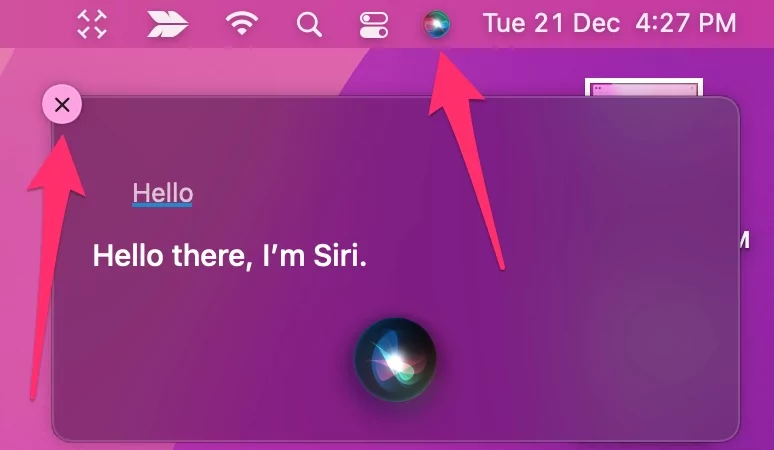 You completely hide all Siri icons from Dock and Top menu bar or Shortcut keys call.
Disable Siri on Mac
Before Disabling Siri on Mac, use the customization if you don't like Siri because of it. If Someone nearby your Mac using Siri then your Mac auto wakes up Siri with the Hey Siri command then we can disable the Hey Siri command without Turning off Siri complately on Mac.
In More options, Keyboard Shortcut for Siri on Mac, Language, Voice Variety, Siri Voice Sample, Voice Feedback, Delete Siri & Dictation history. or Hide Siri blue icon from top menu.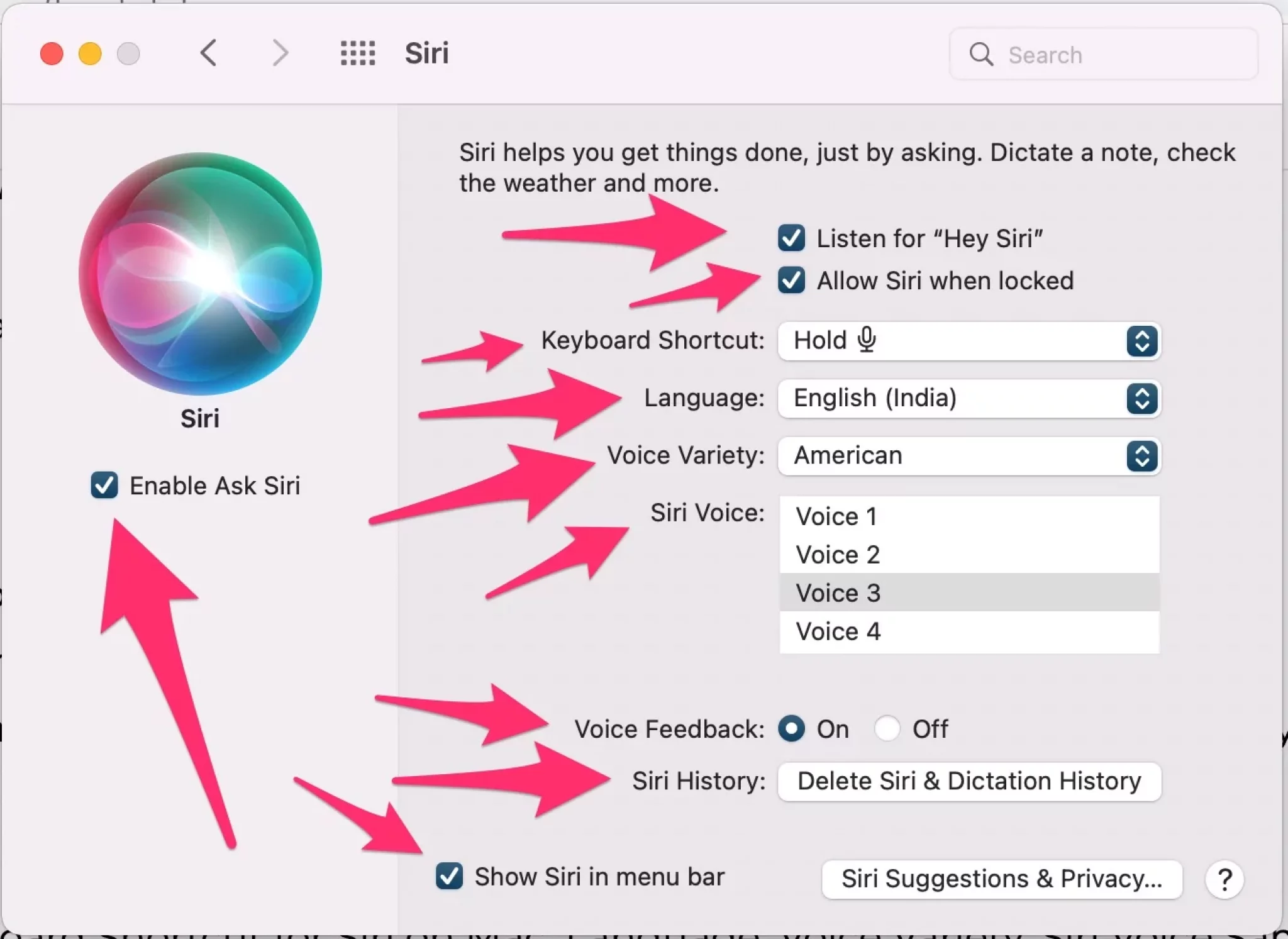 Only Hide/ Show Siri from Top menu bar: Privacy reason
If you think no one can see the Siri icon at the top menu bar or wake up in an easy way, Then Un-check "Show Siri in the menu bar". And Change Shortcut key (Set your own custom keys), by Press Command and hold + Choose your Desired character key from the keyboard.
More helping tutorials, Siri not working on macOS. Also Share, what are the reasons for enabling/disabling Siri on macOS.