Apple's Redesigned iOS 11 has big new updates in settings and the new option for easy to manage all the applications. iOS 10 users are confused and not seem options for change Mail app settings Fetch New Data in iOS 12. These settings get benefits on improving battery life in iOS 12 or 11 installed iDevices. 
we are happy to help you, submit this Form, if your solution is not covered in this article.
iPhone Mail app support multiple accounts that mean hundreds of emails get in a day is no surprise. So your Mail app will consume more memory in background depends on this settings. Here I recommended setting push mail only set for active Mail account only. Let's check how to do that and set the specific interval for receive new Mails on your iPhone, iPad.
The option is available in iCloud Mail, Gmail, Yahoo Mail, Outlook Mail or Custom Mail server.
Steps for Disable/ Enable Fetch New Data in iOS 12 on iPhone, iPad
Who are looking this option in iOS 11, iOS 12 or earlier iOS please check patch where is the option for change Mail Fetch New data at the end of the article.
Step #1: Launch Settings app on iPhone, iPad.
Step #2: Next, Scroll down and see new settings for All types of Account & Passwords.
Step #3: Find the list of Mail account sync in Mail app (Add new Account in Mail App). Scroll down to the last and Find "Fetch New Data".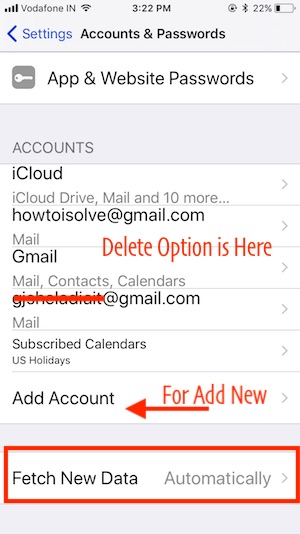 Step #4: Find, Push toggle.
Know Difference Between Push Vs Fetch Data Usage
This is the only way to get mail faster on your iPhone and iPad within the Mail app
Push: This option will push New mail to your device from server when Available. And receive in Mail app when possible.
Note: Push service is dependent on the server, So know that your mail service providing push? iCloud giving push but push not working with other mail service provider & iOS mail app.
Fetch: Fetch will activate when the push is off. Onset specific interval Mail app check for new mail on the server. Improve battery life keep it on larger interval or Manually.
See the Above screen, Auto Fetch not working if you didn't select Time interval or auto options.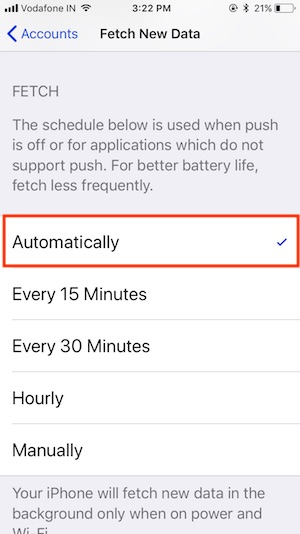 Set Push, Fetch or Never for the individual account: Tap on the Account name, Select Schedule with the available supported option by the mail server.
For iOS 10 or Earlier:
Go to the Settings > Mail > Accounts > Fetch New Data
Disable Push (For Stop New or Set it on Fetch manually or auto after the time schedule).
See Below screen,
Don't miss to share this really helpful guide on how to manage to Fetch New Data in iOS 11/ iOS 12 and set Fetch/ Push. Improve iOS performance from Speed, Battery and more.
Jaysukh Patel is the founder of howtoisolve. Also self Professional Developer, Techno lover mainly for iPhone, iPad, iPod Touch and iOS, Jaysukh is one of responsible person in his family.
Contact On: [email protected] [OR] [email protected]