🗓️
November 29, 2023
By ✍️
Jaysukh patel
Customized mail app on iPhone and iPad is now more easy to manage in iOS. In New iOS, settings changed the path from "Mail, Contacts, Calendars" into separate email settings. Also, get settings for fetch new data with fetch, Push, or Manual. Let's see how to Add New Account in the Mail app from Primary email services: iCloud, Microsoft Exchange (ActiveSync), Google, Yahoo, AOL, Outlook. We can directly add without IMAP, POP, Host Name Details, Using only User Name and Password.
But Other Mail account required accurate details that I have explained in this article in detail. Also, are you not technical, then ask for help Mail or Hosting desk or google for "Configure Email client" details. So for all time, you just need to set up a New Email Account for iPhone, iPad using this way. Because Apple doesn't give an option for the verify third-party Mail account itself, like the setup on the new iPhone or Switch from old iPhone to new iPhone.
How to Setup & Add New Account on iPhone Mail app iOS
How to Add New Account in Mail iPhone iOS
If you cannot find out add email account option in iOS, don't worry, it's not missing, just moved somewhere in the Settings. Here's how to add a mail account on the iOS iPhone.
Navigate to the Settings App on iPhone.
Find the Mail App, scroll to the M alphabet to quickly locate the Mail App.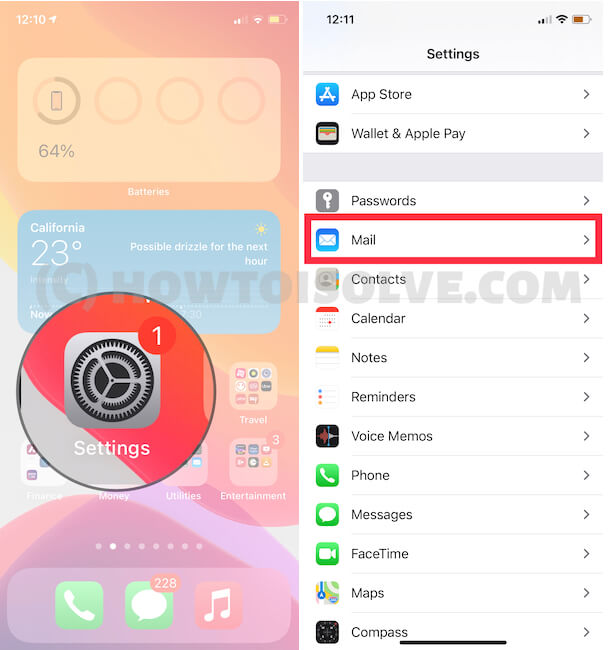 Tap Accounts.
Hit Add Accounts.
Select from Google, Yahoo, AOL, Microsoft, iCloud, or if it is SMTP then, choose Other.
Enter the Email and Password and follow the on-screen instructions to complete the setup.
How to Add New Email Account on iPhone iOS 13 or Earlier
Step #1. Open the Settings app on iPhone, iPad.
Step #2. Now, scroll down the screen to tap and Find on "Accounts & Password" (New settings for manage all types of login details, Apps – Saved Password in safari)
Step #3: See the screen below and tap on "Add Account."
Here you can pick Email services that you want to set up. Enter only Email and Password. (See the Screen below)
Otherwise, Tap on Other and enter the correct details. Also, select Add Mail Account.
How can we get Mail Server Details?
You have done the setup on any hosting server or Email server; then, you have a separate cPanel dashboard. Next, find the Mail section and click on Email Accounts.
Enter the Primary details, Name, UserName (Email Address), Password.
Next is the screen to add IMAP and POP details.
Get Whole details of the selected email account from the list; click on the "More" option and "Configure Email Client." Next, see the incoming mail server details. Note all the details and enter into these all fields correctly.
Get Mail Settings Details from your cPanel, mostly common in SiteGround, BlueHost, HostGator, iPage, InMotionHosting, LiquidWeb, GoDaddy, and all other hosting companies.

After the configure email account to iPhone settings, Please check your iOS Mail App, Loading New Emails in the inbox or not?
Quick Tip to Delete Mail Account From iPhone, iPad
To delete an existing Mail account, Tap on Added mail Account. Then, scroll down the screen and See the Delete Button.
Get new daily tricks and guide for all apple users from here, So don't miss to subscribe to us or like us on our Twitter and Facebook pages.
Do you have any problem to Add New email Account in the Mail app on your iDevice? Would you mind sharing with us in the comment?