Last Updated on Sep 19, 2023
Quickly fix your stuck Apple watch update problems (Apple Watch update stuck on installing 2023), WatchOS Can't Update or Install on Apple Watch. There are certain fixes that you can try to overcome the Apple Watch update problems including connection issue, verification error, AW won't reboot, or sometimes error such as watchOS won't download to Apple Watch, Stuck on Downloading to Watch, Resume Downloading to Watch, Apple Watch Stuck on Preparing.
WatchOS 9.5 update not showing up is also a common problem for most consumers. Let's check out the bottom-given workarounds that will help you to download WatchOS 9 smoothly. And Be Ready for WatchOS 9, New WatchOS 9 Can't Update or Install, WatchOS 9 Stuck on Checking for Update on Apple Watch Series 6, Apple Watch SE, Apple Watch 5, and Earlier model follow the below solutions. Thumbs Up!
Check List of requirements to Install watchOS on your Apple Watch without an Error code
Keep Apple Watch Charged at least 50% and Keep apple Watch charging with the original charging adapter. Don not Restart or Remove it from its charger until the update completes.
In a range of your iPhone connected to Wi-Fi.
Apple Watch is Paired with your iPhone and Near to Each Other. Because of iPhone Download new Software Update on your Apple Watch. (Apple Watch has limited free space: total space in apple watch is 5 gigabytes to 12 Gigabytes). You can see the downloaded WatchOS setup on your Watch App on iPhone.

Open Watch App on iPhone > General > Scroll to "Storage".
Software Update > Tap on it "Delete" and Re-download & install. [See Video, Given in Last of this tutorial…]
Force Close Watch App on iPhone and Check Again for Apple Watch WatchOS update. Open Watch App on iPhone > General > Software Update > Download and install Available Updates.
Hard Reboot your Apple Watch if your iPhone watch app says "apple watch stuck on resume downloading to watch". To hard Reboot your Watch, Press and Hold the Side button and Digital Crown button at once until your apple black screen. and Turn on again "Press and hold the only side button"
iPhone Watch App Says, "Apple watch stuck on checking for update" Hard Reboot your iPhone if your. also, Apple Watch must pair with your iPhone. Check the WiFi internet connection, should be working properly.
Your Apple Watch Stuck on Preparing, Force close watch app on iPhone, and Check again. Might be your Apple watch has not enough charging and won't be connected to the apple watch charger.
The problem looks very serious, Clean install WatchOS. This Step will erase your Whole Apple Watch Data from Apple Watch and installs New WatchOS. If you want all the data back and without delete data, Try Backup and Restore Apple Watch.
Having a problem after installing a new app or wrong settings on your Apple watch. (Erase All Content and Settings from iPhone Watch App or Apple Watch Settings app)
Share the Problem in comment and Feedback as well.
Why I Can't Update to WatchOS 9: Get Troubleshooting
Solution #1. Are you on iOS 16?
iOS 16 installed iPhone can able to Download WatchOS 9 on Paired Apple Watch only. First, check the Software Update and install it.

Head to Settings app on iPhone > General > Software Update > iOS 16.

In case, no iOS 16 on your iOS device, then your WatchOS 9 not showing up, Hence, you will need to update your phone Apple's latest version of iOS before the WatchOS 9 update will show up in the Watch App. And it means taking an equal level on both the devices.
Method 2: Directly Download and Install WatchOS 9 version on Apple Watch Without iPhone
WatchOS 8 or later installed OS On Apple Watch users will find the new option for direct download and install Software Update on Apple Watch through Settings app, Just like iPhone/iPad. Let's follow the below steps to update your Apple Watch without the Error and Paired iPhone.
Press the Digital Crown button to move your apple watch home screen.
Next, click on the Settings icon.

Now, Scroll to General and Software Update.
Install pending update and Complete the installation process, Now You will get Your Apple Watch is Up-to-date.

That's it. Also, Read alternate ways to update from iPhone and troubleshoot solutions for that.
Fix: Unable to Check for Update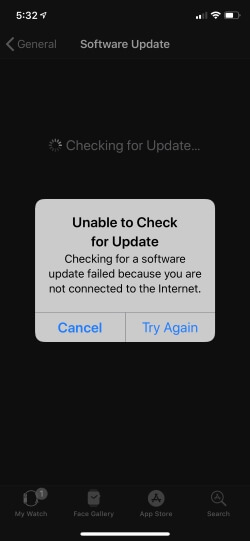 After the internet is working on your iPhone, iPhone Watch App says "Checking for a software Update failed because you are not connected to the internet".
Turn on Airplane mode , wait for a while and turn flight mode toggle off.
Next Hard Reboot your iPhone. to do that, follow the bottom steps;
Quickly Press and Release Volume up button and Down button one by one.
Now press and hold the side button until you see the Apple logo on the screen.
Again Turn on your iPhone, By Press and Hold side button until Apple logo on the screen.
Now Check Again. I hope you will work. I fixed this problem on my WatchOS installation.
Still not Fixed, Erase Apple Watch Content and Settings, Now Pair Apple Watch Again with your iPhone. iPhone will install the latest WatchOS on your Apple Watch.
We can Erase Apple Watch App and Data in Two Ways.
Using your Apple Watch, Find the Settings app > General > Reset > Erase Content and Settings, Enter Passcode, and Complete Process. now pair again.
Using On your iPhone, Open Watch App on iPhone > General > Tap Reset > Next tap on Erase All Content and Settings. Enter the passcode and that's it.
Solution #2. Check your Connection: Apple Watch Must Be Paired with iPhone
Before going to perform anything, make sure that you're on Wi-Fi and your Apple Smart Watch is recognizing to your iPhone.
Step #1. Open the Settings App on your Apple iPhone.
Step #2. Tap on Wi-Fi. In more, also check bluetooth is ON.
Step #3. Now open Control Center on your Apple Watch by Swipe up to bring up (control center).
Note: If your Apple iPhone is connected to Apple Watch, then you'll see a green Connected banner at the left-upper side of the screen.
Solution #3. You should Force Quit & Restart device
WatchOS 9 update Still won't work? Let's try to restart your Apple Watch and force quitting the Watch app on your iPhone to force the close app to follow the bottom steps.
Step #1. Launch the Watch app on your iPhone.
Step #2. Next, double press the Home button to bring up the App Switcher. Then after Swipe up on the Watch app card to force close it.
Now Restart your Apple Watch
I give you a sort to restart Apple Watch.
Press and hold the Side Button on your Apple Watch. Then Slide to Power Off.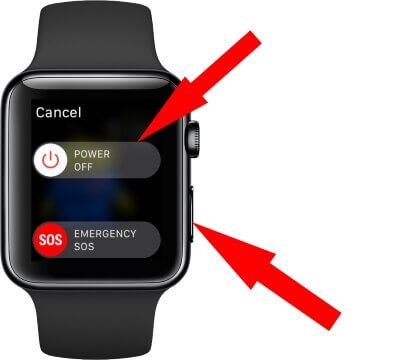 Solution #4: Erase All Content and Settings on Apple Watch, and Restore [Videos]
After Erase the apple watch, the Restoring process will install the latest version of WatchOS 9 successfully. This process will never lose important data from your Apple Watch like Contacts, Messages, Activity, and more.
Now, First Erase Data from your Apple Watch settings app. Go to the Settings app on your Apple Watch > General > Reset > Erase All Content and Settings. (You need to wait for 10+ minutes because apple watch will take Data backup to your iPhone and Erase after that).
Now your Apple Watch is Erased and Unpair from your iPhone.
Again Pair your Apple Watch with your iPhone using Watch iOS app or Manually pair with the Verification passcode that will be showing on your Apple Watch screen. once you Verify your Apple Watch on your iPhone, select Restore from Backup or Setup as a New Apple Watch.
Benefits Tips
Set up as a new Apple Watch Auto fix all the big software problems, With the latest WatchOS. I recommend if you don't care copied songs, and more on the apple watch. Contacts and Messages will sync after that like earlier (Don't worry about that).
Go to the next step and start the restoring process. it will take time to download the latest WatchOS version and Old Back at once.
in this whole Restoring process your Apple watch might be showing the apple logo and rebooting itself.
Don't stop that and keep both Apple Watch and iPhone as near as possible.
Also, Keep both Devices on the Charging connector.
Free Update to Install New WatchOS Update in Video
First Erase Apple Watch and Settings (Hands-on)
Re-Pair Apple Watch (Hands-on Video)
If none of the above ways work in your case then unpair and repair your Apple Watch and iPhone.
Here's how to Unpair-repair Apple watch
Thank you for Visiting, Write Feedback to us, How this article is useful and What solution found helpful for you, share it in the comment box below.